Bolton, VT – Bolton Valley Resort has partnered with outdoor adventure company Native Endurance to host New England's first 24-hour backcountry ski and splitboard race this weekend to benefit Vermont Adaptive Ski and Sports.  Competitors will test their stamina as they try to log as many vertical feet as possible in a 24-hour period on two challenging loops.
"We know this will be one of the most demanding and rewarding winter events of the year," says Native Endurance race director RJ Thompson.  "We also know that not everyone wants to be outside for 24 hours straight, so we added the relay and 12-hour division to bring in more members of the backcountry community – and to make sure everyone is having fun."
Jonathan Shefftz of the NE Rando Race Series echoed the event's unique appeal.  "It's the first ever anywhere in New England, and it's the only 24-hour up/down ski race in North America after the discontinuation many years ago of the very popular Sunlight, Colo. race," Shefftz said.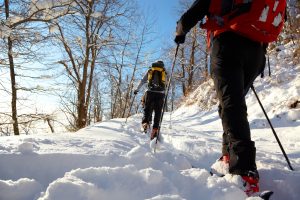 Leading up to the race, competitors have been raising money for Vermont Adaptive Ski and Sports, a non-profit organization committed to empowering individuals with disabilities.  "One-hundred percent of all fundraising is going directly to Vermont Adaptive," Thompson said. "The organization does incredible work for amazing individuals, and we are humbled by their passion to ensure everyone can enjoy the great outdoors."
Josh Arneson, VP of marketing and sales at Bolton Valley is looking forward to hosting the race.  "We've seen an increased interest in backcountry skiing over the past several years. This event will highlight, in a very unique way, the tremendous amount of backcountry terrain that Bolton has to offer."
Competitors may register online at www.nativeendurance.com/bolton24.html.