St. Moritz, Switzerland – The hometown crowd had reason to celebrate on Friday as Switzerland swept the top two positions in women's super combined at the 2017 FIS Alpine World Ski Championships, with Wendy Holdener taking the gold, and Michelle Gisin the silver – both first time World Championship medalists. Their joy, however, was short-lived as teammate Lara Gut, however, crashed out in slalom training and severely injured her knee, taking her out of contention for a repeat of her World Cup Overall title.
Austria's Michaela Kirchgasser took the bronze – her third career World Championship medal. Lindsey Vonn strapped on duct tape and battled to fifth.
"It's a dream," said Holdener. "I didn't think my slalom run would be enough to hold on for the gold when I came down. But after Michelle (Gisin) skied down, I knew I had a medal and then I watched as the last few had to start. It's still unbelievable for me."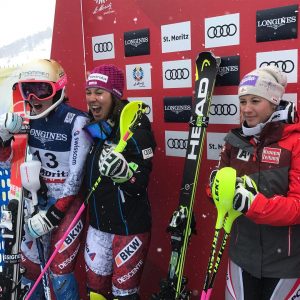 Holdener was centimeters away from missing out on gold, as her teammate Gisin looked to be on pace to take over the lead, but Gisin came across the line a mere 0.05 seconds behind. Both athletes huddled in the leader box through the final few racers and celebrated as the first-run leaders straddled gates, leaving the top positions to the Swiss.
Italy's Sofia Goggia led after the downhill portion, which was lowered to the super G start due to forecasted fog, with Ilka Stuhec of Slovenia sitting in second place. But both missed gates early in their slalom runs, paving the way for the double Swiss success. Holdener sat in seventh place, nearly a second off the fastest downhill run, while Gisin finished the downhill in fourth place 0.57 behind.
But both the Swiss had amazing slalom runs, with Holdener having the second-fastest slalom run, trailing only Kirchgasser who had the fastest slalom run, ultimately propelling her to the bronze medal. The Swiss were close to the podium sweep as Denise Feierabend finished in fourth place at 0.83 seconds behind.
Gut, the defending World Cup overall champion who finished third in the morning downhill, suffered a crash while warming up for the slalom before the second run and was airlifted off the course. Gut was diagnosed with a torn ACL in her left knee and a torn meniscus and did not compete in slalom. She was treated initially at a clinic in St. Moritz before being flown to Chur for further evaluation.
"Since this injury does not have to be operated on as an emergency, (Gut's) further therapeutic course will be decided in the next few days," the Swiss Ski Federation said in a statement.
However tragic, Gut's injury eliminates American Mikaela Shiffrin's biggest competitor for this year's World Cup overall title.
"I'm really hoping that (Lara) is not badly injured," Vonn said. "It's always shame to see that happen. It's happened to me all too often."
Vonn, who returned to ski racing last month following a pair of injuries, including breaking her right arm, has experienced issues with maintaining her right pole grip since returning to competition. In Tuesday's super G, she lost her pole grip midway down the track, which resulted in a break of concentration and a DNF. So in Friday's super combined, she duct taped the pole to her hand.
"It's better with duct tape," she said following the downhill run Friday. "My hand seems to stay on the pole, so that's good! My hand is just not strong enough, especially in slalom, I skied the slalom for the first time two days ago and I had no idea if it would work, but we just taped it. My hand was a little bit sloppy … but good enough for fifth place."
Vonn, who hasn't trained or raced slalom much over the past couple years may have surprised others with her fifth-place finish, but for her, it was all about digging deep into the memory bank and getting back to her skiing roots.
"I really just thought about growing up skiing in Minnesota," said Vonn, who has only skied two slalom runs in the past year, but counts two World Cup slalom victories to her credit. "I grew up skiing slalom. I know how to ski slalom. Just because I haven't done it in a really long time doesn't mean I can't do it. So I wasn't going to let anyone underestimate me, I went out there and I attacked. It wasn't quite good enough for a podium, but I'm still proud of my performance."
Most importantly though, Vonn was able to put down another run on the downhill track, setting her up nicely for Saturday's downhill event.
"I'm excited for Sunday," Vonn said. "I'm going to lay it all out on the line, like I do everyday, every race, and I hope that I can get on the podium."
For other U.S. women on Friday, Laurenne Ross (Bend, Ore.) was 15th and Stacey Cook (Mammoth Mountain, Calif.) was 22nd.
An action-packed weekend awaits St. Moritz with the men's downhill tomorrow and the ladies' downhill on Sunday. The weather is expected to cooperate and gradually improve throughout the weekend and next week as the World Championship continues. After fog scrubbed men's downhill training on Thursday, they managed to complete their second downhill training this morning. More than half of the top-30 racers opted not to take part in the training, with 21 racers in total not starting. Of those who took part, France's Alexis Pinturault recorded the fastest time, followed by Peter Fill of Italy and Switzerland's Niels Hintermann. Today's training was also shortened on both ends. Due to weather, the freefall start was not included and due to the overlap with the women's alpine combined race the lower portion was also cut short.
OFFICIAL RESULTS
2017 FIS Alpine World Ski Championships
St. Moritz, Switzerland – Feb. 10, 2017
Women's Super Combined
| Rank | Name | Nation | Run 1 | Run 2 | Total Time | Diff. | FIS Points |
| --- | --- | --- | --- | --- | --- | --- | --- |
|  1 | HOLDENER Wendy | SUI |  1:17.84 |  41.04 |  1:58.88 | |  0.00 |
|  2 | GISIN Michelle | SUI |  1:17.47 |  41.46 |  1:58.93 |  +0.05 |  0.48 |
|  3 | KIRCHGASSER Michaela | AUT |  1:18.23 |  41.03 |  1:59.26 |  +0.38 |  3.68 |
|  4 | FEIERABEND Denise | SUI |  1:18.38 |  41.32 |  1:59.70 |  +0.82 |  7.93 |
|  5 | VONN Lindsey | USA |  1:17.75 |  41.98 |  1:59.73 |  +0.85 |  8.22 |
|  6 | GAGNON Marie-Michele | CAN |  1:18.61 |  41.54 |  2:00.15 |  +1.27 |  12.29 |
|  7 | BRIGNONE Federica | ITA |  1:18.51 |  41.75 |  2:00.26 |  +1.38 |  13.35 |
|  8 | FERK Marusa | SLO |  1:18.31 |  42.41 |  2:00.72 |  +1.84 |  17.80 |
|  9 | HAASER Ricarda | AUT |  1:19.17 |  41.64 |  2:00.81 |  +1.93 |  18.67 |
|  10 | MOWINCKEL Ragnhild | NOR |  1:18.22 |  42.62 |  2:00.84 |  +1.96 |  18.96 |