Sun Valley, ID – For the second day in a row, Sun Valley's Bald Mountain will remain closed due to avalanche worries. Sun Valley guests still wishing to ski have to be satisfied with skiing the much smaller Dollar Mountain complex across the Wood River Valley from Sun Valley's main mountain.
"Dollar Mountain and village operations are fully open today, but due to safety concerns for our employees and our guests, Bald Mountain will be closed today," today's snow report confirms.
Sun Valley officials actually first pulled the plug on Bald Mountain skiing on Thursday morning. A warm, wet storm dropped heavy rain atop Bald Mountain's snowpack, saturating the snow with two inches or more of liquid and leading the Sawtooth Avalanche Center to issue an avalanche warning.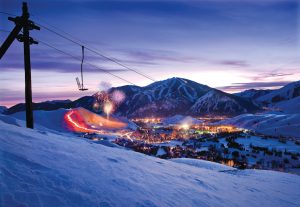 "The avalanche warning has been extended through 5 p.m. today," the Center reported this morning. "The combination of rain, heavy snowfall, and strong winds is creating extremely dangerous avalanche conditions. Large natural avalanches are very likely to occur. Stay off of and out from underneath slopes steeper than about 30 degrees. Avalanches may impact recreational trails, roadways, and structures in the valley floors."
The Center added that over the past 24 hours, the rain/snow line in Idaho's Wood River Valley ranged from 7,500 to 8,200 feet. Upper elevations surrounding Sun Valley likely received five to 20 inches of snowfall while moderate to strong winds blew. Since the final round of this 10-day storm began Wednesday night, the Center estimates that snow totals are probably in the 10- to 30-inch range near 10,000 feet.
"We saw dozens of large avalanches that reached the valley floor, carrying uprooted or broken trees into residential areas, roads, and rivers," the Center confirmed.
Until then, only the 628-vertical foot Dollar Mountain is open for skiing and riding. Sun Valley hasn't yet announced when they expect Bald Mountain to reopen, but "until the snowpack freezes, we're not out of the woods," avalanche forecasters indicate.