St. Moritz, Switzerland – Colorado's Lindsey Vonn landed on the podium, taking the bronze medal, to lead all four Americans into the top 15 in Sunday's downhill at the 2017 FIS Alpine World Ski Championships. Slovenia's Ilka Stuhec continued her dominant season to take the gold ahead of Austria's Stephanie Venier, who grabbed the silver.
Stuhec, who topped both downhill training runs, finished 0.40 seconds ahead of Austrian Stephanie Venier and 0.45 seconds ahead of Vonn in front of a crowd estimated at 50,000 in St. Moritz.
"I'm amazed," an emotional Stuhec said after winning her first World Championships medal. "I knew it was possible, but still to stand as the World Champion here is unreal to me. Words can't express what this means. I think the reality will sink in a little later."
It was also the first medal for Venier, who took home the silver. She was an outside chance to make the podium as she has only one career World Cup podium, which came a few weeks ago in Garmisch-Partenkirchen, Germany in super G.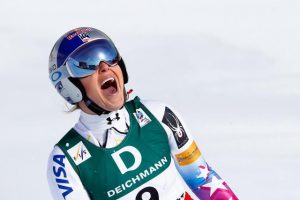 "It's been a tough year for me coming back from my arm injury," said 32-year-old Vonn, who became the oldest woman in World Championships history to stand on the podium, her seventh trip there. "Definitely struggled with my confidence there for a little bit, but I fought back and today a bronze medal feels like gold to me. It's my seventh World Championship medal, and I now have every color in downhill, so I'm very proud of what I did today."
For other U.S. ladies, Laurenne Ross (Bend, Ore.) was fifth, Jackie Wiles (Aurora, Ore.) tied for 12th and Breezy Johnson (Victor, Idaho) was 15th. Ross nailed the bottom of the downhill course to post a career-best World Championship result.
"My strongest section is coming off the bottom pitch and off that last big jump," Ross said. "I could feel myself carrying speed. I'm not sure how my top sections were – they haven't been the fastest this week – but I gave it what I had and I skied well and I'm happy."
For Wiles, who is competing in only her second World Championships, Sunday's downhill was an opportunity to get back on track after not finishing the super G earlier in the week.
"I was a little bummed at first after the super G," Wiles said. "After the training runs, I needed to tighten my line up quite a bit after watching some video. I just tried to send it as hard as I could today and tighten that line up. I think for the most part, it was pretty good in sections, but there were a couple turns also where I scrubbed (some speed). But it's OK, still a lot of fun, and I'm just happy to be here."
Up next at the World Championships, the women compete in the team event Tuesday.
OFFICIAL RESULTS
2017 FIS Alpine World Ski Championships
St. Moritz, Switzerland – Feb. 12, 2017
Women's Downhill
| Rank | Name | Nation | Total Time | Diff. | FIS Points |
| --- | --- | --- | --- | --- | --- |
|  1 | STUHEC Ilka | SLO |  1:32.85 | |  0.00 |
|  2 | VENIER Stephanie | AUT |  1:33.25 |  +0.40 |  5.39 |
|  3 | VONN Lindsey | USA |  1:33.30 |  +0.45 |  6.06 |
|  4 | GOGGIA Sofia | ITA |  1:33.37 |  +0.52 |  7.00 |
|  5 | ROSS Laurenne | USA |  1:33.57 |  +0.72 |  9.69 |
|  6 | SCHEYER Christine | AUT |  1:33.79 |  +0.94 |  12.65 |
|  7 | SUTER Fabienne | SUI |  1:33.88 |  +1.03 |  13.87 |
|  8 | GISIN Michelle | SUI |  1:33.89 |  +1.04 |  14.00 |
|  9 | SIEBENHOFER Ramona | AUT |  1:33.97 |  +1.12 |  15.08 |
|  10 | WEIRATHER Tina | LIE |  1:34.03 |  +1.18 |  15.89 |