PyeongChang, South Korea – Russia's Alena Zavarzina and Andreas Prommegger of Austria claimed victory in the official parallel giant slalom test event for the upcoming 2018 Olympic Winter Games in PyeongChang, South Korea which was staged in the re-run format on Sunday.
With perfect conditions on the 560-meter course complete with steeps, natural rollers and flats, and a total of 26 gates, Zavarzina repeated her win in Bulgaria the previous weekend against 2014 Olympic champion Patrizia Kummer of Switzerland. With her second win of the season and the fourth of her career, the 2014 Olympic bronze medalist not only extended her lead in the PGS World Cup standings but also overtook the Czech Republic's Ester Ledecka in the overall alpine snowboard World Cup ranking, as Ledecka missed the Korean race in favor of participating in the FIS Ski World Championships in St. Moritz, Switzerland.
"I'm feeling great. It was a great experience to race here on the official Olympic slope," said Zavarzina. "I'm really excited to come back next year."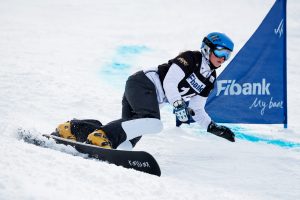 Switzerland's Julie Zogg rounded out the podium in third by winning the small final against Germany's Ramona Hofmeister.
Over in the men's event, after sneaking into the finals as the 16th qualifier, Prommegger kept the upper hand on his teammate Sebastian Kislinger in an all-Austrian final, bringing home his season's first World Cup win while Kislinger celebrated his first-ever World Cup podium in his 40th start. Italy's Aaron March finished in third position with Dario Caviezel of Switzerland forced to settle for fourth.
"I was 16th after the qualification but didn't know what was going on, Prommegger admitted. "I had two good runs but wasn't fast. So, I changed the equipment and it worked out perfectly."
The alpine snowboard World Cup tour continues in two weeks with a parallel slalom staged in Shukolovo, Russia on February 25.
OFFICIAL RESULTS
FIS Snowboard World Cup
Bokwang, South Korea – Feb. 12, 2017
Women's PGS
Rank
Name
Nation
Result
FIS Points
WC Points
 1
ZAVARZINA Alena
RUS
 1000.00
 1000.00
 2
KUMMER Patrizia
SUI
 800.00
 800.00
 3
ZOGG Julie
SUI
 600.00
 600.00
 4
HOFMEISTER Ramona Theresia
GER
 500.00
 500.00
 5
JOERG Selina
GER
 450.00
 450.00
 6
TUDEGESHEVA Ekaterina
RUS
 400.00
 400.00
 7
TAKEUCHI Tomoka
JPN
 DSQ
 360.00
 360.00
 8
JENNY Ladina
SUI
 320.00
 320.00
 9
RIEGLER Claudia
AUT
 290.00
 290.00
 10
MESCHIK Ina
AUT
 260.00
 260.00
Men's PGS
Rank
Name
Nation
Result
FIS Points
WC Points
 1
PROMMEGGER Andreas
AUT
 1000.00
 1000.00
 2
KISLINGER Sebastian
AUT
 800.00
 800.00
 3
MARCH Aaron
ITA
 600.00
 600.00
 4
CAVIEZEL Dario
SUI
 500.00
 500.00
 5
GALMARINI Nevin
SUI
 450.00
 450.00
 6
SARSEMBAEV Dmitry
RUS
 400.00
 400.00
 7
MUSS Aaron
USA
 DSQ
 360.00
 360.00
 8
MATHIES Lukas
AUT
 320.00
 320.00
 9
YANKOV Radoslav
BUL
 290.00
 290.00
 10
BORMOLINI Maurizio
ITA
 260.00
 260.00