St. Moritz, Switzerland – With the fastest second run of the day, Mikaela Shiffrin grabbed her first career World Championships giant slalom medal Thursday, finishing second on a sun-soaked course at the 2017 FIS Alpine World Ski Championships.
Tessa Worley of France took the victory by 0.34 seconds for her second World Championship giant slalom title, as Italy's Sofia Goggia finished third to earn her first World Championship medal as well.
"Incredible," said Worley after her victory. "I worked hard all year and had to stay patient. But I knew today could be my day if I gave my best and I was focused completely on winning the gold."
Shiffrin, of Eagle, Colo., finished third in the first GS run, then stepped it up for the second run, especially on the bottom of the course with her strong finishing style.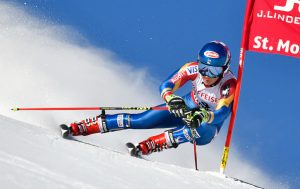 "First run I felt like I left something out on the hill, but second run I really felt like I attacked," said Shiffrin, who was eighth in GS in 2015 at Beaver Creek, and sixth in Schladming, Austria in 2013. "It was really fun to ski.
"Tessa deserves winning this, she's done so well all season," she added. "She had such a big lead after the first run that I knew it would be tough to top. For a bit I thought I had done enough, but it was clear that she was the best today and deserves the gold medal."
A massive field started today's race with 98 athletes at the start. It was also a record for a ladies' giant slalom with 56 different nations participating, truly putting the word "world" into the World Championships. Megan McJames, of Park City, Utah, was the only other American to qualify for the second run, finishing 21st.
Shiffrin, the two-time defending slalom World Champion, is now focused on Saturday's slalom, the final event of the 2017 World Championships.
"It's not so hard to carry momentum when you have good momentum going," she said.  "I'm just going to try to ride this wave, get a little training tomorrow, and then go out and try to attack on Saturday."
OFFICIAL RESULTS
2017 FIS Alpine World Ski Championships
St. Moritz, Switzerland – Feb. 16, 2017
Women's Giant Slalom
| Rank | Name | Nation | Run 1 | Run 2 | Total Time | Diff. | FIS Points |
| --- | --- | --- | --- | --- | --- | --- | --- |
|  1 | WORLEY Tessa | FRA |  1:02.01 |  1:03.54 |  2:05.55 | |  0.00 |
|  2 | SHIFFRIN Mikaela | USA |  1:02.73 |  1:03.16 |  2:05.89 |  +0.34 |  2.65 |
|  3 | GOGGIA Sofia | ITA |  1:02.49 |  1:03.80 |  2:06.29 |  +0.74 |  5.78 |
|  4 | BRIGNONE Federica | ITA |  1:03.11 |  1:03.36 |  2:06.47 |  +0.92 |  7.18 |
|  5 | BRUNNER Stephanie | AUT |  1:03.35 |  1:03.50 |  2:06.85 |  +1.30 |  10.15 |
|  6 | MOELGG Manuela | ITA |  1:03.43 |  1:03.45 |  2:06.88 |  +1.33 |  10.38 |
|  7 | DREV Ana | SLO |  1:03.32 |  1:04.04 |  2:07.36 |  +1.81 |  14.13 |
|  8 | VLHOVA Petra | SVK |  1:03.66 |  1:03.84 |  2:07.50 |  +1.95 |  15.22 |
|  9 | HECTOR Sara | SWE |  1:03.68 |  1:03.83 |  2:07.51 |  +1.96 |  15.30 |
|  10 | LOESETH Nina | NOR |  1:03.22 |  1:04.30 |  2:07.52 |  +1.97 |  15.38 |