St. Moritz, Switzerland – While Thursday was sunny and warm at the FIS Alpine World Ski Championships in St. Moritz, the bright sun hid for most of Friday's giant slalom race—proving chillier with tough visibility. Many men struggled with the flat light and falling snow, but you couldn't see that in Marcel Hirscher's run, who, after finishing second to Ted Ligety in the last two World Championships giant slaloms and with Ligety out for the season, finally took his first GS gold today. Behind him by 0.25 seconds, his teammate Roland "Roli" Leitinger was second and Leif Kristian Haugen of Norway third.
It is Hirscher's second medal in St. Moritz, after taking silver in the alpine combined.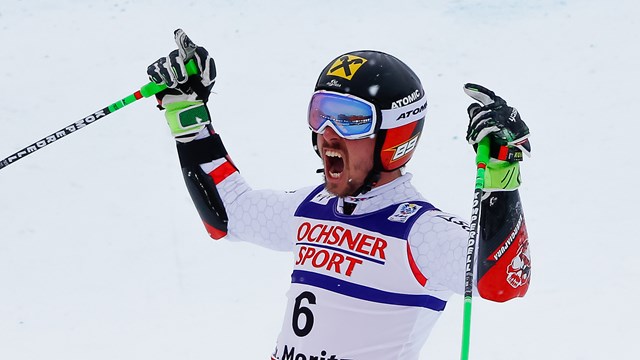 "I'm very tired at the moment but unbelievable feelings, one of the toughest races we had this season so far, and I'm very thankful for this," said Hirscher. "The GS was the gold medal that I had yet to win so today's race had great meaning for me. I'm also really happy for Roland, he's worked hard for this and to share the podium."
It was the first ever podium of Leitinger's career, whose best World Cup result is sixth in Soelden in 2015. He had yet to crack the top-10 this season. Haugen also enjoyed his first time in the limelight of the podium.
"Amazing, it is my first podium and to get it in the world Championships is amazing," said Haugen. I was really on my limit and I was nervous. I've been close to the top three the last few seasons but couldn't crack it, so it's great to do it today."
Haugen finished fourth in the parallel GS earlier this season in Alta Badia and was also fourth in the Kitzbuehel slalom.
David Chodounsky, of Crested Butte, Colo., was the top American in 11th. Known as a slalom specialist, Chodounsky put down the third-fastest second run in the GS, skiing with smart tactics and holding a clean edge on a difficult surface. He came down in a fit of excitement, with this result bettering all of his World Cup GS finishes.
"I'm really happy with the run," said Chodounsky. "I skied well. I consider slalom better for me, but I'm really happy with how my GS is, especially here right now. It would have been nice to be top 10—it was very close—but I'll take it, I'm happy."
Ryan Cochran-Siegle, of Starksboro, Vt., was the only other American finisher to make second run, taking 25th. Both Tommy Ford (Bend, Ore.) and Tim Jitloff (Park City, Utah) did not finish first run.
During today's training of the PC-7 Swiss air team at 11:30 CET in the finish area of Salastrains, one of the planes touched the wing cam cable camera. This caused a tear in the cable, causing the camera to fall down. No one was hurt in the incident, and the plane landed safely at the regional airport in Samedan. For security reasons, the operation of the chairlift was briefly stopped. This caused the second run to be postponed by 30 minutes.
The men have just one more event of the 2017 World Championships in St. Moritz: a slalom on Sunday. Chodounsky will be going for a top spot, fueled by his confidence in the giant slalom.
OFFICIAL RESULTS
FIS Alpine World Ski Championships
St. Moritz, Switzerland – Feb. 17, 2017
Men's Giant Slalom
| Rank | Name | Nation | Run 1 | Run 2 | Total Time | Diff. | FIS Points |
| --- | --- | --- | --- | --- | --- | --- | --- |
|  1 | HIRSCHER Marcel | AUT |  1:06.73 |  1:06.58 |  2:13.31 | |  0.00 |
|  2 | LEITINGER Roland | AUT |  1:07.26 |  1:06.30 |  2:13.56 |  +0.25 |  1.84 |
|  3 | HAUGEN Leif Kristian | NOR |  1:07.27 |  1:06.75 |  2:14.02 |  +0.71 |  5.22 |
|  4 | KRISTOFFERSEN Henrik | NOR |  1:07.21 |  1:06.86 |  2:14.07 |  +0.76 |  5.59 |
|  5 | SCHOERGHOFER Philipp | AUT |  1:06.99 |  1:07.17 |  2:14.16 |  +0.85 |  6.25 |
|  6 | OLSSON Matts | SWE |  1:07.12 |  1:07.12 |  2:14.24 |  +0.93 |  6.84 |
|  7 | PINTURAULT Alexis | FRA |  1:07.08 |  1:07.21 |  2:14.29 |  +0.98 |  7.20 |
|  8 | MURISIER Justin | SUI |  1:07.84 |  1:06.46 |  2:14.30 |  +0.99 |  7.28 |
|  9 | FAIVRE Mathieu | FRA |  1:07.51 |  1:06.85 |  2:14.36 |  +1.05 |  7.72 |
|  10 | TONETTI Riccardo | ITA |  1:07.58 |  1:06.89 |  2:14.47 |  +1.16 |  8.53 |