PyeongChang, South Korea – Vermont's Kelly Clark and Scotty James of Australia picked up the wins at the 2016-17 season's final halfpipe Snowboard World Cup event, which took place on Sunday at the Bokwang Phoenix Park Resort in South Korea. The competition also served as the official test event for the 2018 PyeongChang Olympic Winter Games.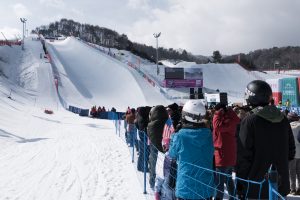 While James, who had triumphed in the X Games earlier this season, walked away with his career's second Crystal Globe since 2014, America's Chloe Kim clinched the title for the women. It was Kim's first even though the teenage halfpipe sensation from California finished in fourth place on Sunday.
Fresh off a win at Mammoth Mountain, Clark scored 94.00 on Sunday to hold off Chinese shredders Jiayu Liu (91.50) and Xuetong Cai (86.50). It was not only Clark's 13th win on the World Cup tour, but also her fourth consecutive triumph in an official Olympic test event World Cup after prevailing in Bardonecchia (ITA) in 2005, Cypress Mountain (CAN) 2009 and Sochi (RUS) back in 2013.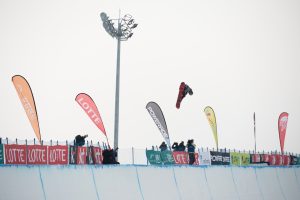 "This is a huge step for me in my process just coming back from my hip surgery to get my riding back to a really high level. Since last week, I finally feel that I'm back to where I was before I got injured," Clark said. "I have hoped that I can build. It's awesome to be at a test event knowing that I have a whole year to progress. I'm thankful to put down the run I did today, and I'm stoked of my snowboarding and even more stoked to end up atop of the podium."
Over in the men's event, reigning world champion Scotty James added another big win to his resumé, earning the highest score of the day of 96.00 in his third run to put pressure on U.S. superstar Shaun White. White, however, couldn't step up his game and had to settle for second place, thanks to his first-run score of 95.00. China's Yiwei Zhang, the first rider who had stomped a triple cork in the pipe, rounded out the podium in third with a 93.25.
"It feels amazing winning the test event. I absolutely love South Korea. Every run here has been so awesome," said James. "The crowds and fans have been so welcoming and very helpful. They put on an awesome pipe here for us to ride, and yeah, I'm really excited. It's twelve months down the track from today. It's going to be another exciting day in one year. And with a halfpipe like that anything is possible. It's going to be awesome."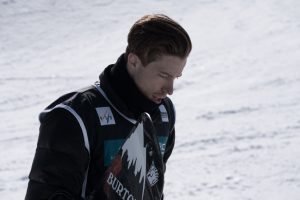 "It's extremely disappointing. I absolutely came here to win and do my thing. It was a great test run for the Olympics. Yeah, I think lesson is learned," White admitted. "The truth is, I rode for two days and then went for shopping in Seoul, then rode qualifying and went back to shop in Seoul. So, I am really tired. By the time I got to my last hit my back leg kinda gave out. So, I'm just disappointed in myself."
With the season's last halfpipe World Cup in the books, the finale of the snowboard freestyle overall World Cup tour is slated to take place in Spindleruv Mlyn, Czech Republic, where a slopestyle competition will wrap things up March 24-25. That will be followed by the 12th FIS Snowboard World Championships in Sierra Nevada, Spain, March 7-19.
OFFICIAL RESULTS
FIS Snowboard World Cup
Bokwang Phoenix Park, South Korea – Feb. 19, 2017
Women's Halfpipe
Rank
Name
Nation
Result
FIS Points
WC Points
 1
CLARK Kelly
USA
 94.00
 1000.00
 1000.00
 2
LIU Jiayu
CHN
 91.50
 800.00
 800.00
 3
CAI Xuetong
CHN
 86.50
 600.00
 600.00
 4
KIM Chloe
USA
 82.50
 500.00
 500.00
 5
IMAI Kurumi
JPN
 68.25
 450.00
 450.00
 6
MASTRO Maddie
USA
 53.25
 400.00
 400.00
 7
MATSUMOTO Haruna
JPN
 80.25
 360.00
 360.00
 8
OE Hikaru
JPN
 77.50
 320.00
 320.00
 9
LI Shuang
CHN
 72.50
 290.00
 290.00
 10
ARTHUR Emily
AUS
 72.25
 260.00
 260.00
Men's Halfpipe
Rank
Name
Nation
Result
FIS Points
WC Points
 1
JAMES Scotty
AUS
 96.00
 1000.00
 1000.00
 2
WHITE Shaun
USA
 95.00
 800.00
 800.00
 3
ZHANG Yiwei
CHN
 93.25
 600.00
 600.00
 4
FERGUSON Ben
USA
 84.50
 500.00
 500.00
 5
BRETZ Gregory
USA
 81.75
 450.00
 450.00
 6
JOSEY Chase
USA
 79.75
 400.00
 400.00
 7
LADLEY Matthew
USA
 70.00
 360.00
 360.00
 8
CALLISTER Kent
AUS
 57.75
 320.00
 320.00
 9
BURGENER Patrick
SUI
 41.75
 290.00
 290.00
 10
PODLADTCHIKOV Iouri
SUI
 15.50
 260.00
 260.00