Senboku City, Japan – In Sunday's World Cup dual moguls competition at Tazawako Ski Resort in Japan, Wyoming's Jaelin Kauf skied to her first career World Cup win, with teammate Olivia Giaccio, of Redding, Conn., joining her on the podium with a third place finish, also a career first.
Both Kauf and Giaccio, who came to the U.S. Ski Team through the Steamboat Springs Winter Sports Club, have performed well in duals this season. Kauf, who recently had a third place finish in duals at Deer Valley Resort, overcame the adversity of Saturday's moguls competition where she didn't make finals. She powered through some tough duals, including ones against some of the top Canadian skiers, to make it to the big final. Kauf beat Kazakhstan's Yulia Galysheva 19 to 16 to take the win.
"I can't really describe how I'm feeling right now," said Kauf. "I was just pushing the speed all day and trying to beat the other girls down the course. I wasn't expecting this to happen, but it's amazing and I couldn't be happier."
Young 16-year-old Giaccio, who is in the midst of her first full year on the World Cup tour, was knocking at the door at the last duals World Cup in Deer Valley where she finished fourth. In Tazawako she broke through, dueling against top veteran athletes to capture her first podium.
"I was trying to win speed today as best I could," said Giaccio. "I tried to ski clean, have big airs and just focus on each run. It's insane – I definitely didn't expect it – but I am super excited and it's so great to share the podium with Jaelin. We skied together at Steamboat last year, so it's really special to share this with her."
Dual moguls may be difficult for some skiers, but Kauf and Giaccio have excelled in the fast-paced environment. While they did end up dueling each other to earn their spots in the small and big finals, both were able to ski well and come out victorious in their final duals.
"Both Jaelin and Olivia skied with great composure today," said U.S. head moguls coach Matt Gnoza. "Their runs were technical and they stayed focused on their skiing, winning those duals where they were the underdogs. They both ski aggressively, charge through the middle section and go big on the bottom air. It was some great skiing."
On the men's side, Canada's Mikaël Kingsbury continued his World Cup domination to beat out France's Benjamin Cavet and take the win. Australia's Matt Graham was third.
"The duals were extremely fast. From the get-go, I had to face solid rivals but I managed to ski well on both sides of the course and to stay in control," explained Kingsbury, who had also previously won both events here in Japan in 2015, and who also celebrated his second back-to-back wins of the season after Deer Valley. "My next goal: back-to-back victories at World Championships."
Just like on Saturday, Brad Wilson (Butte, Mont.) and Troy Murphy (Bethel, Maine) led the charge for the U.S. men. They faced some tough opponents and were unable to advance to the small and big finals, landing themselves in sixth and seventh, respectively.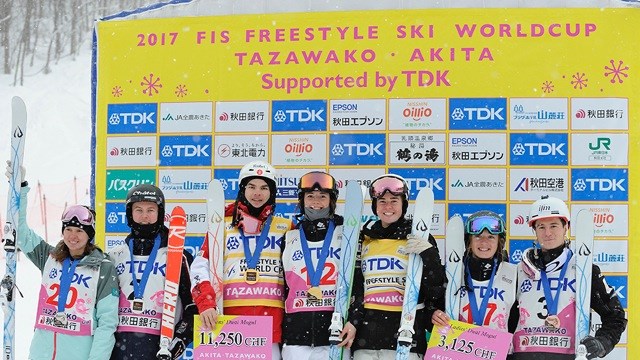 The FIS Freestyle moguls World Cup tour continues Feb. 25-26 with another set of moguls and dual moguls competitions at Thaiwoo Ski Resort in China. Moguls athletes will then make their way to Sierra Nevada, Spain for the Freestyle FIS World Championships.
OFFICIAL RESULTS
FIS Freestyle Ski World Cup
Tazawako, Japan – Feb. 19, 2017
Dual Moguls
Women
| Rank | Name | Nation | FIS Points | WC Points |
| --- | --- | --- | --- | --- |
|  1 | KAUF Jaelin | USA |  1000.00 |  100.00 |
|  2 | GALYSHEVA Yulia | KAZ |  800.00 |  80.00 |
|  3 | GIACCIO Olivia | USA |  600.00 |  60.00 |
|  4 | DUFOUR-LAPOINTE Chloe | CAN |  500.00 |  50.00 |
|  5 | PERTAKHIYA Marika | RUS |  450.00 |  45.00 |
|  6 | NAUDE Andi | CAN |  400.00 |  40.00 |
|  7 | ROBICHAUD Audrey | CAN |  360.00 |  36.00 |
|  8 | DUFOUR-LAPOINTE Maxime | CAN |  320.00 |  32.00 |
|  9 | COX Britteny | AUS |  290.00 |  29.00 |
|  10 | WESSEL Hedvig | NOR |  260.00 |  26.00 |
Men
| Rank | Name | Nation | FIS Points | WC Points |
| --- | --- | --- | --- | --- |
|  1 | KINGSBURY Mikael | CAN |  1000.00 |  100.00 |
|  2 | CAVET Benjamin | FRA |  800.00 |  80.00 |
|  3 | GRAHAM Matt | AUS |  600.00 |  60.00 |
|  4 | REIHERD Dmitriy | KAZ |  500.00 |  50.00 |
|  5 | MARQUIS Philippe | CAN |  450.00 |  45.00 |
|  6 | WILSON Bradley | USA |  400.00 |  40.00 |
|  7 | MURPHY Troy | USA |  360.00 |  36.00 |
|  8 | BENNA Anthony | FRA |  320.00 |  32.00 |
|  9 | CHAPMAN-DAVIES Rohan | AUS |  290.00 |  29.00 |
|  10 | HARA Daichi | JPN |  260.00 |  26.00 |