Gatlinburg, TN – Tennessee's only ski area is giving up on winter.
Warmer than normal temperatures are forcing Ober Gatlinburg to close ski operations after today. With an average annual snowfall of only 35 inches, Ober Gatlinburg almost entirely relies upon man-made snow, but with only a 12-inch base remaining on its three open runs, and warm weather in the forecast with temperatures pushing 60, ski area officials are officially throwing in the towel.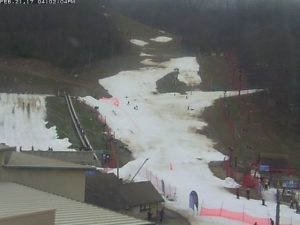 Although this has been an atypically warm winter in Gatlinburg, the 2007/2008 winter season was also warmer than normal following a hot summer in the Great Smoky Mountains. Ober Gatlinburg officials are taking heart that weather patterns typically don't repeat themselves year after year.
Although the mountain will be closed for skiing, snow tubing will remain in operation at Ober Gatlinburg through March 26.