Stowe, VT – Vail Resorts, Inc. confirmed this morning that on Friday the company entered an agreement to acquire its first eastern ski resort – Vermont's Stowe Mountain Resort – from Mt. Mansfield Company, Inc. (MMC) in a deal worth $50 million.
MMC is a wholly owned subsidiary of insurer American International Group, Inc. (AIG). Rumors of Vail Resorts coming to town have been circulating in this picturesque northern Vermont village since Vail Resorts executives were first spotted visiting the resort last month.
The acquisition brings together Vail Resorts with developer AIG Global Real Estate (AIGGRE). Vail Resorts is acquiring all of the assets related to the mountain operations of the resort, including base area skier services (food and beverage, retail and rental, lift ticket offices and ski and snowboard school facilities) at Mount Mansfield and Spruce Peak. Other facilities such as the Stowe Mountain Lodge, Stowe Mountain Club, Stowe Country Club and certain real estate owned and held for potential future development will be retained by MMC.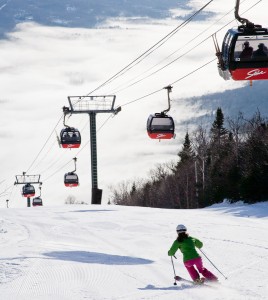 "We're thrilled to add Stowe Mountain Resort to our family of world-class mountain resorts. With the investments in both mountain infrastructure and base area facilities that AIG has made over the years, Stowe Mountain Resort has become the premier, high-end resort for East Coast skiers and snowboarders," said Rob Katz, chairman and chief executive officer of Vail Resorts. "We look forward to working with AIG to continue enhancing the guest experience and to ensure the resort's long-term success."
Douglas Tymins, president and chief executive officer of AIG Global Real Estate, added, "Under Vail Resorts' management, Stowe's reputation as a premier ski destination with a commitment to excellent service will continue to grow. AIGGRE is looking forward to combining Vail Resorts' tremendous mountain operations capabilities with our continued commitment to the development of the Spruce Peak community."
MMC will also retain ownership of the Stowe Mountain Lodge at Stowe Mountain Resort, a 312-room hotel and spa, and additional slopeside real estate opportunities.
By purchasing Stowe, Vail Resorts will further geographically diversify its portfolio of ski areas as a hedge against unfavorable winter weather. Headquartered in Broomfield, Colo., the company will now own ski resorts in Colorado, California and Nevada, Utah, Wisconsin, Michigan, British Columbia (Canada), Australia and now, Vermont.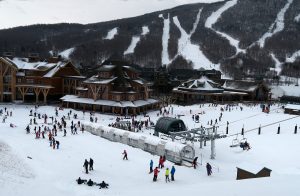 This transaction is subject to Vermont administrative review. At closing, the purchase price will be adjusted for certain agreed upon terms, including a reduction (or increase) in the price by the amount that the resort's EBITDA exceeds capital expenditures for the period from Nov. 1, 2016, through closing. Stowe Mountain Resort is expected to generate incremental annual EBITDA in excess of $5 million in Vail Resorts' fiscal year ending July 31, 2018.
Operations at the resort for the remainder of the 2016-17 ski season will continue in the ordinary course as will future summer and winter seasonal hiring. Vail Resorts says that the company will be retaining the vast majority of the resort's year-round staff.
Vail Resorts will integrate Stowe Mountain Resort into its Epic Pass and other season pass products for the 2017-18 winter season, subject to the acquisition closing. With the Epic Pass, Vermont skiers and snowboarders will have unlimited access locally at Stowe as well as: Vail, Beaver Creek, Breckenridge and Keystone in Colorado; Park City in Utah; Heavenly, Northstar and Kirkwood in Tahoe; and Whistler Blackcomb in British Columbia, Canada.
The effect of Vail Resorts' foray into New England has yet to be seen, but, "Good competition is always welcomed, and Vail will bring that to Vermont," says Win Smith, president of nearby Sugarbush Resort. "We have long respected Stowe as a very well-capitalized and well-run resort, and we have admired the success of Vail under its recent ownership. Vail will clearly bring a number of changes to Stowe, not least of which is their Epic Pass. This pass has changed the landscape in the West and certainly will create some challenges, but also some opportunities, here in the East."