Lake Tahoe, CA – Amidst the deepest snowpack in 22 years, three Lake Tahoe area ski resorts have already announced an extension of their ski and snowboard seasons.
Heavenly Mountain Resort will now continue daily operations through April 23, and will add the weekend of April 28 – 30. Additionally, Northstar California now offers skiing through April 23.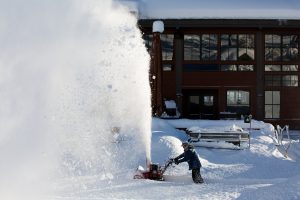 "We're thrilled to offer guests great skiing and riding, as well as a variety of spring activities for visitors this spring at Heavenly and Northstar," said Pete Sonntag, senior vice president and chief operating officer of Heavenly Mountain Resort. "With the record snowfall totals in January and continued snowfall throughout the season, we're excited to offer guests an unparalleled experience at the mountains."
Both Heavenly and Northstar are owned by Broomfield, Colo.-based Vail Resorts. The third Tahoe ski area owned by Vail, Kirkwood Mountain Resort, will stick to its original plan that calls for spring skiing through April 16.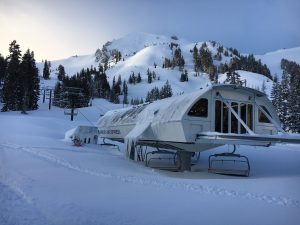 Most Tahoe are resorts have experienced the snowiest winter on record, with some reporting a current season total measuring more than 50 feet. With a snowpack of 21 feet, Squaw Valley Alpine Meadows will be spinning lifts well into June and plans to offer skiing and riding on the 4th of July with as many lifts as possible, weather and conditions permitting. The resort has received more than seven feet of new snow since last Friday, bringing the season total to 565 inches or 47 feet. Squaw Valley Alpine Meadows has already surpassed its annual average snowfall of 450 inches by 115 inches, with months left to go in the season. After topping its 45-year historic record for snowfall in a single month with 282 inches in January, Squaw Valley Alpine Meadows has received nearly 15 feet in February with seven days remaining. As of today, the resort has amassed 126 percent of its average annual snowfall, 63 percent of which fell in January alone.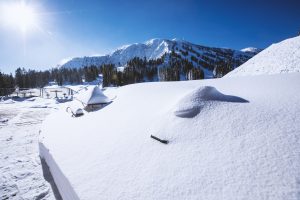 On the Nevada side of North Lake Tahoe, Mt. Rose Ski Tahoe has received 636 inches (53 feet) of snow this season. Thanks to its high base area elevation of 8,260 feet, the Lake Tahoe area resort has experienced top-to-bottom snow throughout the majority of storms that have impacted the region this winter. With current base depths averaging 216 inches, the conditions at Mt. Rose Ski Tahoe are all-time.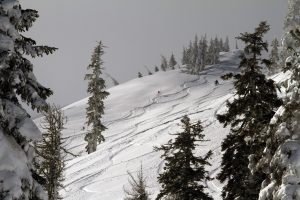 Near Donner Summit, Sugar Bowl Resort has received 620 inches of snow (over 51 feet) season-to-date, with 84 inches falling in the past seven days alone, and 169 inches to-date in February. The last time Sugar Bowl had this much snow by the end of February was 1983-84 when the snowfall total had reached 629 inches, and there are still a few days left to go in the month. Although the season-ending snowfall has yet to be determined, there are only five seasons recorded at Sugar Bowl which ended the year with snowfall higher than it is to-date: 1982-83, 1983-84, 1992-93, 1994-95 and 2010-11.
The resort is currently open with seven lifts, with four more on the schedule pending completion of snow safety work by mountain operations and ski patrol teams. Snow depths at Sugar Bowl are currently 237 inches at the summit, and 145 inches at the base of the mountain.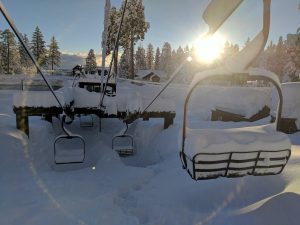 Even lower-elevation Tahoe resorts have accumulated impressive snowfall totals. Despite a base elevation barely above lake level, Homewood Mountain Resort has received more than 5.5 feet of snow this week. The sun is currently shining, but the National Weather Service forecast calls for the next potentially significant round of snowfall to arrive this weekend. Homewood's reported snow depths are 201 inches at the summit and 95 inches at the base.