Lahti, Finland – Sunny skies have greeted athletes arriving in Lahti for this week's FIS Nordic Ski World Championships. Teams from all corners of the globe have been making their way to the popular nordic center where the championships open Wednesday evening with first competitions on Thursday.
The U.S. nordic combined team arrived Sunday and has comfortably settled in awaiting the first training sessions. "So far it's been great," said athlete Bryan Fletcher, of Steamboat Springs, Colo. "All our questions and requests have been met with warm hospitality. The lodging is comfortable and the food has been good. I'm definitely excited to get these champs underway."
A veteran now of five World Championships, Fletcher is accustomed to big events. "The vibe is definitely positive on our team and it seems like it's the same throughout the athlete village," he said. "It's a beautiful day here and a great start to the next two weeks."
Skies were clear Tuesday with temperatures in the mid-20s Fahrenheit. Long-range forecasts call for daytime temperatures just under freezing with overnight lows into the teens.
The U.S. cross country team got its first training session in on Tuesday afternoon. "Great skiing out there today," said Head Coach Chris Grover. "Blue skies and icy fast tracks. We had a great sprint prep session for some sprinters and skiathlon course prep and inspection for others."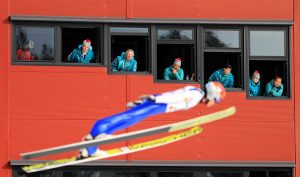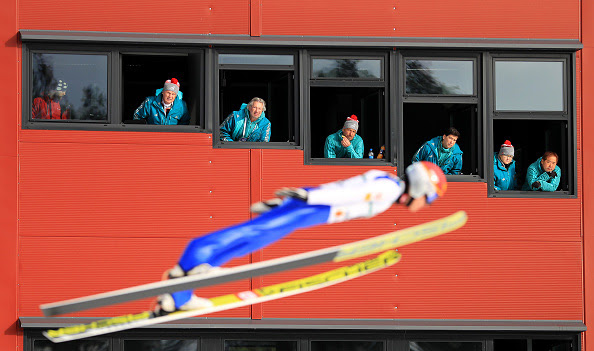 "The stoke levels are high here in Lahti for the start of World Championships," said athlete Jessie Diggins, of Afton, Minn., who is expected to have a strong championships over the next 12 days. Diggins has medaled in the last two worlds. "Today is my first day of official training and I'm excited to inspect the courses and see the different tracks for each race. The athlete village in Vierumaki has been great for our team, and getting to live in small apartments has been a dream come true after months of living in hotels on the road! The cozy atmosphere helps as we prepare for some big races in the next two weeks."
Lahti is one of the classic venues in nordic skiing – a point not lost on the athetes. "We have a strong 2017 worlds team and it's great to be in such a great place steeped in ski racing history," said Aspen, Colo.'s Simi Hamilton. "The energy for cross country ski racing is always electric in Lahti, and it's even more so already this year for the championships. The courses are in great shape and they've done a professional job with getting everything ready for us. I'm feeling good and ready to go, and am psyched to kick the championships off on Thursday with the skate sprint, which is definitely my strongest event."
Jumpers were just starting to arrive, with 2013 World Champion Sarah Hendrickson of Park City, Utah first on the scene. "I just got in Monday and it looks fantastic here," she said. "Although the athlete village is a little outside of Lahti l, I love being with all the other athletes and nations. To me that's such an important and exciting thing about the Olympics and World Championships because it's motivating to see the other athletes around."
Hendrickson and teammate Nita Englund, of Florence, Wisc., began training today with the women's competition Friday. The team also includes a few first timers, like Casey Larson of Barrington, Ill., from the Norge Ski Club, competing in his first World Championships.
"Lahti is a whole new experience for me," said Larson, who was recently eighth in the Junior World Championships on the Olympic jumps in Park City. "Before this I've jumped in one World Cup, which was a great learning experience. I'm planning on absorbing as much of the experience as I can and have tons of fun. My training has been going well so I know it is just up to me going out there and enjoying myself while putting some great jumps down."
Larson is one of three members of the Norge Ski Club competing in Lahti including Mike Glasder (Cary, Ill.) and Kevin Bickner (Wauconda, Ill.).
"We all take a lot of pride in being from Norge, and I know the environment there is perfect for a kid who wants to get into ski jumping," he added. "We three aren't the first wave of good jumpers to pour out of Fox River Grove and I doubt I'll be the last."
2017 FIS NORDIC WORLD SKI CHAMPIONSHIPS
Live Streaming and U.S. Broadcast Schedule (times EST)
Thursday, Feb. 23
10:30 a.m.-12:30 p.m. – Classic Sprint – LIVE STREAM
5:30 – 7:30 p.m. – Classic Sprint – TV: NBCSN
Friday, Feb. 24
3:30-4:30 a.m. – Nordic combined HS100m ski jumping – LIVE STREAM
6:30-7:30 a.m. – Nordic combined 10k – LIVE STREAM
10:30 a.m.-12:30 p.m. – Women's HS100m ski jumping – LIVE STREAM
1:30-2:30 p.m. – Women's HS100m ski Jumping – TV: NBCSN
2:30-4:00 p.m. – Daily broadcast coverage – TV: Universal HD
Saturday, Feb. 25
5:00-7:00 a.m. – Women's skiathlon – LIVE STREAM
7:30-9:30 a.m. – Men's skiathlon – LIVE STREAM
10:30 a.m.-12:30 p.m. – Men's HS100m Ski jumping – LIVE STREAM
8:00-11:00 p.m. – Daily broadcast coverage – TV: Universal HD
Sunday, Feb. 26
5:00-6:00 a.m. – Nordic combined team HS100m ski jumping – LIVE STREAM
6:30-8:30 a.m. – Team freestyle sprint – LIVE STREAM
8:30-9:30 a.m. – Nordic combined 4x5k team event – LIVE STREAM
10:30 a.m.-12:40 p.m. – Mixed gender HS100m ski jumping team event – LIVE STREAM
9:30 p.m.-12:30 a.m. – Daily broadcast coverage – TV: Universal HD
Tuesday, Feb. 28
6:45-8:45 a.m. – Women's 10k classic – LIVE STREAM
5:30-7:00 p.m. – Women's 10k classic – TV: Universal HD
Wednesday, Mar. 1
5:00-6:00 a.m. – Nordic combined HS130m ski jumping – LIVE STREAM
6:45-8:45 a.m. – Men's 15k classic – LIVE STREAM
9:15-10:15 a.m. – Nordic combined 10k – LIVE STREAM
7:00-10:00 p.m. – Daily broadcast coverage – TV: Universal HD
Thursday, Mar. 2
8:00-10:00 a.m. – Women's 4x5k relay – LIVE STREAM
11:30 a.m.-1:30 p.m. – Men's HS130m ski jumping – LIVE STREAM
1:00-3:00 p.m – Daily broadcast coverage – TV: NBCSN
Friday, Mar. 3
6:30-8:30 a.m. – Men's 4x10k relay – LIVE STREAM
9:00-10:00 a.m. – Nordic combined HS130m ski jump – LIVE STREAM
11:15 a.m.-12:15 p.m. – Nordic combined 2×7.5k team sprint – LIVE STREAM
12:00-2:30 p.m. – Daily broadcast coverage – TV: NBCSN
Saturday, Mar. 4
7:30-9:30 a.m. – Women's 30k freestyle – LIVE STREAM
10:15 a.m.-12:15 p.m. – Men's HS130m ski jumping team event – LIVE STREAM
7:30-10:30 p.m. – Daily broadcast coverage – TV: Universal HD
Sunday, Mar. 5
7:00-9:00 a.m. – Men's 50k freestyle – LIVE STREAM
1:30-3:30 p.m. – Men's 50k freestyle – TV: Universal HD