Park City, UT – A strong and deep team of 15 rising stars of ski racing – seven women and eight men – have been named to the U.S. team for the upcoming FIS Alpine Junior World Championships. The team is led by defending Junior Worlds downhill champion Erik Arvidsson of Woodside, Calif., who led the charge of four U.S. men in the top 10 last year – a feat that had never been before achieved. The team will represent the U.S. in Åre, Sweden in six events from March 8-14.
This year's team boasts significant depth on both the men's and women's sides. Chosen athletes come from the U.S. Ski Team C, D and N-UNI teams, the USSA National Training Group, as well as top USSA club programs across the nation. Headlining the team and joining Arvidsson will be Sam Morse (Carrabassett Valley, Maine) and Florian Szwebel (Avon, Colo.), who finished fourth and seventh, respectively, in last year's World Juniors downhill in Sochi, Russia.
Joining this crew will be three-time 2016 Youth Olympic Games champion River Radamus of Edwards, Colo., who is currently ranked first in NorAm Cup alpine combined standings, and a long list of top performers on the NorAm Cup circuit.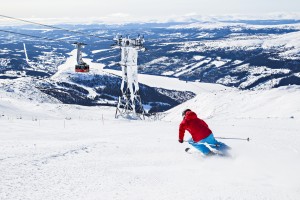 The USA will also bring a strong women's team. Nina O'Brien, also from Edwards, is currently ranked second in the NorAm Cup overall, slalom, super G and alpine combined standings, while U.S. Ski team teammate Alice Merryweather of Hingham, Mass. is ranked first in the downhill standings and Patricia Mangan, of Derby, N.Y., is ranked first in the super G standings.
The team will have a good chance at the prestigious Marc Hodler Trophy, awarded to the team with the best overall performance. Last year Austria took the honor, followed by Switzerland and then Canada. "The thing I'm probably most excited about is the depth of our team, across men and women, in all six events," noted Arvidsson. "We're going to have a super deep team with athletes starting in the top seed in every event, and I'm excited to see what we can do and make a push for the overall team nation's trophy. It should be a good experience."
Both men and women will get some solid time training together as one team in Kvitfjell, Norway prior to hitting the slopes in Åre, which Arvidsson believes will be invaluable for the group. "We're looking forward to having that week to build the atmosphere and build the team and then lead into trying to ski our best when it matters most," Arvidsson said.
The 2017 Junior Worlds will include men's and women's downhill, super G, alpine combined, slalom, giant slalom and a mixed team event.
2017 FIS ALPINE JUNIOR WORLD SKI CHAMPIONSHIPS TEAM
Name (Hometown; Team Affiliation; Club; Birthdate)
Men
Erik Arvidsson – Woodside, CA (U.S. Ski Team C Team; Squaw Valley Ski Team) 9/3/96
Garret Driller – Tahoe City, CA (U.S. Ski Team N-UNI Team; Montana State University Ski Team) 8/24/96
Andrew Miller – Park City, UT (National Training Group; Park City Ski Team) 12/18/98
Sam Morse – Sugarloaf, ME (U.S. Ski Team C Team; Carrabassett Valley Academy) 5/27/96
River Radamus – Edwards, CO (U.S. Ski Team D Team; Ski & Snowboard Club Vail) 2/12/98
Jett Seymour – Steamboat Springs, CO (Steamboat Springs Winter Sports Club) 11/5/98
George Steffey – Lyme, NH (U.S. Ski Team D Team; Stratton Mountain School) 8/18/97
Florian Szwebel – Avon, CO (U.S. Ski Team D Team; Ski & Snowboard Club Vail) 9/4/96
Women
Keely Cashman – Strawberry, CA (U.S. Ski Team D Team; Squaw Valley Ski Team) 4/4/99
Rachael DesRochers – Mammoth Lakes, CA (Ski & Snowboard Club Vail) 1/4/97
Maureen Lebel – Truckee, CA (Mammoth Mountain Ski & Snowboard Club) 6/13/98
Patricia Mangan – Derby, NY (U.S. Ski Team C Team; Holimont Racing Club) 3/7/97
Alice Merryweather – Hingham, MA (U.S. Ski Team C Team; Attitash Race Team/Stratton Mountain School) 10/5/96
Nina O'Brien – Edwards, CO (U.S. Ski Team D Team; Burke Mountain Academy/Squaw Valley Ski Team) 11/29/97
Galena Wardle – Basalt, CO (U.S. Ski Team C Team; Aspen Valley Ski & Snowboard Club) 4/24/98