Golden (BC), Canada – Famed British Olympic ski jumper, Eddie the Eagle, will be in Golden beginning tomorrow through March 4 to meet and ski with fans.  Kicking Horse Powder Tours has organized a number of events for the week, including four opportunities to ski with Eddie, a dinner and talk at the Eagle's Eye Restaurant, and two free screenings of "Eddie the Eagle" – the film about his amazing life and ski jumping exploits.
Michael Edwards, a.k.a. "Eddie the Eagle", captured the hearts and attention of people around the world at the 1988 Calgary Winter Olympic Games.  The British plasterer-turned-ski jumper became the first competitor since 1929 to represent Great Britain in Olympic ski jumping.  Although Edwards came in dead last, he embodied the true Olympic spirit as an amateur athlete who wanted to compete at the best of his ability, regardless of his chances of winning. His story was so captivating that it was made into a major Hollywood motion picture.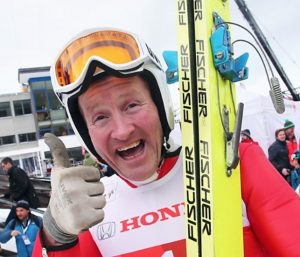 "We are thrilled to welcome Eddie to Golden's winter wonderland," says Joanne Sweeting, executive director of Tourism Golden. "It's exciting that Eddie's fans will have an opportunity to enjoy the great winter conditions and to find out what Eddie has been up to since the 1988 Calgary Winter Olympic Games."
Located in the heart of six of the most stunning national parks Canada has to offer, Golden is home to Kicking Horse Mountain Resort, welcoming tourists from around the world.
For more information about Eddie the Eagle's events this week in Golden, click here.