Chongli, China – It was an exciting day of competition in beautiful sunny conditions on Saturday at Thaiwoo Ski Resort in China, future site of the 2022 Olympic Winter Games, as the best mogul skiers in the world tried out a new course and laid it all on the line in the final singles competition of the season.
On the men's side, Canadian Mikaël Kingsbury was once again victorious while a pair of Aussie's, Brodie Summers and Matt Graham, finished second and third. Troy Murphy, of Bethel, Maine, was the top U.S. finisher, landing just off the podium in fourth.
"I didn't have much pressure on me today, knowing that I'd already won the Crystal globe," said Kingsbury following his season's eighth victory. "At the top of the course, there was a really good song playing and it was sunny. All I had left to do was follow my plan, which was very clear in my head; it wasn't complicated. And this is what earned me the gold medal."
Murphy, along with the rest of the U.S. team, embraced the challenge of learning the new course in Thaiwoo. Murphy qualified eighth going into finals, where he skied a strong run to advance to the super final. His sights were set on the podium, but a small mistake on one of his turns put it just out of reach.
"It was an interesting course," said Murphy. "The jumps were really good, and the moguls are definitely tighter than we're used to. I felt confident going into today – my finals run was really clean and my jumps were super solid. I'm just really happy with my consistency right now."
With six top-10 finishes to his name this season, Murphy continues to be one of the most consistent skiers on the U.S. team. His finish on Saturday puts him in a good spot heading into Sunday's duals competition as well as the World Championships in Spain.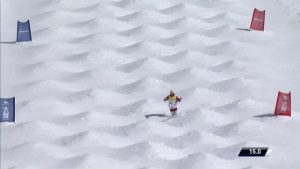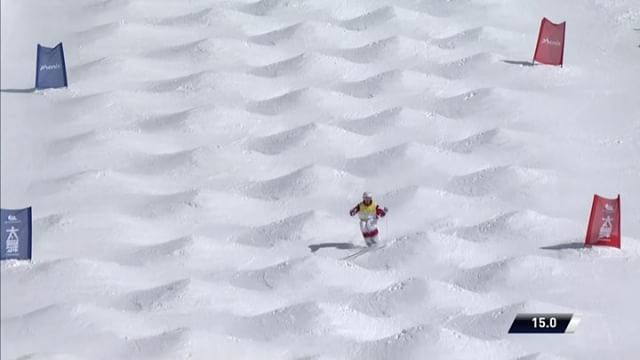 "Murphy was on lockdown all day," stated head moguls coach Matt Gnoza. "He had an outstanding middle section and huge jumps in his finals run. He was absolutely skiing for that podium and, as long as he sticks to his plan and keeps executing, he'll get there."
France's Perinne Laffont took the win for the women. Joining her on the podium was Canada's Justine Dufour-LaPointe in second and Australia's Britt Cox in third.
"I'm so happy to be on the podium today, especially to take first place," Laffont said of her first win in 2016/17. "It wasn't an easy course this morning with the ice, but this afternoon it was much better with the slushy snow. I just tried to enjoy my journey, and the win happened!"
"I made a tiny mistake on the second jump in super final and it cost me the win," Dufour-LaPointe acknowledged. "But I am extremely proud of my skiing."
The U.S. women advanced all six competitors into the finals. Jaelin Kauf (Alta, Wyo.) and K.C. Oakley (Piedmont, Calif.) broke through to the super finals, but had trouble exciting their jumps. They finished fifth and sixth respectively.
"All of our ladies skied great runs, coming from the middle of the pack, to make finals," said Gnoza. "We continue to see impressive stuff from our young skiers. Both Jaelin and K.C. were charging to win today.
OFFICIAL RESULTS
FIS Freestyle Ski World Cup
Chongli, China – Feb. 25, 2017
Men's Moguls
| Rank | Name | Nation | Result | FIS Points | WC Points |
| --- | --- | --- | --- | --- | --- |
|  1 | KINGSBURY Mikael | CAN |  86.00 |  1000.00 |  100.00 |
|  2 | SUMMERS Brodie | AUS |  81.75 |  800.00 |  80.00 |
|  3 | GRAHAM Matt | AUS |  81.12 |  600.00 |  60.00 |
|  4 | MURPHY Troy | USA |  79.49 |  500.00 |  50.00 |
|  5 | PENTTALA Jussi | FIN |  74.51 |  450.00 |  45.00 |
|  6 | CAVET Benjamin | FRA |  61.78 |  400.00 |  40.00 |
|  7 | MARQUIS Philippe | CAN |  78.34 |  360.00 |  36.00 |
|  8 | GAGNON Marc-Antoine | CAN |  78.18 |  320.00 |  32.00 |
|  9 | ESCOBAR Jules | FRA |  78.17 |  290.00 |  29.00 |
|  10 | POULIOT-CAVANAGH Simon | CAN |  77.93 |  260.00 |  26.00 |
Women's Moguls
| Rank | Name | Nation | Result | FIS Points | WC Points |
| --- | --- | --- | --- | --- | --- |
|  1 | LAFFONT Perrine | FRA |  80.01 |  1000.00 |  100.00 |
|  2 | DUFOUR-LAPOINTE Justine | CAN |  79.26 |  800.00 |  80.00 |
|  3 | COX Britteny | AUS |  76.52 |  600.00 |  60.00 |
|  4 | RAKHIMOVA Regina | RUS |  75.28 |  500.00 |  50.00 |
|  5 | KAUF Jaelin | USA |  63.26 |  450.00 |  45.00 |
|  6 | OAKLEY K C | USA | |  400.00 |  40.00 |
|  7 | NAUDE Andi | CAN |  74.06 |  360.00 |  36.00 |
|  8 | ROBICHAUD Audrey | CAN |  73.91 |  320.00 |  32.00 |
|  9 | WESSEL Hedvig | NOR |  73.71 |  290.00 |  29.00 |
|  10 | MCCARGO Keaton | USA |  73.43 |  260.00 |  26.00 |