Kvitfjell, Norway – One "crazy fast" turn got Squaw Valley'sTravis Ganong off on the wrong foot in Saturday's Audi FIS Ski World Cup downhill won by Norway's home-crowd favorite Kjetil Jansrud.
There have been seven Norwegian downhill wins in Kvitfjell in the past six years, but none was on the original full-length 1994 Olympiabakken downhill track since Lasse Kjus' win in 1997. After taking over the downhill red leader bib on Friday, Jansrud was in excellent shape and was unbeatable on Saturday.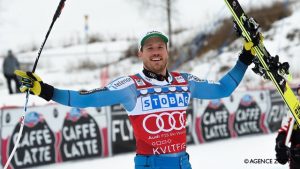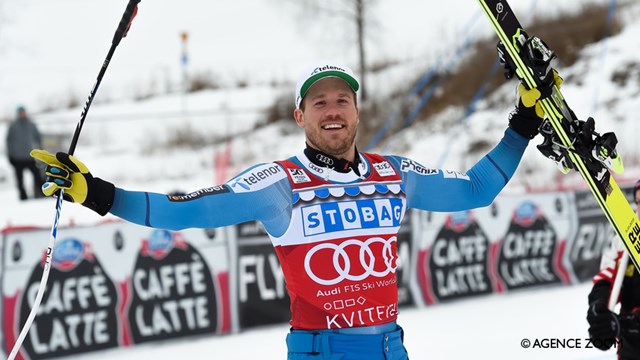 "I know this hill very well. It's not just home because it's in Norway, it's home because I grew up here so it's a big thing and I think the last time (a Norwegian) won on a Saturday here was Lasse (Kjus) twenty years ago, so this is a big Norwegian day," Jansrud said. "It's amazing and probably one of my biggest wins. I even won my first World Cup race here so there are a lot of good memories in Kvitfjell. Magnificent day and also grabbing a bigger lead in the red jersey, 33 points means that if (Peter) Fill wins in Aspen and I'm third then it's all gone, so it it's going to be exciting."
Jansrud edged out Italy's Fill by just 0.08 seconds, while Switzerland's Beat Fuez was third. Ganong was 17th, as Bryce Bennett, also of Squaw Valley, was the only other American in the points, finishing 19th.
"It was really fast, compared to the training runs starting at the top," said Ganong, who finished eighth in Friday's downhill run on the same track, but from a lower start position. "I knew the speeds would be faster going into the first turn, but they were way fast, like crazy fast, so I missed the timing completely on that first left-footed turn. I lost over eight-tenths to Jansrud in the first split, and I was only a second back at the finish, so just that one turn was my day."
The rest of the Americans also struggled on the cold, hard track. Andrew Weibrecht (Lake Placid, N.Y.) finished 41st and Jared Goldberg (Holladay, Utah) did not finish following a scary crash after flying off a jump and into the safety netting. Goldberg was standing following the incident, but was taken off the mountain on a sled as a precautionary measure.
OFFICIAL RESULTS
Audi FIS Alpine Ski World Cup
Kvitfjell, Norway – Feb. 25, 2017
Men's Downhill
| Rank | Name | Nation | Total Time | Diff. | FIS Points | WC Points |
| --- | --- | --- | --- | --- | --- | --- |
|  1 | JANSRUD Kjetil | NOR |  1:47.63 | |  0.00 |  100.00 |
|  2 | FILL Peter | ITA |  1:47.71 |  +0.08 |  0.93 |  80.00 |
|  3 | FEUZ Beat | SUI |  1:47.77 |  +0.14 |  1.63 |  60.00 |
|  4 | OSBORNE-PARADIS Manuel | CAN |  1:47.89 |  +0.26 |  3.02 |  50.00 |
|  5 | JANKA Carlo | SUI |  1:47.91 |  +0.28 |  3.25 |  45.00 |
|  6 | GUAY Erik | CAN |  1:47.95 |  +0.32 |  3.72 |  40.00 |
|  7 | KLINE Bostjan | SLO |  1:48.19 |  +0.56 |  6.50 |  36.00 |
|  8 | KILDE Aleksander Aamodt | NOR |  1:48.26 |  +0.63 |  7.32 |  32.00 |
|  9 | PARIS Dominik | ITA |  1:48.35 |  +0.72 |  8.36 |  29.00 |
|  10 | KRIECHMAYR Vincent | AUT |  1:48.37 |  +0.74 |  8.59 |  26.00 |