Crans-Montana, Switzerland – Slovenia's Ilka Stuhec won Saturday's Audi FIS Alpine Ski World Cup super G in Switzerland by 0.50 seconds over Italy's Elena Curtoni in second, and 1.09 seconds over Austria's Stephanie Venier under brilliant blue skies and warm sunshine.
With her season's second super G victory Saturday and her second-place finish in the alpine combined Friday in which U.S. women refused to race, citing safety concerns, Stuhec sat only 258 points behind American ski racer Mikaela Shiffrin in the overall World Cup standings. Shiffrin finished 13th  on Saturday.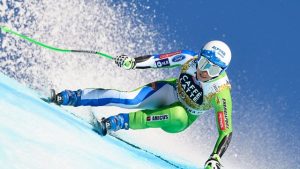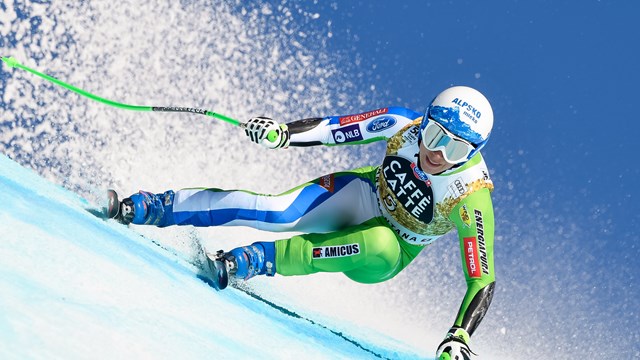 "The set was a bit turnier [than Friday] I would say," Stuhec noted. "The speed was lower, so I guess they tried to make it a bit safer. But there were still some key points where you had to do what you had to do to maintain the speed and to carry it all the way down. I guess I did that pretty well."
Once again Saturday, athletes faced soft snow surfaces as temperatures in Crans-Montana reached into the lower 40s.
"It's still warm, so it's a little bit soft, but there was a solid base and surface," said Shiffrin. "Definitely when I went number two the surface was smooth and fine. I just didn't quite handle the peely snow as well as I could have, and I was a bit conservative in sections that I didn't want to be. But I'm happy to get a run in on this hill."
Vail's Lindsey Vonn and Laurenne Ross, of Bend, Ore., weren't quite as fortunate on Saturday. Ross went wide on a right-footer, taking out a gate panel, while Vonn slipped out in the soft snow just a few seconds into her run, crashing through a course banner and into the B-net. However, both athletes were able to ski down the mountain.
Other American finishers included Alice McKennis (New Castle, Colo.) in 32nd; Jackie Wiles (Aurora, Colo.) in 34thand Anna Marno (Centennial, Wyo.) in 37th.
"I'm pretty bummed with my result," Wiles said. "I think I left a lot out there today. I had great training coming in, a good warm up this morning and I was in the right mindset to really attack and have a good day, but I don't know what went wrong."
OFFICIAL RESULTS
FIS Alpine Ski World Cup
Crans-Montana, Switzerland – Feb. 25, 2017
Women's Super G
| Rank | Name | Nation | Total Time | Diff. | FIS Points | WC Points |
| --- | --- | --- | --- | --- | --- | --- |
|  1 | STUHEC Ilka | SLO |  1:21.78 | |  0.00 |  100.00 |
|  2 | CURTONI Elena | ITA |  1:22.28 |  +0.50 |  6.60 |  80.00 |
|  3 | VENIER Stephanie | AUT |  1:22.87 |  +1.09 |  14.39 |  60.00 |
|  4 | WEIRATHER Tina | LIE |  1:23.04 |  +1.26 |  16.64 |  50.00 |
|  5 | BRIGNONE Federica | ITA |  1:23.13 |  +1.35 |  17.83 |  45.00 |
|  6 | KLING Kajsa | SWE |  1:23.14 |  +1.36 |  17.96 |  40.00 |
|  7 | GOERGL Elisabeth | AUT |  1:23.17 |  +1.39 |  18.36 |  36.00 |
|  8 | SCHMIDHOFER Nicole | AUT |  1:23.53 |  +1.75 |  23.11 |  32.00 |
|  9 | MOWINCKEL Ragnhild | NOR |  1:23.54 |  +1.76 |  23.24 |  29.00 |
|  10 | GAUTHIER Tiffany | FRA |  1:23.78 |  +2.00 |  26.41 |  26.00 |