Davis, WV – It's named for the Biblical region in the ancient Near East but a revamped conference center, increased snowmaking, a new tubing park and the completion of a highway have put the Canaan Valley Resort and Conference Center, in the town of Davis, at the top of West Virginia's map of winter fun.
About that name – the locals pronounce it "Cah-NANE," not the more common "CAY-nan." Resort General Manager Steve Drumheller explained that according to legend the person who named the valley couldn't pronounce the biblically inspired name properly.
Locals take no offense to mispronunciation when it's said by visitors, given that the resort which is part of the West Virginia State Park system was created to spur economic development. Ski Widow and I were two of those visitors in January, invited on a press trip hosted by the resort.
Canaan Valley Resort is the largest winter employer in Tucker County with 300 workers and it's the second largest summer employer with 150 workers. Canaan Valley is located in the Allegheny Mountains, 125 miles west of Washington D.C. (about a 3 hour and 15 minute drive) and 100 miles southeast of Pittsburgh (about a 3 hour drive).
A newly opened section of the highway the locals call Corridor H and the map reading world calls Route 48 is having a positive impact on tourism. "We are starting to see a huge increase in our northern Virginia – Washington D.C. travelers and they're also coming in and buying second homes up here, so it's a whole new wave of development for Tucker County," Drumheller explained.
The centerpiece of the resort is a conference center with 160 modern guest rooms and suites located 1.8 crow flying miles from the ski area. Complimentary shuttle service links the two.
The conference center was built back in the sixties. There was the core unit with restaurants, activities and conference rooms and a pool surrounded by temporary motel type lodging. "They (the motel lodging units) weren't supposed to be here very long. Well, 35 years later they were still sitting here. Work was started in 2011 and in 2013 the new lodge was completed. So the core building is still here, it's still the original," Drumheller said. The two new lodging buildings are attached to the north and south of the core building. The renovation cost $34 million.
While the guest rooms are large, nicely furnished and comfortable, the indoor pool and fitness center at the core are a bit tired. Drumheller said they are on the top of his list for a springtime renovation.
Rustic lodging options are spread throughout the state park and include multi-room cabins and cottages, all with a wood burning fireplace, grill and picnic table.
The ski area has a summit elevation of 4,280 feet with a skiable vertical drop of 850 feet. Forty-seven trails on 91 acres are served by one quad, two triples and a magic carpet. This season, snowmaking was increased to cover 75 percent of the trails.
"One of the things we needed to do was to beef up our snowmaking because in this particular region, West Virginia — well, actually the whole southeast — snowmaking is your lifeblood. So this year we doubled our snowmaking capacity. We added more compressors, we added more snow guns and of course to make snow you have to have water, so we added an additional snowmaking pond," Drumheller said, adding that more snowmaking additions are in the future.
With an 850-foot vertical drop down and fixed grip lifts up, the skiing may not satisfy those looking for a big mountain experience. The black diamond trail called Gravity, which promotional materials and a colorful selection of long-sleeve tee shirts challenge skiers to "Defy," is manageable for those with upper intermediate skills.
For a large percentage of the skiing public Canaan Valley slopes provide plenty of challenge and a separate gentle beginner's area called Critters Crawl is an ideal choice for those new to skiing.
A covered outdoor ice skating rink sits behind the conference center along with equipment rentals, concessions, restrooms and a fireplace. Ski Widow and I joined in on a Saturday night disco ice skating party in 3 degree Fahrenheit temperatures, which confirmed that weather in the Mid Atlantic region can be conducive to skiing.
New this season is a multiple lane 1,200-foot tubing park serviced by a magic carpet and adjacent to a warming hut with a fireplace, concessions, restrooms and an outdoor fire ring.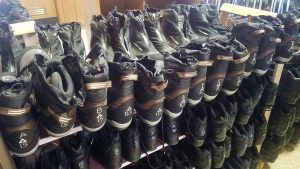 Cross country skiers and snowshoers have 18 miles of marked trails and acres of wide open meadows to scamper upon. Rental equipment is available. New this season is a grooming machine that sets a track for classic skiing. There are no trail fees. When the snow melts those trails and meadows become part of an 18-hole, par 72 golf course.
Outdoor activities can lead to big appetites and Canaan Valley Resort's Hickory Dining Room, located in the core building is open year round with daily breakfast,lunch and dinner options at lower prices than one would expect to find at a ski resort. The 14 oz. chargrilled New York Strip steak topped with sautéed onions and mushrooms was a thing of beauty, and at $24.95 included a starch, vegetable and trip to the salad bar. Buffets are offered weekends and holidays. Ski Widow said that all the meals were delicious, and she was pleasantly surprised at the variety offered. In addition, the wait staff was extremely friendly and attentive.
The Laurel Lounge, also located in the Main Lodge, is a full service bar with a pub-style menu that includes made to order pizza that can hold its own against any big city gourmet pie.
A third dining option with lighter fare is Seasons Café. While I didn't get a chance to sample its menu, I was intrigued by the Panini stuffed with freshly sliced tomato and buffalo mozzarella cheese, served with basil infused balsamic dressing for $7.95.
Although we did not partake, the resort offers a variety of spa services including massage. There is also an arcade, the perfect spot for kids to hang out while the adults unwind.
While the Allegheny Mountains cannot compete with larger ranges as a destination area for single minded, hard core skiers, the Canaan Valley Resort and Conference Center is a first-rate four season affordable destination resort with an abundance of outdoor activities. And speaking of affordable, the resort is now selling $249 season passes for the 2017-18 season which include ski privileges for the remainder of this season.
Montani semper liberi.