Lahti, Finland – Baby Breck sat in his stroller, eyes attentive to the buzz of activity around him. Grandpa was at his side but he was waiting for his mom. It had been a long day.
Darkness had descended on the wax cabins outside Finland's Lahti Stadium. The hustle and bustle of two hours earlier had quieted down. Inside one of the USA cabins a light burned. The Fischer race skis were lined against the wall. Their job was done – race competed, medal won. Amidst it all, volunteer coach and ski tester Eli Brown stood alongside the waxing bench, heat gun in hand, slowly and carefully drying out a pair of baby pants. A technician's work is never done.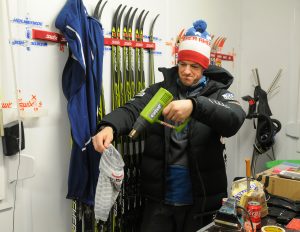 Finally, mommy arrived to greet her son – that Kikkan smile on her face and the floodlights reflecting off the pink streaks in her hair. Suddenly it wasn't about the medal she had just won. It was about seeing her baby boy.
It had been a long three-and-a-half months of trial and tribulation since she and her family set foot in Finland for the start of the World Cup season. But this was the day it came together for Kikkan Randall.
Women's cross country ski racing has produced great stars over the last decade. Randall, who turned 34 on New Year's Eve, is one of them. So is Norway's Marit Bjoergen, who will be 37 this month. Aino-Kaisa Saarinen, 38, who grew up just outside Lahti, was a favorite at the FIS Nordic World Ski Championships in front of the hometown fans.
Each of them were new mothers and all earned medals in Lahti.
Randall, with 13 World Cup wins and three crystal globes, thought she had a good plan. But there were dark days as the season dawned above the Arctic Circle of Finland in November. She was 52nd in her first sprint race at Ruka. Then she went to Davos, a course on which she had won before, and was 58th.
"After my first races I wasn't so optimistic," said Randall. "It was a slow start and it took a lot of patience."
Over the last decade, Randall has taken on the role of team leader for the sport of cross country ski racing in America. She set a new athletic mark with her then unprecedented top five result in Borlaenge, Sweden in 2006. But she set a decidedly new tone with her demeanor – a poster child of positivity for the sport. Others followed. Soon, she wasn't alone, as American skiers climbed into the tracks behind her and began their own climbs to the top.
It was only natural that those around her in those opening months watched carefully. What they saw was an athlete who never flinched – an athlete who stuck to her plan. And when the chips were down, there was always Breck whose shining eyes didn't care where his mom finished that day.
World Championships days take on a life of their own with elements of grandeur and largess.
"It was a different day of preparation for me," said Randall. "After breakfast, I came home and did some laundry, put our son down for a nap, then loaded him onto the bus to the venue. During the race he was touring around with my dad. It was a different kind of day but it helped me stay calm."
Bjoergen echoed Randall's feelings about calmness and the peace having a baby brought to her.
Randall qualified 10th to lead the USA and make it easily into the top 30 for the heats. She went back to find her father Ronn and baby Breck. Soon, it was time to prove that her recent string of top 10 sprint finishes was for real.
Randall's day nearly ended in the quarterfinals. Maikken Caspersen Falla of Norway and Sweden's Hanna Falk set a torrid pace. Two would advance from that heat, plus two additional "lucky losers" – next fastest times across all five heats.
Randall was fourth with just a few hundred meters to go in the 1.4k course when she made an inside move on third place Swiss Laurien van der Graaf – but she couldn't get by and lost her momentum, finishing fourth. But officials ruled that van der Graaf has obstructed Randall, moving her up to third. That bump allowed Randall to advance.
In a way the medals round that day was emblematic of what Randall brought to the team over a decade. Six skiers were on the line, three of them Americans. Alongside her was Jessie Diggins, who teamed up with Randall for World Championship gold four years earlier in the team sprint. On the other side was Sophie Caldwell, a World Cup winner who holds the best ever U.S. women's Olympic finish. Half the finals field was American!
The race was a battle with Caspersen Falla setting another strong pace. Diggins made her move up through the pack and came into the stadium in a strong silver position. Randall found herself in fourth chasing Falk. Summoning every ounce of energy and drawing on a decade of tactics she had learned, she made the pass and took bronze.
While the medal capped a plan she and husband Jeff Ellis had made two years earlier, what made it even more special was the showing of her team – the team that, in a way, she had parented since her breakthrough a decade before.
"That's for sure the most fun I've ever had in a final," said Randall. "Before we went to the start we did a team cheer. We had such a good energy between the three of us and all of our team that is supporting us. It was a magical day for our team."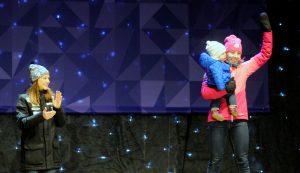 The next evening in Lahti's town square, three Americans and a baby walked out onto the stage. Randall clutched Breck in her arms as American flags waved and the medal was placed around her neck. It was a proud moment for Kikkan. But even more so to share it with her son.
U.S. Head Coach Chris Grover said it best: "It's been a big load for her to be a mom on the World Cup road. She's managed it with grace and patience."
Little Breck looked out onto the crowd of thousands, not knowing what he was experiencing – the sounds, the color, the noise, the bright lights and that medal around his mother's neck.
Some day mommy will tell him about that day. And he'll be very proud.