Montpelier, VT – Ahead of a monster Nor'easter barreling its way up the Eastern Seaboard towards New England, Vermont's ski and snowboard resorts have continued snowmaking operations to rebuild bases for spring skiing well into April and beyond.
"March is historically the snowiest month of the season in Vermont," said Ski Vermont President Parker Riehle. "And with the ideal snowmaking conditions continuing across the state, the resorts will be matching wits with Mother Nature."
Among the mountains that have resumed snowmaking this late season is Killington Resort, which launched its unprecedented March snowmaking campaign in an effort to maintain their grasp on the longest season in the East, and this year they're expecting to go until June 1st. The resort brought in extra air compressors to boost snowmaking capacity as they resurfaced popular trails and added base depth to the legendary Superstar trail, the site of last November's World Cup women's events. Twenty miles to the south, Okemo Mountain Resort's Director of Snowmaking Ray Kennedy said, "We converted about 20 million gallons of water into snow for last weekend and the total amount of water pumped through Okemo's snowmaking system so far this season is about 325 million gallons."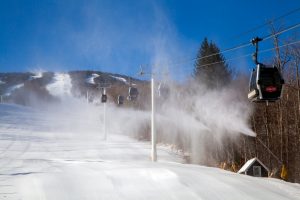 For some Vermont mountains, the resurgence of snowmaking in March has an impact far beyond what most would expect.  "To us, firing up our snowmaking operations in March for the second year in a row means it is becoming more and more important for resorts to adapt their operations to meet the needs of the customers," said Smugglers' Notch Resort Public Relations Director Mike Chait. "We are grateful for all the investments we have made to our snowmaking system over the past few years, which allow us to make snow this late in the season on the fly."
Magic Mountain in Londonderry has had a comeback season full of triumph and many "firsts."  Magic Mountain President Geoff Hatheway said that not only was this first time Magic has ever made snow in March, let alone on both the East and West Side trails, but it was also the first time in history that Magic has run this many snow guns simultaneously.
Behind the snow guns and the cloak of night and early morning, when temperatures are optimal for making snow, the hardworking snowmakers are the unsung heroes who work tirelessly to ensure the best possible conditions for others. "We're fortunate to have such a talented group of expert snowmakers on our team," said Cassie Russo, Social Media and Communications Coordinator at Stratton Mountain Resort. At Sugarbush Resort, snowmakers often transition jobs once snowmaking is no longer needed in the season. "The best story was the group effort it took to get everything prepped for snowmaking here," said Sugarbush Communications Supervisor John Bleh. "Many of our snowmakers move to lift operations after our snowmaking season but many came back to help get snow made recently.