Mt. Hood, OR – Authorities have given hope that a man missing since last Tuesday at Oregon's Mount Hood Meadows will be found alive.
Rescuers with the Hood River County Sheriff's Office have been looking for Steve Leavitt, 57, of The Dalles for nearly a week on the ground and from the air using fixed-wing aircraft, a helicopter and a drone. No wign of Leavitt has been observed.
They've now concluded that there's no way that Leavitt could have survived Mt. Hood's weather over those intervening days that has included both rain and five and a half feet of new snow.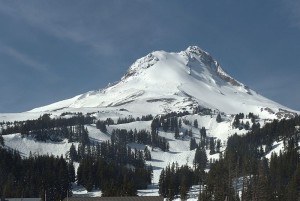 Leavitt's pass was last scanned at Mt. Hood Meadows' Heather chairlift on Tuesday afternoon, and his family reported him missing that evening.  The Heather lift accesses Meadows' steep Heather Canyon area and borders the resort's boundary. Leavitt was skiing alone without avalanche gear or any overnight supplies.
Hood River County Sheriff's Office spokesperson Sgt. Pete Hughes has indicated that the search for Leavitt will continue on a limited basis as conditions allow.