Sierra Nevada, Spain – The 2017 FIS Freestyle Ski & Snowboard World Championships kicked off last week with men's and women's mogul competitions under abundant sunshine in Sierra Nevada.
Spring had already arrived in Sierra Nevada, bringing with it plenty of sunshine to soften up the Le Visera moguls course. Opening the schedule on Wednesday, Japan's Ikuma Horishima made the race for the men's podium interesting as he bested 2017 World Cup Champion Mikael Kingsbury of Canada in the qualifying round. In the super final, Horishima put down another impressive run, scoring an 88.54. Kingsbury was the final competitor and had the chance to take the win, but he dragged his hands off the bottom air, giving Horishima the gold. France's Benjamin Cavet was second and Kingsbury landed third. On the women's side, it was no surprise to see Australia's Britt Cox at the top of the podium. France's Perinne Laffont was second and Canada's Justine Dufour-Lapointe third.
"Overall, I'm still happy with my day and to have won a seventh World Championships medal," said Kingsbury, who in the finish area nevertheless snapped one of his skis in half in disgust.
"I was just mad," Kingsbury later told reporters during a conference call. "It was just getting the frustration out. I'm not very proud when I do these kinds of things, but I guess I'm very competitive."
U.S. athletes ended Wednesday with a fifth-place finish from Brad Wilson, of Butte, Mont., and a 10th-place finish from Telluride, Colo.'s Keaton McCargo.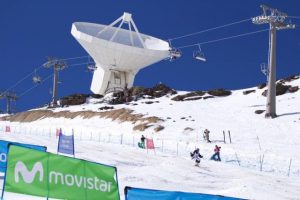 "The course was tougher this morning, so I tried to ski more conservatively," said Wilson. "As the snow got a little softer you could really start to let it go. I competed a cork 7 today, which was a new addition to my run. It went well, and I'm happy with my skiing. Just bummed I went a little too big on the bottom air. I'm set to rest up tonight and be ready for duals tomorrow."
The U.S. did indeed have a better showing in Thursday's dual moguls, as Wilson and Wyoming's Jaelin Kauf battled against the world's best to capture silver and bronze. Horishima won again for the men, while Laffont took the win for the women.
Competitors were treated to more of the same course conditions they saw in Wednesday's single moguls competition. The course was frozen solid in the morning and softened up throughout the afternoon, which meant the athletes got faster and faster with each run. Wilson's speed was an advantage for him throughout the day, carrying him through four rounds and into the big final where he met Horishima. Both Wilson and Horishima put the pedal to the metal, ripping down the course going for gold. About halfway down, they both blew out, diverting from their lines and barely making it over the bottom air. Wilson was first across the line, but the judges awarded Horishima with the win.
Wilson's silver medal is the first World Championship medal of his career and the best World Championships result for the U.S. men's mogul team since Patrick Deneen's mogul win in 2009. It's his third podium of the 2016-17 season.
"I knew I had to smoke it and ski really well," said Wilson. "In hindsight, I wish I had remembered that I was only a tenth slower than Ikuma yesterday, so if I would have just skied my run and not pushed the speed so much, it probably would have been enough. But duals is different. You're in the moment, you just skied a run five minutes before and you have to go up for another and you don't really have time to plan that kind of stuff. I knew I had to send it against Ikuma today and I did and unfortunately we both were just a little out of control. But I am really happy with second."
After missing the finals in Wednesday's individual mogul competition, Kauf rebounded and used her speed to her advantage, consistently beating her opponents across the line all day. She narrowly lost to Laffont in the semifinals before facing Korea's Jee-Won Seo in the small final. Kauf's fast skiing combined with a solid middle section secured her the bronze.
"Yesterday I wasn't skiing like myself – I wasn't skiing fast," stated Kauf. "I knew today I just had to get back to how I was skiing and step it up. I felt my turns were good in the middle section and I stayed composed. There's just something about duals; it gets your adrenaline pumping. I see the person in the gate next to me and I know I have to push it a little more. I don't think about the technicality as much; I'm just thinking about getting down and beating whoever is next to me."
The typically strong Canadian team was shut out of Thursday's medals.
"I competed against Ikuma Horishima and I thought it would have made a great final if we hadn't faced each other in the first round," Kingsbury explained. "I tried to match his jumps, he was going big, so I went big, but in the red course, he's just too fast… I don't want to let the World Championships overshadow my season."
"It's a good thing that we faced adversity this year, because we have the whole summer to make changes and improve on our skills," added Dufour-Lapointe. "For us, it's a big source of motivation, to push ourselves even harder during the summer. It was meant to be, as it will act as motivation to push us every single day. We will get stronger for next season."
OFFICIAL RESULTS
2017 FIS Freestyle Ski & Snowboard World Championships
Sierra Nevada, Spain
Men's Moguls – Mar. 8, 2017
| Rank | Name | Nation | Result | FIS Points |
| --- | --- | --- | --- | --- |
|  1 | HORISHIMA Ikuma | JPN |  88.54 |  1000.00 |
|  2 | CAVET Benjamin | FRA |  87.11 |  800.00 |
|  3 | KINGSBURY Mikael | CAN |  82.85 |  600.00 |
|  4 | TADE Marco | SUI |  82.64 |  500.00 |
|  5 | WILSON Bradley | USA |  80.56 |  450.00 |
|  6 | BENNA Anthony | FRA |  80.11 |  400.00 |
|  7 | SLATTEN Vinjar | NOR |  82.67 |  360.00 |
|  8 | THEOCHARIS Sacha | FRA |  81.60 |  320.00 |
|  9 | ROWLEY Thomas | USA |  81.54 |  290.00 |
|  10 | GAGNON Marc-Antoine | CAN |  80.86 |  260.00 |
Women's Moguls – Mar. 8, 2017
| Rank | Name | Nation | Result | FIS Points |
| --- | --- | --- | --- | --- |
|  1 | COX Britteny | AUS |  83.63 |  1000.00 |
|  2 | LAFFONT Perrine | FRA |  82.51 |  800.00 |
|  3 | DUFOUR-LAPOINTE Justine | CAN |  80.74 |  600.00 |
|  4 | PERTAKHIYA Marika | RUS |  77.54 |  500.00 |
|  5 | WESSEL Hedvig | NOR |  77.45 |  450.00 |
|  6 | RAKHIMOVA Regina | RUS |  75.77 |  400.00 |
|  7 | GALYSHEVA Yulia | KAZ |  77.97 |  360.00 |
|  8 | SCANZIO Deborah | SUI |  76.67 |  320.00 |
|  9 | DUFOUR-LAPOINTE Chloe | CAN |  76.37 |  290.00 |
|  10 | MCCARGO Keaton | USA |  75.86 |  260.00 |
Men's Dual Moguls – Mar. 9, 2017
| Rank | Name | Nation | Result | Level | FIS Points |
| --- | --- | --- | --- | --- | --- |
|  1 | HORISHIMA Ikuma | JPN | | |  1000.00 |
|  2 | WILSON Bradley | USA | | |  800.00 |
|  3 | TADE Marco | SUI | | |  600.00 |
|  4 | THEOCHARIS Sacha | FRA | | |  500.00 |
|  5 | REIHERD Dmitriy | KAZ | | |  450.00 |
|  6 | MAKHNEV Andrey | RUS | | |  400.00 |
|  7 | ROWLEY Thomas | USA | | |  360.00 |
|  8 | ANUFRIEV Egor | RUS | | |  320.00 |
|  9 | CAVET Benjamin | FRA | | |  290.00 |
|  10 | GRAHAM Matt | AUS | | |  260.00 |
Women's Dual Moguls – Mar. 9, 2017
| Rank | Name | Nation | FIS Points |
| --- | --- | --- | --- |
|  1 | LAFFONT Perrine | FRA |  1000.00 |
|  2 | GALYSHEVA Yulia | KAZ |  800.00 |
|  3 | KAUF Jaelin | USA |  600.00 |
|  4 | SEO Jee-Won | KOR |  500.00 |
|  5 | PERTAKHIYA Marika | RUS |  450.00 |
|  6 | SCANZIO Deborah | SUI |  400.00 |
|  7 | COX Britteny | AUS |  360.00 |
|  8 | MCCARGO Keaton | USA |  320.00 |
|  9 | NAUDE Andi | CAN |  290.00 |
|  10 | BOUARD Lea | GER |  260.00 |