Deux-Alpes, France – A British skier is clinging to life and an Italian skier is dead following a high-speed collision on the slopes of Deux-Alpes over the weekend.
The incident at 5 p.m. local time on Sunday occurred on an intermediate blue run at the resort in the French Alps. The Italian, 52, was unconscious at the scene and could not be revived. The 33-year-old Briton was taken to a hospital in nearby Grenoble and is being treated for severe head injuries, reportedly in the facility's Intensive Care Unit. Neither victim has yet been identified by authorities.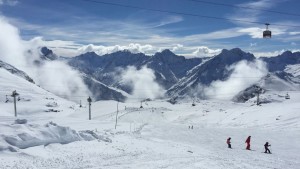 The British man was reportedly wearing a helmet, while the Italian was said to have not been wearing one.
Police continue their investigation and are asking any witnesses to the collision to come forward. A judicial enquiry has been opened.