Killington, VT – Colorado's Mikaela Shiffrin took a huge step in her Olympic season giant slalom preparation, finishing second in the Xfinity Killington Cup, the second GS race of the FIS Ski World Cup. Germany's Viktoria Rebensburg took her second-straight giant slalom victory, as Italy's Manuela Moelgg finished third.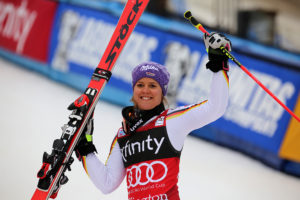 "This is definitely a step in the right direction after Soelden," said Shiffrin, who finished fifth at the season-opening giant slalom last month in Austria. "I felt a lot more confident with my skiing today and I'm excited to keep that going. It was a sweet race today, it was really fun to ski."
In front of a record-breaking crowd of more than 18,000 screaming fans at Killington – which eclipsed the previous record of 16,000 set last year at Killington – Shiffrin drilled her first run, leaving just a 0.26-second margin to first-run leader Rebensburg, winner of the season-opener in Soelden.
With a thundering crowd, overcast skies and light precipitation moving in for the second run, Shiffrin took a few risks to maintain her podium position.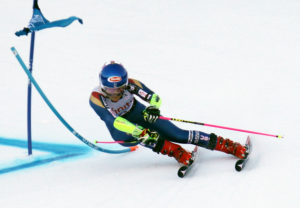 "I felt like I had a couple little bobbles where I felt myself losing time," she said. "But I also took a little bit of extra risk where I may have gained some time. It wasn't like one of my flawless training runs where I felt like: 'Oh my gosh it's the fastest that course could be skied.' But it was definitely one of my best race runs."
With her second-place finish, Shiffrin maintained her overall World Cup lead by five points over Rebensburg heading into Sunday's slalom, the second run of which will be broadcast LIVE on NBC at 1:00 p.m. EST.
"The mentality I had today is the same mentality I need to have tomorrow in order to bring out some of my better skiing," Shiffrin said heading into Sunday's slalom. "It's a new day, a new race and new competition. And I'm excited to go for it!"
Megan McJames (Park City, Utah) finished 29th.  AJ Hurt (San Francisco, Calif.) made her World Cup debut, finishing 45th in the first run.
OFFICIAL RESULTS
FIS Alpine Ski World Cup
Killington, VT – Nov. 25, 2017
Women's Giant Slalom
| Rank | Name | Tot. Time | WC Points |
| --- | --- | --- | --- |
| 1 | REBENSBURG Viktoria | 1:57.63 | 100 |
| 2 | SHIFFRIN Mikaela | 1:58.30 | 80 |
| 3 | MOELGG Manuela | 1:59.12 | 60 |
| 4 | BRUNNER Stephanie | 1:59.28 | 50 |
| 5 | BRIGNONE Federica | 1:59.38 | 45 |
| 6 | WORLEY Tessa | 1:59.74 | 40 |
| 7 | HANSDOTTER Frida | 1:59.86 | 36 |
| 8 | DREV Ana | 2:00.08 | 32 |
| 9 | MEILLARD Melanie | 2:00.16 | 29 |
| 10 | VLHOVA Petra | 2:00.39 | 26 |