l
Squaw Valley, CA – Just for fun, let's pretend for a moment
that you're playing a game of word association opposite some bonehead who possesses
only the most rudimentary knowledge of snow sports information. Even so, once
you say the words "Squaw Valley", the quick response is likely to be either
"1960 Olympics", or – god forbid – that lame, over-hyped word: "Extreme".
n
In both actual fact and by popular legend, Squaw Valley USA is
renowned as the living embodiment of each of the aforementioned.  If, whether
for lack of testosterone, cajones, or for any other similar reason you
haven't yet made the trek there, you simply won't understand just how accurate,
and at the same time just how amazingly limited, that description really is.  
Yep, all that hearsay you've heard passed down through the skier's grapevine
is true.  Squaw is one macho, bad-ass mountain.  Also true is the fabled story
of the then "backwater" resort that successfully hosted what many still consider
the best overall Winter Games ever (it was certainly the progenitor of the modern
Winter Olympic era).  Frankly, the first time visitor is often left agog at
the omnipresence of the Olympian afterglow.
However, it is also blatantly evident
that Squaw Valley has since morphed into a sophisticated, truly world-class
family recreation Mecca. There is an almost overwhelming quantity of skiing
available, enough to satisfy the most mileage-hungry piste warrior. There are
comprehensive family ski-zones and lesson programs, and plush and massive mountaintop
complexes in which to refuel and recharge. Add to that a bewildering amount
of stuff to do besides ski, and you begin to get the picture.
Above all, Squaw Valley is about superlatives. 
It's an absolutely freaking huge area.  The lift system is, quite frankly, mesmerizing
in both sheer numbers of lifts and the imposing associated technology blatantly
on display.  And the skiing … aah, the skiing.  If you have a death wish,
you can satisfy the urge here.  If you want to chock up hour after hour of blue-square
vertical from 8:00 AM to 9:00 PM, you can do it here as well.  If you want a
sophisticated on-mountain experience, Squaw is the place to be – now and even
more so in the near future.
If you're like our family, you'll want
to experience all three versions of Squaw Valley.  All in one day. And so we
did.  On a single day last March, we scored early morning jump turns on the
face of legendary KT-22 and off the Silverado chair, clocked mile after mile
of vertical cruising the long blues, rode up at dusk on the cable car for late
mountaintop dinner, and enjoyed night skiing and snow tubing until 9:00 PM. 
What a day.  What a mountain.
Emerald Bay, en
route from South Lake Tahoe to Squaw Valley along scenic Highway 89
(photo Leigh Daboll)
Squaw lies only a few short miles northwest
of stunningly beautiful Lake Tahoe and the bucolic ski towns of Truckee and
Tahoe City, but it's world away in attitude. Our assemblage, composed of yours
truly, my partner, Briar, and children Jacquelin, 14 and Jonathon, 10, are perhaps
a bit of an anomaly in comparison to the typical family ski vacationers.  Day
Four of our whirlwind "family hardcore" road trip of the Tahoe area found ourselves
rolling up north up scenic Highway 89 at daybreak, heading for Squaw Valley. 
We were on a mission to rip six resorts in six days to the maximum extent permitted
by the international Hague Convention Rules on child abuse.  Frankly, after
spending some thirty-odd days on Eastern hardpack, the kids didn't want to waste
a single minute of western powder skiing, either.
After originally flying out from Detroit
on our Reno-bound Southwest Air flight, we initially elected to lodge at the
south end of the lake skiing the various resorts at that end.  Daybreak on Monday
found us cruising up the incredibly scenic west shore of the lake, wending our
way through a couple of tortuous (and often closed) switchbacks en route to
the north end and Squaw Valley.   With bluebird skies and temperatures already
barreling at full-throttle through the fifty degree mark, a formal changeover
of lodging to our new digs in Tahoe City would have to wait until late that
evening.  We had six mountain peaks and 4,000 acres of terrain to cover in the
interim.
Approaching the Squaw Valley access
road, the presence of substantive traffic light towers and human directional
personal are the first indication that this resort is big, big business.  That
impression is substantially fortified upon arrival at Squaw Valley proper. 
I'm not quite sure which is more impressive: the backdrop formed by Squaw's
six imposingly steep balding alpine peaks, or the view of one of the most vast
expanses of asphalt found outside of Walt Disney World.  If you've never been
there, rest assured that nothing you've seen in print or electronic literature
does justice to the sheer scale of the place.
Squaw's conical peaks recede as a vast
panorama, literally as far as one can see, both to the east and to the west
of the base of the imposing, central concrete bunker cum cable-car docking station. 
Farthest to the east and safely segregated from the unwashed hordes is the high-zoot
Resort at  Squaw Creek, located directly at the base of Snow King Mountain,
the resort's easternmost peak.  Serviced mainly by the Red Dog and Squaw Creek
triples, these runs are largely rated intermediate, but this hill is also laced
with some very steep tree and bump runs.  Because of Snow King Mountain's location
far from the main base, these latter runs are often "overlooked " by the tony
crowd staying at the Resort.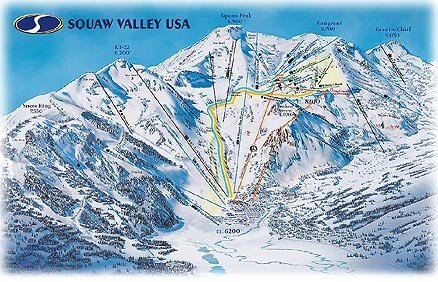 Click on image
to opena full-size trail map in a new browser window (image courtesy
Squaw Valley USA)
To the east of Snow King Mountain and
deeply set back from the base lies the Olympic Lady area.  This "secret" locals
stash offers ungroomed steep terrain, trees and powder galore.  The Olympic
Lady double servicing this secluded area loads in a gully invisible to the base
area, adding to its "in the know" cachet.  There is little in this area for
beginners and timid intermediates.
To the west of Olympic Lady lies legendary
KT22 – 2,000 vertical feet of mostly black and double black super-steeps – and
the focal point for much of the extreme activity at Squaw.  Serviced by the
KT22 Express at the central backside of the main base, this lift has rightly
earned its reputation as one of America's greatest ski lifts.   Indeed, some
Squaw locals ski almost exclusively off this HSQ all season long.
Moving further west, Squaw Peak proper
dominates the vast central area of the resort.  Overlooking the resort's huge
and much vaunted mid-mountain complexes, Gold Coast and High Camp, Squaw Peak's
many chairs service a plethora of above tree-line bowls of both the black and
blue persuasion.  Overlooking it all is the frankly awesome Palisades area,
hero-hucking terrain par excellence. 
Squaw is rather atypically blessed
with unusual blue and green terrain above mid-mountain, mostly  under the next-west
summit, Emigrant Peak and most of it funneling directly into the mid-mountain
lodges.  This area is not even visible from the main parking lot.  The only
clues to the existence of the lodges and adjoining area of runs are the Tram
and Funitel cables receding into the distance up and over the near vertical
rock faces barricading the upper reaches of the lower terrain.  Indeed, beginners
and intermediates are likely to be overcome upon cresting the sheer lower cliffs
riding either the cable car or Funitel to discover a virtually limitless expanse
of gentle, impeccably groomed terrain The runs are serviced by a huge network
of chairs funneling up into the increasingly steep terrain at the crest of the
peak.   Squaw's half pipe and terrain parks are also located in this area.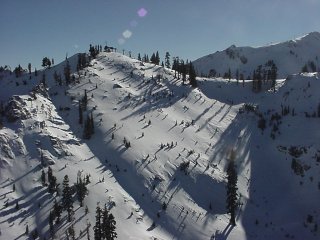 (photo Marc Guido)
The westernmost and highest elevation
peak, Granite Chief, is generally the last to be swept by patrol and opened
after a storm. Serviced by its own small dedicated networks of lifts, Granite
Chief remains, relatively speaking, a less crowded locals' hangout in comparison
with much of the rest of the  resort. Of special note for experts is the western
frontal area serviced by the Silverado Chair and the Broken Arrow area directly
under the cable car and Funitel.  Less experienced skiers could be excused for
thinking that much of this terrain is unskiable.  In fact, these areas harbor
some of the most interesting and challenging runs on the entire mountain. 
While Briar and the kids searched around
for morning coffee and juice, I entered the P.R. office and sat down for a short
and informative meeting with Director of Publicity, Katja Dahl.  A vivacious
and congenial employee, she was quite obviously imbued with a sense of respect
for the resort and its iconoclastic owner Alex Cushing, whose imprint and influence
permeates every aspect of this magnificent area.  The epic story of Cushing's
dogged chutzpah in bringing  the 1960 winter Olympics to California is firmly
embedded in American folklore.  What is not so well known is the nearly equal
audacity of the improvements instituted since that long-ago time.
Katja was particularly excited about
the resort's recent partnership with Intrawest (of Whistler fame), and in particular,
the joint venture agreement to develop a large base village in what is now the
parking lot area.  "The village will address one of the last remaining perceived
short-comings at Squaw Valley – the lack of a cohesive base area development,"
said Dahl.  Construction is underway as of the 2000-2001 season.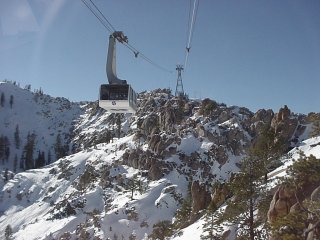 Squaw's Cable Car
aerial tramway (photo Marc Guido)
As I have implied, Squaw's lift and
overall mountain infrastructure is a marvel of technology.  The imposing cable
car base facility is a good case in point.  One simply doesn't "ride the cable
car" at Squaw.  Rather, riding the cable car is part of the  "Squaw experience". 
How so?  Well, initially, one passes over an open catwalk directly overtop of
the massive drive system.  Looking down through the grid work is damned impressive
in and of itself.   Next, you are ushered inside a small holding vestibule where
riders are treated to a captive video presentation extolling varying aspects
of the resort and featuring (who else) Cushing himself.  When the massive tram
car docks, the crowd then funnels into another adjoining vestibule.  This room
functions solely as a gigantic elevating device, and rises quickly the three
or so stories to the tram deck proper.   Then, and only then, do the tram doors
close, the car and its payload gliding quickly and silently up (way, way up)
over the cliffs on its way to the High Camp top station.
For the 1999-2000 season (Squaw's 50th),
the resort unveiled another tour de force: America's first Funitel lift.  Looking
much like a gondola but traveling on two parallel cables, I was advised by Dahl
that the lift was capable of delivering skiers to the upper mountain area in
70 mile per hour gale-force winds.  "If someone flies across the country to
ski at Squaw, it is incumbent upon us to deliver them to the best terrain in
all conditions," she explained.   
After picking up our tickets, we hopped
the Funitel to Gold Coast.  As I said, cresting the top of the ridge line for
the first time is frankly overwhelming.  For skiers used to typically narrow
runs cut through the trees, Squaw's lift and trail nomenclature can be a bit
off-putting at first.  There are few designated trails, and instead, whole areas
serviced by the lifts as well as the lifts themselves are designated 'blue,
green, black and blacker'.
Groomed cruising
on Mountain Run (photo Hank DeVre / Squaw Valley USA)
While Squaw has a reputation of attracting
expert skiers (and there really is a huge expanse of terrain suitable for only
those skiers with more bravado than brains), the resort is also taking great
pains to maintain and continually develop its more family-friendly terrain,
which it also possesses in spades.  To that end, Squaw offers a plethora of
family packages and discount tickets.  First and foremost among these is the
children's $5.00 lift ticket, good every day of the season for sliders under
12.  Compare that to any discount ticket in Eastern North America!  Squaw also
participates in the Tahoe "Big Six" interchangeable ticket program, and it has
the most extensive free shuttle service from Reno and the lakefront areas of
any local resort.
Traversing to the high lifts, we warmed
up with a few laps up and down Siberia Bowl.  During the initial wait in the
Funitel line, a liftie had commented that the resort had hosted 20,000 people
the previous day.  I believed him.  I can vouch that absolutely every square
inch of the 3,000 or so acres visible from the top of Emigrant Peak appeared
entirely tracked out – and I mean entirely.  There may have been lines somewhere
that had not been skied, but I highly doubted it.  Surprisingly, the chowder
was eminently edgeable and conditions were otherwise superb under the circumstances.
Squaw is far too huge to explore in
a day (or a month), but we were determined to try our best.  Traversing westward
down Mountain Run, the four of us grabbed the KT22 lift back up.  KT22's east-facing
steeps were already softening by mid-morning and were rapidly turning into sticky
glop.  Not to be deterred, I leaped eastward over the top cornice and promptly
hooked and lost a ski in the goo.   Luckily, I had been polishing my self-arrest
technique earlier in the week and was thus able to avoid a premature slide-for-life
style ending to the day.  Briar and the kids traversed skiers left to the Saddle,
KT22's escape route down the west face.
High Camp
(photo Larry Prosor / Squaw Valley USA)
After a series of blue and black runs
off the Red Dog chair, we rode the cable car en route to the upper lifts of
the Granite Chief area.  However, upon our arrival at High Camp, we elected
to stop for a short lunch.  High Camp is nothing short of amazing.  Sitting
at an elevation of 8200 feet above sea level, its adjuncts include a series
of eateries, an ice-skating pavilion, a heated swimming pool, an Olympic museum
and a snow-tubing park.  High camp is open until 9:00 PM evenings, functioning
as a both a base for the aforementioned activities and the top terminal of Squaw's
night skiing operation.
It was at this point in the day that
passion and adrenaline overcame reason.  We elected to book a snow tubing session,
such session to commence after an evening of night skiing.  Think about it. 
That's twelve consecutive hours on the slopes.  Frankly, "boredom" was about
the last thing on my mind by this time.
After lunch, we traversed east to Granite
Chief Lift.  After a few pleasurably steep tree runs, we skied over to one of
the more recently installed lifts, Silverado.  By this point of our Tahoe adventure,
Jonathon had been exhibiting a gung ho attitude whenever we happened upon a
lift marked with a  "Danger" symbol.   Briar's reaction was significantly less
enthralling.  Scrupulously averting my eyes from her vigorously shaking head,
the kids and I dove over the crest, while I effected that delicate balance of
beckoning her to follow while at the same time attempting to move out of earshot
as quickly as possible.  Sure enough, I soon found myself mumbling something
along the lines of  "But it's only a small cliff."  The kids meanwhile traversed
gamely through the suspect area.  On the ride back up, I attempted small talk
with the better half about how wonderful the run had been.  Frankly, it was.
As dusk fell and the main lifts began
to shut down, we elected to take a few more runs down Mountain Run, and then
grab a light supper at High Camp.  Blissfully uncrowded, as expected the food
was not cheap, but was of reasonable quality.
Tubing was booked from 7:00-9:00 PM. 
Glancing at my watch, I realized that we still had about an hour of time to
kill.  We elected to cram in a few final runs down the brightly lit slopes. 
As 7:00 approached, we rode the cable car to the tubing park. Although not everybody
does so, taking the time to slip out of our ski boots and into our regular winter
boots is a smart pre-tubing plan.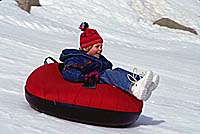 Snow tubing at
Squaw
(photo Niobe S. Burden / Squaw Valley USA)
Frankly, everyone must try tubing before
you die.  Yeah, I know.  I mistakenly used to think it was kind o' lame as well. 
I also thought it would be presided over by a group of stuffy liability-conscious
chaperones hell-bent on sucking the enjoyment out of the experience.  WRONG!! 
For two solid hours straight, we split our sides laughing with the crew as they
devised every permutation and combination possible for sliding down the hill. 
This included spins, crack-the-whips, and multi-person chains.  I found it especially
entertaining to watch a particularly inebriated group of guys careen up and
over the snow backstop at the end of the steepest tubing run, continuing down
the adjoining mogulled steeps of Broken Arrow with a clearly consternated tubing
manager following via snowmobile in full rescue/pursuit mode.
The two hours passed quickly.   After
a download on the cable car and a short drive to Tahoe City, we found ourselves
checking into our fresh accommodations at the Tamarack Lodge.  My aching body
was loudly protesting the past twelve hours.  After a hearty dose of Vitamin-I
(for those of you too young to understand the secret code of over-the-counter
pain relievers, wait a few years), sleep came early and easily.
All in all, it was a memorable ending
to a memorable day on a most memorable mountain.  Frankly, I'd have redone every
minute of it in a flash if either my schedule or my aching body would allow
it.  Squaw Valley, when you're ready, we'll be back.