With the holiday shopping season right around the corner, it's time to put together your Christmas list. Whether buying for the skier or snowboarder in your life, or even shopping for yourself, we've put together some of the best gift ideas for your snow sports wish list in this, our annual FTO Holiday Ski
& Snowboard Gift Guide.
Our Gift Guide has grown in 2006 to the point that we've had to split it into two parts. This is Part I, devoted to ski and snowboard apparel. Part II focuses on ski and snowboard accessories.
Within this article we'll examine:
Ski and snowboard jackets
Ski and snowboard gloves
Ski and snowboard socks
Function and Fashion
Function and fashion need not be mutually exclusive objectives. Our testing and review this fall found three ski and snowboard jackets to top our list.
At a mere 1 lb. 7 oz., Mountain Hardwear's Descent DT felt like a spring
windbreaker, yet it's one of the lightest full-featured snowsports jackets
on the market today.
We're fans of uninsulated shell jackets for layering versatility through a myriad of skiing conditions. At a mere 1 lbs. 7 oz. the Descent DT jacket from Mountain Hardwear felt like we were wearing only a spring windbreaker, yet it represents one of the lightest full-featured snowsports jackets on the market. To save weight yet provide warmth, the company placed its Yeti Fleece fabric in only strategic locations around the neck, shoulders and mid-back in what it has dubbed its MicroClimate Zoning System.
Despite its light weight, the Descent DT has bells and whistles galore. An elastic powder skirt and Conduit DT membrane keeps moisture out, while lending superior breathability that's augmented with oversized pit zips. You'll find pockets aplenty, including two interior (one constructed to secure an MP3 player) and four exterior pockets that all have waterproof zippers or oversized storm flaps secured by easy-to-close hook-and-loop fasteners. High-wear areas on the elbows are reinforced by a heavy-duty laminate, and hook-and-loop cuffs keep drafts and moisture out of wrist areas. Magnetic or RF-controlled season passes store inside a zippered compartment in the left forearm, while traditional season passes are held in a window that easily tucks away under the hem with a quick-release hook-and-loop attachment. A helmet-compatible hood secures with one hand via a single wrap-around cinch pull, yet stows away inside a weatherproof-zippered compartment behind the neck when not in use. All seams are taped and sealed
against the elements, and at $255, Mountain Hardwear's Descent DT represents an exceptional value as well. It's available in Red Hot, Espresso, Pesto and Galaxy, a medium blue.
For those who prefer their ski jackets insulated, we also put Mountain Hardwear's Torque jacket ($250) through its paces. Warmth is provided by PrimaLoft One insulation, and a Conduit laminate lends waterproof breathability. Like the Descent DT, the Torque features oversized pit zips for insulation, large storm flaps secured by hook-and-loop closures, hook-and-loop wrist closures, an elastic powder skirt, two interior pockets (one for an MP3 player, the other large enough to hold goggles or gloves), and a season pass window tucked under the hem. The jacket's exterior is constructed of Ascent nylon, with tougher materials employed in areas of high wear. The single hand-operated helmet-compatible hood rolls
away to be secured with a cinch cord or removed with a zipper when not in use.
www.mountainhardwear.com
We were also excited to test a softshell from Flylow Gear, a Denver-area startup that at first marketed itself to telemark skiers, but is now in its third season is expanding its horizons and referring to itself as producing "Backcountry-Freeride apparel."
"My partner and product developer is a tele-skier," explains founder Dan Abrams. "Our philosophy has always been that if you can make clothes that are vented enough, durable enough and articulated enough for the telemark skier, then it would be the best clothing. We take mountaineering functionality, mix it with style and gear it towards the skier/boarder who likes to find powder at all costs and will climb, hike or ride a lift to get it."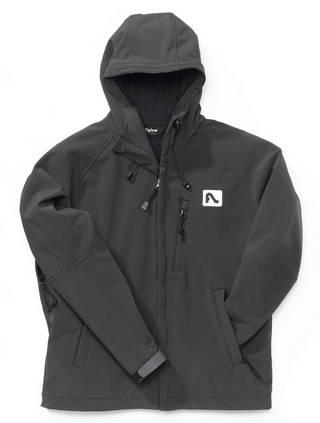 Flylow Gear's Kung Fu jacket is a luxurious soft shell sure to appeal
to backcountry skiers and telemarkers.
We tested Flylow's Kung Fu jacket ($230) on a 2,400 vertical-foot autumn skin and ski in Utah's Wasatch Mountains and found that it lived up to Dan's hype. We never once felt constricted while skinning or skiing, and during the ascent we were amply ventilated by oversized 15-inch pit zips. It felt like we were wearing the ski jacket equivalent of a hoodie sweatshirt. The thick four-way stretch soft shell fabric has a luxurious tactile feel, almost like a thin nylon-coated wetsuit material that is both durable and waterproof. Three small strips of webbing attach to ski pant belt loops on deep days — "When your hands come up, your pants do, too," the company quips in its catalog. The jacket is minimalist, with one exterior chest pocket secured by a weatherproof zipper and ported to the inside for headphone cables, two exterior slash pockets covered by zippered storm flaps, and one zippered interior pocket. The jacket is lined on the front side with mesh for additional ventilation.
Our only complaint was that the three-way, helmet-compatible wire-brimmed hood lacks a means to stow it away. "I think the lack of a stow-away system is due to our feelings that in the past we never rolled our hoods up, because they never roll perfectly, and they seem to take up room in the neck when rolled up anyway," Abrams explained. It is, however, merely a matter of personal preference, and did nothing to diminish our love for this jacket.
www.flylowgear.com
Glove Love
Few things can ruin a ski day like cold, wet hands. We tested a number of ski gloves for comfort, workmanship, and convenience.
Manzella gloves may not appear on every ski shop shelf, but the brand represents best-of-class in hand protection. We were so impressed by the company's Denali glove when we prepared our 2005 Gift Guide that we expanded our testing this year to include four of the company's models.
Manzella clearly labels its gloves as "Warm," "Warmer" and "Warmest" for simple product selection. We tested three "Warmest" and one "Warmer" model. First up in the "Warmest" category is the company's Storm Front glove ($110) which features a waterproof/breathable membrane and "Super Wicking Lining" to transport moisture, yet for those sticky-finger days when the built-in moisture transport can't keep up, the Storm Front includes a weatherproof zipper running the length of the index finger to allow extra ventilation, which naturally works as advertised. We use zippered vents on jackets and pants, so why not on gloves, too? A full-length gauntlet includes a removable leash and two-way cinch cords that operate easily with one hand, and a pull cinch strap around the wrist effectively keeps the glove in place. The palm area is reinforced with Kevlar and Grip Tex for durability and dexterity. The glove comes only in black with white and blue piping.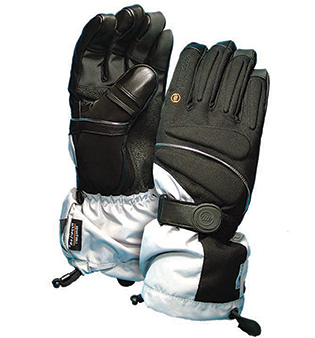 Manzella's Awesome glove features a unique wrist sleeve to seal out cold
air and moisture.
Also in Manzella's "Warmest" category is the Awesome glove ($100). Like the Storm Front it sports two-way cinch cords and a removable leash on a full-length gauntlet, a cinch strap around the wrist (this one with a hook-and-loop fastener), and a waterproof-breathable membrane, Super Wicking Lining and insulation. What sets the Awesome apart is an innovative wrist seal built like the end of a turtleneck sleeve sewn into the glove's gauntlet. We found the feature to be effective at sealing out any draft where the glove meets the arm of a jacket. The palm area is reinforced with a tough combination of natural leather and synthetic materials, and the back of the hand is padded for slapping saplings out of the way in the woods. The Awesome glove comes in an aesthetically pleasing combination of black and grey.
For terrain park aficionados and snowboarders, we tested Manzella's The Beast glove ($130), also included in the manufacturer's "Warmest" category. This glove features removable wrist guards and dense knuckle pads to reduce the chance of injury when tricks go south, and we found the sense of protection during falls reassuring. A Kevlar and Grip Tex palm provides durability and dexterity, and like other Manzella gloves reviewed above The Beast has a waterproof/breathable membrane and insulation, a full-length gauntlet, two-way cinch cords, removable leashes and a cinch strap (hook and loop) around the wrist. The left glove also sports a zippered pocket for keys, a credit card or cash, as well as a goggle squeegee strip across the thumb. Manzella's catalog lists the glove in a black-and-grey combination, but our test model arrived in a blend of black and beige to match many of the current freeride apparel styles.
Finally, we tested one of Manzella's "Warmer" models, the Southern Cross ($70), ideally suited for spring skiing or more energetic winter pursuits such as snowshoeing or backcountry skiing. A palm constructed of fine tan Pittards leather lends a touch of luxury to the Southern Cross, accented by a black weather repellant outer shell. A short gauntlet includes a one-way cinch cord, and a waterproof/breathable membrane and insulation keeps hands dry.
We found all four Manzella models tested to suit their advertised use. All effectively kept hands dry, both by keeping outside moisture out, and by transporting perspiration and other moisture from the inside out. Each model included unique features to satisfy the particular needs of any snow slider.
www.manzella.com
Next up, we looked at three different glove models from Hestra, a Swedish company with a long-standing heritage. The company's catalog is diversified across many different snow sports glove styles.
Hestra's Alpine Pro line features the company's best feature set for those skiers who place high demands on their equipment, and within that line we tested the Army Leather Heli-ski, a full-gauntlet model that features a unique removable elastic wrist-loop leash for easy-on, easy-off convenience. We were impressed at how simply, yet effectively this feature functioned. Waterproof breathability is provided by a name-brand Entrant GII fabric, and the glove's cozy felt lining was effective at wicking moisture away from the hand. Gauntlet closure is provided by a one-way cinch cord, and the fabric glove is accented by a fine goat leather palm. A decorative carabiner provides a unique glove keeper for inside the lodge.
A uniquely different Alpine Pro model that we tested was Hestra's Army Leather Short XCR, a gauntlet-less model with another name-brand waterproof/breathable system, Gore-Tex's top-of-the-line XCR membrane. This model featured the same unique removable elastic wrist-loop leash as the Army Leather Heli-Ski, but that's pretty much where the similarities end. Construction is largely of fine quality leather, with fabric backs and box-cut fingers, and insulation is provided by Thermolite Active that was very effective at keeping our hands warm despite its low bulk. Wrist closure is via a hook-and-loop strap. The Army Leather Short XCR would be an excellent choice for those who prefer a more traditional glove
style.
Hestra's Snow Cross Army Leather ski glove is elegant in its simplicity.
Finally, from Hestra we tested the company's Snow Cross Army Leather. While aimed at the freeride market, this leather glove with fabric accents would make an excellent spring glove for any skier or rider. Construction is simple with elastic wrists, Thermolite insulation, and the company's CZone four-layer construction to keep hands dry. The Snow Cross Army Leather is elegant in its simplicity.
Each Hestra glove we tested is available in a wide selection of color choices. Of all three models we tested, none disappointed – each suited its intended purpose with function, flair and style.
www.hestragloves.com
For the warmest spring days, we also looked at a pair of gloves from Mountain Hardwear. We found the Conduit soft shell fabric on the company's Foraker model ($55) to effectively shed snow and block wind, resisting water penetration while providing superior breathability. The palm is constructed of soft goatskin, an articulated design lends dexterity, and the glove is lined with a pleasing wool and polyester blend. We'd be hard pressed to find a glove we'd rather wear on April and May days skiing our home Wasatch Mountains.
www.mountainhardwear.com
Foot Fetish
Ranking right up there with cold, wet hands in the list of ways to ruin a ski day are cold, wet feet. It's therefore critical to wear the right ski socks, and shoppers, a skier can never have too many pairs. Ski socks make a welcome and cost-effective stocking stuffer.
Performance skiers tend to buy ski boots with a performance fit, so thin but effective ski socks are a must. More casual skiers tend towards boots with a comfort fit, so a thicker sock with more ample padding is frequently to their liking. We tested a whole slew of available ski sock models from Wigwam Mills
that run the gamut from thin to thick.
The purpose of Wigwam's Yeti Snowboard sock belies its name, for it's equally suited to alpine skiing or snowboarding, as were all Wigwam socks tested. Constructed of warm, soft, no-itch Merino wool blended with micro-denier acrylic and stretch nylon with a touch of olefin, the Yeti Snowboard features strategically-located cushioned Merino wool in the top, shin and instep to minimize typical ski boot
pressure points. Lighter-weight fabric is used where thicker materials aren't needed, in the back of the calf and at the top. The toe seam is smooth looped to prevent any painful bunching at the toe of the boot.
Wigwam's Ultimax Silver Ultra-Lite Snowsports sock owes its name to anti-microbial, anti-odor, anti-static X-Static fibers sewn throughout that further regulate temperature. The fibers are constructed with nylon threads permanently bonded with 99.9% pure silver. The company's X20 acrylic pulls moisture from the foot bottom to the top, where it can naturally evaporate. This sock is a blend of 45% stretch nylon, 40% X20) acrylic, 10% olefin, 3% Lycra spandex for stretch and resiliency, and 2% X-Static silver nylon for the aforementioned odor control. Again, this sock features a padded shin and flat toe seam, both for comfort
in a ski boot.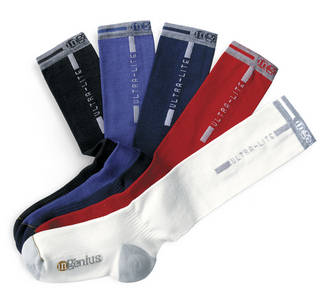 The INgenius Ultra-Lite Snowsports sock from Wigwam Mills was the favorite
for our performance-fit testers.
For the performance-fit crowd, Wigwam has knit a liner sock and an outer sock into once piece of fabric in its INgenius Ultra-Lite Snowsports sock, giving the wearer the benefit of wearing two pairs of socks without the associated bunching and discomfort. The inner layer is knit with 100% moisture-repelling olefin, while the outer layer is constructed of insulating, soft, absorbent Merino wool blended with stretch nylon and Lycra spandex. The toe closure is virtually seamless to eliminate irritation in close-fitting ski boots. The ankle area is also elasticized to prevent sagging and bunching in that area.
For the comfort set, Wigwam's Ultimax Xenon is generously padded in the shin area with Merino wool, and features dense padding beneath the sole of the foot. Elasticized ankle and arch panels ensure a snug fit. The Xenon is constructed of 32% stretch nylon, 30% Merino wool, 21% olefin, 12% X20 acrylic and 5% Lycra spandex.
We found all of the Wigwam socks tested to fit perfectly, without any apparent bunching or sagging. Our performance-fit testers were partial to the Ingenius Ultra-Lite, while our comfort-fit testers preferred the Ultimax Xenon. From our testing, though, we found that Wigwam makes a sock model to suit just about every boot fit and personal taste. It's simply a matter of identifying which sock features appeal to the user. Each model comes in a host of colors to complement any apparel, and it's important enough that it warrants repeating: a skier can never have too many ski socks.
www.wigwam.com
Our Methods
Our objective testing and review process allows us to provide insight into the best of the best ski and snowboard apparel and accessories. These are not paid product placements – rather, they're products that our own staff have tested, used and reviewed. We highlight only the top products from our testing and review process, so we guarantee that any selection listed above will be a hit with the skier or snowboarder in your life.