Salt Lake City, UT – Eco-friendly talk has been all the rage in recent years and many people are asking "what exactly can I do about it?" The answer is that there are a lot of small things that everyone can do to help.
If you are in the market for a new snowboard, then choosing your board is an opportunity to make a difference. Here are five things to look for before you buy: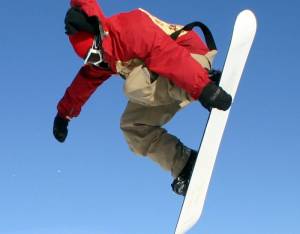 1. Does the board have eco-friendly materials of construction?
Ask the sales rep at your local snowboard shop which boards use eco-friendly materials. If they don't know, refer to each snowboard company's website which should list materials for each board (materials are often good selling points and so companies want you to know what they are using). Manufacturers have taken to the "green" revolution and love to use words like "eco" and "natural" so it shouldn't be hard to find this information.
Specific materials to look for include bamboo, basalt, hemp, koa wood, cork, beans, water-based inks, vegetable oil, pine oil, FSC certified wood, linseed fiber, anything bio-derived or recycled, and more. Some company websites will have a specific page dedicated to describing the eco-friendly materials in use. A surprising revelation here is that companies using such materials have used their research to find materials that are eco-friendly and perform better than the alternative! This is a new and very interesting field of research so be sure to check back often with manufacturers as new technology is developed each season.
2. Does the company practice manufacturing efficiency?
A hidden but important item to consider is how much waste is produced while making the snowboard you are considering purchasing and what happens to that waste. Although most manufacturers will make a serious effort to reduce waste because it saves money, eco-friendly manufacturers have extra procedures in place to ensure that the waste that is produced is recycled or reused.
3. Does the company limit their manufacturing emissions?
Toxic fumes are an unfortunate byproduct of the use of many of the resins and glues used in snowboards to ensure strength and durability. Eco-friendly factories will make efforts to reduce the use of such materials as much as possible as well as minimize the effect of toxic residues on local air, soil and water resources. In addition, toxic fumes that enter the indoor airspace of factories endanger the health of employees. Companies that take measures to reduce toxicity in the workplace also care about their employees!

4. Was the board made in a factory that uses eco-friendly power sources?
From start to finish, a good amount of electricity is required to make a snowboard. Eco-friendly snowboard companies have chosen buy their energy from renewable sources such as wind and hydro. Some companies have even addressed the carbon footprint of their employees who commute by car. Mervin Manufacturing, for example, has their own bio fuel tank that powers the factory, some company cars and even cars owned by local community members.
5. Has the company offset their carbon emissions?
Not all snowboard manufacturers have taken any or all of the above measures. However, this doesn't mean that they can't do something to immediately reduce their environmental impact. A wide variety of companies sell what are called "carbon offsets," which are a way for snowboard manufacturers to offset their total carbon footprint every year. The yearly carbon footprint is the total sum of carbon that has resulted from business activity and includes everything from the items above to things like emissions from transportation of materials and finished products.
The good news is that many companies are taking steps to make snowboards that put less negative impact on the environment that they are designed to help us enjoy. The not-so-good news is that they could be doing more. Which snowboard you purchase and from which brand you purchase it from tells the industry what kind of products you want to see offered in the future. Nothing speaks louder to a company than your money, so be mindful of your next snowboard purchase because it makes a difference!
Author Jonny Ivers is a writer, snowboarder and proponent of ensuring that we continue to receive the gift of snow every winter. He is also a contributing writer for Tahoe Lift Tickets which offers discount lift tickets to Lake Tahoe area ski and snowboard resorts.