Park City, UT – If two Utah ski resorts have their way, skiers and snowboarders could one day ride a tram to travel from Park City to Big Cottonwood Canyon.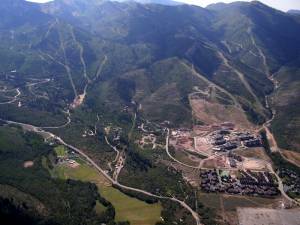 That journey presently requires a circuitous 45-minute drive through Salt Lake City, even though as the crow flies the base areas of the two resorts are less than five miles apart. On Tuesday, however, KSL Television in Salt Lake City reported that Canyons Resort officials are planning with Solitude Mountain Resort to jointly construct an aerial tramway that would lift skiers from near the Daybreak Lift at Canyons and transport them up and over the Wasatch Crest to Solitude in Big Cottonwood Canyon. While Canyons Resort is the primary player, it's working with officials at Solitude Mountain Resort to try to bring the plan, which would include a joint lift ticket between the two resorts, to fruition.
Canyons Resort officials cite as a benefit of the lift reduced traffic in Big Cottonwood Canyon. Expecting opposition from local environmental groups, including Save Our Canyons which has already expressed concerns about the plan, officials backing the project have already indicated that it could be scaled back to a chairlift instead of a tram if need be.