Lake Louise (AB), Canada – There are only a few truly huge ski resorts in North America, and Lake Louise is a member of that select crowd. It spans the front south-facing and back north-facing sides of a large mountain as well as a decent portion of a second mountain. Somewhat uniquely, in spite of the large vertical (3,250 feet), acreage (4,200) and scope there are green and blue runs that find their way down from every vantage point on the mountain. At a smaller resort this would require cat tracks crossing all the steep terrain, but at Lake Louise the terrain is so expansive all these options fit naturally together so that you hardly even notice – unless you are a beginner who is no longer stuck on only a dedicated learning lift or two.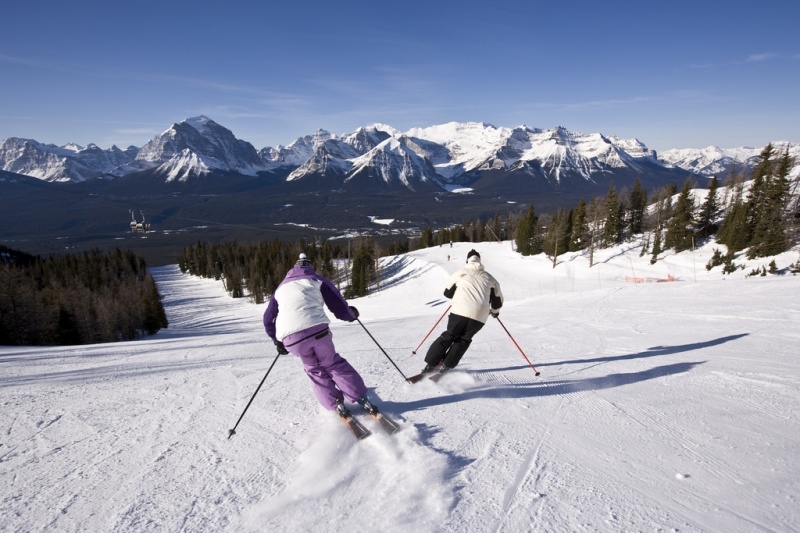 For my time on the slopes at Lake Louise I was blessed and cursed. Six inches of new snow fell only a day earlier, and that just doesn't get entirely tracked out on this much terrain during the week. But heavily overcast skies also made it a bit difficult to see the surface in the flat light.
We started out by taking a rather literal tour around the mountain, hitting the pristine groomers on both front and back sides. The tree-lined lower slopes on the front mountain offer a lot of vertical and some fun curves. I was especially interested in skiing the downhill course that I have watched so many times when the World Cup comes to town every year.
Moving up the mountain the terrain gets ever juicier and eventually breaks up above the tree line with a number of chutes, small bowls and gullies. The wind plays a bit of a factor up here, which is a good thing, although it limits the lift options up top to a platter lift that isn't necessarily for everyone. The wind-sifted snow keeps a sweet soft surface going nearly all winter long. We even tried out a short stretch of bluish terrain just outside the open boundaries. You had better know where you are going and what you are doing in such a situation. I did, but only because my guide for the day was Sandy Best, Director of Public Relations at Lake Louise.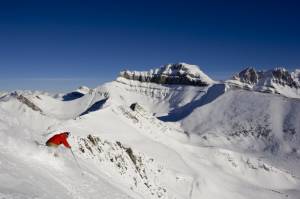 After dropping in a few times on the front side Sandy wanted to get me into the resort's signature terrain. The wide open expanses of the backside offer the kind of terrain that many resorts claim, but few deliver. The mountain's backside offers chutes, bowls and hike-to options with enough rocky and cliff-strewn terrain to keep any Euro happy. Yes, there are a few greens that wind their way through it all to make starters feel like kings, but for serious steeps and powder hounds this is the stuff that both raises your hair and keeps you dreaming about coming back for more. For this type of skier the Paradise to summit platter loop is quite nice, indeed. With the new snow from a day earlier still untouched in many areas, it was turning into a very good ski day.
After sampling sections like Whitehorn 2 and Eagle Ridge 3, we kept exploring additional shots and chutes and eventually worked our way over to a fantastically long glade beneath the Ptarmigan chair. It's a glade that keeps on going and going and at a perfect diamond pitch. It turns out that this was logged this way by helicopter and the timber was used in the sprawling natural wood base lodge complex. Lake Louise sits in a National Park, after all, and everything they do here is scrutinized, or even electively chosen to keep in sync with the spectacular Alpine surroundings — right down to minute details like changing the paint scheme of lift towers to fit in with the landscape both below and above the tree line.
After finally making our way all the way to the Temple Lodge on the backside for lunch we sat down for a fully civilized break. Certainly the food options seem better and better priced here at the Canadian resorts than the typical fare in the majority of resorts south of a certain parallel.
After lunch we hit another signature trail, The Rock Garden off of the Larch chair. It's a huge rock fall area from quite a while ago, which creates a unique natural terrain park with lots of puffy pillows and mounds that don't quite behave like moguls. A few more runs on the backside via both the Paradise and Ptarmigan lifts brought everyone's legs to scream "groomers please," which we then dutifully skied off the Top of the World six-pack until closing when we headed into the bar in the Lodge of the Ten Peaks for a nice microbrew.
After a day of skiing like that it's all about quiet contemplation and a nice relaxing meal at the hotel. Sandy Best will tell you lots of things about Lake Louise and it's clear that he loves it here. It's not just the job of the moment for him. But the things that stick with you about Lake Louise are simple and obvious but nonetheless need to be said again: "It's a skier's mountain," and "We have million dollar views here, not million dollar condos."
It really is that simple.
For More Information:
Where to Stay: Lake Louise Inn sits in the tiny town of the same name just a mile or two from the slopes. It consists of several buildings clustered near a central amenity-filled main building. While the town of Lake Louise is very small, there is still little reason to leave the Inn with its bar and lounge in the basement, restaurants upstairs, swimming pools, massage rooms and gift shop. It has an understated vibe despite being well-appointed and is definitely worth a look if your goal is to ski Lake Louise.
A second option for those who have come to ski hard without a lot of off-hill distractions is the Great Divide Lodge, located 10 minutes west of the resort. It is a fairly basic but friendly and clean lodge, with a small restaurant and bar on-site. It's a great hidden find. With screaming deals such as a Forest View room and Lake Louise lift ticket for $99 (per person, double occupancy), or$129 for a room, ski pass, breakfast and dinner (again double occupancy), there are but a few ski and stay offers this good anywhere.
Lake Louise Resort – www.skilouise.com; Telephone (877) 956-8473
Lake Louise Inn – www.lakelouiseinn.com; Telephone (800) 661-9237
Great Divide Lodge – www.thegreatdividelodge.com; Telephone (888) 682-2212
This is the fourth installment in a week-long series of feature articles on Alberta's major ski resorts. Next up tomorrow: Sunshine Village

Previous days:
More Photos:
[nggallery id=16]