Banff (AB), Canada – Mount Norquay is not at all what it seems. You look at the trail map and the ski area looks kind of small. You read the stats and see only 190 acres of terrain. I am here to tell you that all of it is just an illusion. This place skis so much bigger and tougher than that.
Norquay is by far the closest ski area to Banff itself. Yet due to the small stats it's ignored far too often by visitors. Just ask the locals. They come here in droves. The mountain is unusual in that while it broadly spreads four lift pods across a mountain ridge, the skiing goes nowhere near the top. Why? The upper part of the mountain is simply too steep with its series of jagged cliff bands and chutes that nevertheless make for some unique views riding up the lift, as you cannot see the adjoining lift pods from each other.
Norquay's Spirit and Mystic Express Quads provided us with a start to our day that also featured two inches of new snow atop numerous immaculately groomed runs and even a ski cross course. It doesn't look like it on the trail map, but it can be hard to find the entrances to the rolling groomers serviced by the Mystic lift. Find them, however, and you will be rewarded by trails with hardly a track on them even by mid-morning. The bumps of Bruno's Gully, the bottom of an avalanche chute that may or may not be open depending on the avalanche conditions, were a pleasant surprise. With a high-speed quad ferrying you back up, the number of 1,300 vertical-foot runs you can rack up on this side of the mountain is actually somewhat daunting.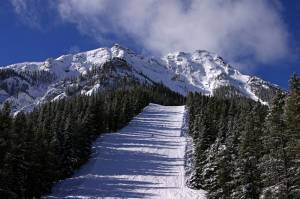 You get more of a sense of Norquay's history by moving back to the "front" side of the mountain, where runs were cut as early as 1928. Ski racing also has a long tradition and very strong current presence at Norquay as well. The 1937 North American Championship was run practically down into the town of Banff itself. Only a portion of that run remains today.
The base lodge is a nice and large two story-affair that belies the small resort name tag that people try to affix to Norquay, with sit-down dining located upstairs. Just off to the side is the learning terrain and a small terrain park, both of which are illuminated for nighttime skiing. And just above that is the terrain that will make you whimper. The North American lift is an old double that tops out at what used to be, and soon will be again, a tea house carved into the steep mountainside.
All of the runs on North American are steep, steep, and more steep. And more than that, they are mostly also bumped up. The must-ski-them runs are North American and Gun Run. Memorial Bowl and Lone pine have longer continuous fall lines, for sure, but skiing under the cliffs of North American or feeding into the gully at the bottom of Gun Run are different, which in my book automatically makes them more fun than average skiing.
Norquay is the only ski resort in the area offering snow tubing, which is situated right next to the lowest reaches of the North American chair. Its own older base lodge caters to families who come up the mountain in the evenings under the lights.
Ok, so there aren't a ridiculous amount of skiable acres at Mount Norquay. I guess you'll just have to trust me on this. Lapping the groomers of Mystic and an entire afternoon on North American lift will show you a thing or two about what "small" really means. Go there, try it and see what I mean.
For More Information:
Mount Norquay – www.banffnorquay.com; Telephone (403) 762-4421
This is the sixth installment in a week-long series of feature articles on Alberta's major ski resorts. Next up tomorrow: Castle Mountain

Previous days:
More Photos:
[nggallery id=18]