San Francisco, CA – A story about a product unveiling at this week's Google I/O developer's conference in San Francisco seems more appropriate to appear in a tech blog than in a ski magazine, but a new GPS-enabled ski and snowboard goggle running the Android operating system is right up our alley.
We first told you about Recon Instruments' plan to open up its second generation technology to the Android developer community in our Outdoor Retailer trade show wrap-up last summer, and we had a chance to test and review the first gen in a pair of Zeal Optics Transcend GPS goggles in 2010. The new goggle technology unveiled this week will be the first to run Active Network's new RTP LiveView Android lifestyle app, where skiers and snow boarders can view direct-to-eye navigational information and personalized data within their goggles, combining real-time content and adapted augmented reality technology.
Or stated much more simply, no longer will the wearer have to stop and dig a mobile phone out of their pocket, or consult a paper trail map blowing in the wind.
Active Network's RTP brand is perhaps best known to ski consumers for the company's RFID-enabled lift passes and access gates installed at an increasing number of ski resorts around the world. Recon's heads-up display (HUD) Software Development Kit (SDK) integrates RTP LiveView technology adapted from two of Active Network's mobile platforms, RTP LivePass and RTP REALX. The LivePass platform offers information about snow and weather conditions for ski runs, GPS mapping and live destination information including lift availability, along with personalized touches such as social media integration, photo galleries, and up-to-the-second personal statistics. In addition, RTP REALX was used to create REALSKI, the first augmented reality application designed to help guests navigate ski resorts.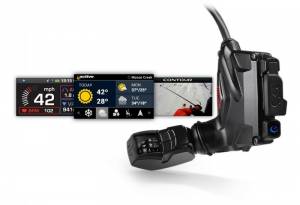 "Adapting Active's proprietary software to this exciting new consumer platform underscores our commitment to delivering innovative and compelling solutions to our customers, while also exploring the outer limits of technology," said Darko Dejanovic, chief product, technology and innovation officer at Active Network. "Working with leading-edge technology partners like Recon is part of our on-going strategy to continuously strive for the best and most promising applications that have the potential to significantly enhance how people participate in activities they are passionate about."
Recon is actively marketing its SDK to other developers for expanded functionality through additional Android apps. For example, a helmet cam user could be able to see what he or she is recording through the HUD within their goggles, or view caller ID information and text messages. They also plan to market the technology beyond snow sports.
"We are proud to be one of the 100 innovators selected to demonstrate our new heads-up display within the Google I/O Sandbox," said Tyson Miller, director of online at Recon Instruments. "Recon is the first company in the world to bring a HUD to market successfully, and this collaboration with Active Network illustrates our continued innovation at the forefront of HUD technology. We believe skiers and riders will love these new apps and we look forward to non-snow sports enthusiasts being able to enjoy this technology soon."
Recon Instruments' MOD Live HUD for ski goggles with integrated RTP LiveView functionality is expected to be available in time for the ski season this fall along with goggles from multiple brands designed to accommodate the HUD.  Retail price has been pegged at $399 for the Recon HUD Live goggles. The Active Network LiveView app cost is still to be determined.