Val Gardena, Italy – Norwegian sensation Aksel Lund Svindal continued his streak of World Cup success on Friday, winning the Val Gardena super G in light snowfall on the Saslong course by over a full second ahead of his nearest competitor to remain atop the Audi FIS World Cup overall standings.
"The race went very well for me," Svindal acknowledged. "You had to ski aggressively and that's exactly what I did. I am sure that the I will not continue to dominate the season, but I will certainly try to ski fast. There are so many other good skiers out there. It isn't that easy right now."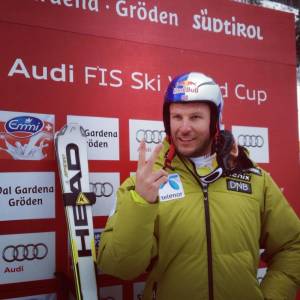 Svindal, who has finished first or second in all five speed races thus far this winter, shared the podium with Italian racer Matteo Marsaglia, who won the Birds of Prey super G in Beaver Creek, Colo. While Svindal's margin was 1.07 seconds over Marsaglia, the next 19 racers squeezed into a differential of less than a second. Marsaglia's Italian teammate Werner Heel rounded out the podium with bronze.
Travis Ganong, of Squaw Valley, Calif., led a charge from the back of the pack, starting 58th and finishing 24th to lead five U.S. Ski Team athletes into the points. Park City, Utah's Ted Ligety was 25th to retain second in the Audi FIS World Cup overall standings behind Svindal. Ganong was followed in the 59th start by Utah's Steve Nyman, who finished 29th. Tommy Biesemeyer, from the Adirondack village of Keene, N.Y., was 27th and Andrew Weibrecht of nearby Lake Placid 30th.
The Canadian men fared better than their American counterparts, as Jan Hudec and Erik Guay finished 12th and 14th, respectively, before a late charge from Manuel Osborne-Paradis saw the three-time World Cup winner storm into 18th place from the back of the pack.
Competing in the first World Cup super-G of his comeback season, Osborne-Paradis, of Vancouver, British Columbia, started 52nd but produced a determined run to catapult into the top 20. Osborne-Paradis, who won the downhill in Val Gardena in 2009, has now been in the points in all three World Cup races since he returned from a long-term injury.
"I'm happy – I'm definitely pumped with this result," said Osborne-Paradis, who suffered a serious leg injury in Chamonix, France, in January 2011 and made his comeback at Lake Louise, Canada, last month. "I'm skiing better technically than I was before my injury. It's just little bobbles here and little bobbles there."
The men race downhill on Saturday before action shifts over the mountain to Alta Badia for Sunday's giant slalom.
OFFICIAL RESULTS
Audi FIS Alpine World Cup
Val Gardena, Italy – Dec. 14, 2012
Men's Downhill
| | | | | | | |
| --- | --- | --- | --- | --- | --- | --- |
| Rank | Bib | Name | Year | Nation | Total Time | FIS Points |
|  1 |  17 | SVINDAL Aksel Lund | 1982 | NOR |  1:36.95 |  0.00 |
|  2 |  11 | MARSAGLIA Matteo | 1985 | ITA |  1:38.02 |  11.59 |
|  3 |  12 | HEEL Werner | 1982 | ITA |  1:38.07 |  12.13 |
|  4 |  19 | JANSRUD Kjetil | 1985 | NOR |  1:38.13 |  12.78 |
|  5 |  18 | THEAUX Adrien | 1984 | FRA |  1:38.23 |  13.86 |
|  6 |  13 | MAYER Matthias | 1990 | AUT |  1:38.43 |  16.03 |
|  7 |  21 | KROELL Klaus | 1980 | AUT |  1:38.48 |  16.57 |
|  8 |  1 | CLAREY Johan | 1981 | FRA |  1:38.65 |  18.41 |
|  9 |  22 | PUCHNER Joachim | 1987 | AUT |  1:38.67 |  18.63 |
|  10 |  10 | INNERHOFER Christof | 1984 | ITA |  1:38.78 |  19.82 |