McLean, VA – SnowSports Industries America (SIA) and Leisure Trends Group have released retail numbers for November 2012, collected from the point of sale systems of more than 1,200 ski and snowboard retailers. November 2012 was another difficult month for the snow sports marketplace with double digit declines in dollars sold compared to sales in November 2011, but there is hope on the horizon as snowfall in December could provide a needed boost in the market.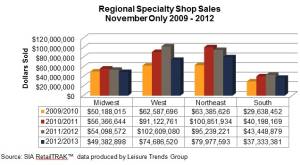 The snow sports market had an uphill battle to fight in the pre-season and it showed, continuing a trend already observed in October. Season-to-date sales in all stores fell eight percent in units sold and seven percent in dollars sold as inertia from last season, recovery from Hurricane Sandy and "fiscal cliff" concerns put multiple dents in the market.
Conditions in the snow sports market from late November to the end of the winter season typically depend upon current snow conditions.However the August to November sales pace is predicated on variables like snowfall in the previous season and consumer confidence in general. This season, all of the variables were working against the early season snow sports market.
Early season sales were dominated by carryover sales, bringing in the slimmest margins. In fact, 16 percent of alpine skis and 17 percent of snowboards sold in specialty retail shops from August to November 2012 were sold as carryover. Carryover sales refer typically to gear that sat in retail inventories over the summer months but technically, in the Leisure Trends data, the term "carryover" represents gear that was sold at or below average retail cost. Specialty inventories were swollen at the end of last season so the increase in carryover sales is an expected purge of that inventory. Unfortunately, that leaves retailers with a cash trickle rather than a flow and sets a Spartan stage for the 2013-14 ordering season that begins to gather significant steam in November.