Lakewood, CO – Ski and snowboard resorts from coast to coast are gearing up for the coming winter with plenty of programs for those who want to learn the sports. January is Learn to Ski and Snowboard Month (LSSM) when many resorts offer special deals and lessons from professional instructors.
The new and improved LSSM website provides all of the information newcomers need to get started including easy zip code searches for finding venues, tips on what to expect and how to dress, highlights of programs available, and special children's programs plus links to resorts and retail shops that sell or rent snow sports products.
"The website provides a one-stop-shop for newcomers to skiing and snowboarding and also those who have experience," said Raelene Davis, VP of Marketing for Ski Utah and chair of this snow sports industry initiative.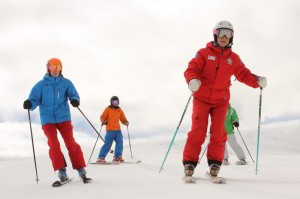 Industry research shows that friends and family members introduce most beginners to the sports so the initiative also rewards those who help newcomers sign up for lessons from a pro. Through the Bring a Friend Challenge, anyone – current participants or newcomers themselves – can become an Ambassador of Snow Sports by entering and qualifying for the Challenge.
Companies such as Head, Ramp, Seirus, Rossignol, Crazee Heads and many more are offering prizes for those who "take the Challenge". Trips including a vacation at Killington Resort in Vermont also are being offered. The person who introduces the most newcomers will be named the Ambassador of the Year with the Grand Prize of a season pass for the 2015-16 winter at a selected venue.
Even newcomers themselves have a chance to win simply by taking a beginner lesson or lesson package. The new First Day Faces Campaign encourages newbies to show how much fun they had their first day learning how to ski or snowboard by using social media to share their experience. One lucky individual will win a four-day trip for two to Utah including air transportation from a major airport, lodging, and lift tickets.
For more information or to find a program near you, visit the LSSM website.