Copper Mountain, CO – The first stop of the Sprint U.S. Grand Prix wrapped up this weekend at Copper Mountain in Colorado, with U.S. skiers and snowboarders delivering strong performances.
A heated early season battle went down on Friday as freeskiers took first to Copper's Main Vein halfpipe. Olympic Champion David Wise, of Reno, Nev., and New Zealander Janina Kuzma took home top honors.
The brand new three run, best run counts format gave Friday's finalist a lot of opportunity for progression, but Wise's consistent skiing and back-to-back double cork prowess set the stage early in the game. Wise won the contest with his first run of the day in which he linked both right and left double cork 1260s.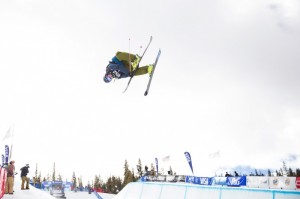 "Today was amazing. I was feeling really good right from the start," Wise said. "Practice was great. My first run was my best run because I think I was still in the zone from practice. I'm stoked I was able to put my first run down and ride that wave."
Second and third place finishers Torin Yater-Wallace and Benoit Valentin favored the three run format, mixing up their tricks and upping their scores as the day progressed. Alex Ferierra and current AFP World Champion Kevin Rolland finished just off the podium in fourth and fifth respectively. U.S. Freeskiing teammates Gus Kenworthy and Aaron Blunk rounded out the top seven.
Progression was the name of the game on the women's side as well, with Kiwi skierKuzma landing her first 900 in competition and simultaneously landing herself on the top of the podium. Olympic slopestyle silver medalist Devin Logan, of West Dover, Vt., nabbed second place with her stellar first run combo of a left 720 mute to switch alley-oop 540. Olympic halfpipe silver medalist from Japan, Ayana Onozuka, walked away with third place just edging out American Annalisa Drew.
"I put down a good first run that I was happy with and was just kind of taking this as practice as it's the first comp of the year," Logan said. "I'm just happy to get on the podium with some really good girls out there."
On Saturday it was the snowboarders' turn to drop into the pipe. The American riders put on an impressive early season showing, clinching five of the six podium spots as veteran Kelly Clark, of West Dover, Vt., led an American sweep on the women's side and Steamboat Springs' Taylor Gold taking home top honors for the men.
The new three-run final format proved to be the deciding factor for Saturday's men's snowboarding event. Second place finisher Yiwei Zhang's third run earned him a 95, putting the Chinese rider in the top spot with just three riders to drop, including Gold. Oregon's Ben Ferguson, who was the top qualifier in the event, outdid his first two runs with a 94. But it was Gold's third run, complete with a frontside 1260, that would prove to be unbeatable. While these names are by no means new to the podium or the Olympic roster, it has been duly noted that the next breed of American male snowboarders has arrived on the scene, including fifth place finisher Chase Josey and fifteen year-old Jake Pates.
"I really loved the three run format," said Gold. "If it wasn't for that last run I'd have been in trouble. I didn't expect to win it today so that was an awesome surprise and good way to start the season."
On the women's side, no one has as much competition experience as Clark, which she continues to use to her advantage. The Vermonter's first run proved to be enough to win the contest, but she continued to push herself and the sport adding an inverted frontside 720 to a run that already included a frontside 1080, a trick few other women have landed. Arielle Gold of Steamboat rose to the occasion, putting down a both a frontside and Cab 900 in her run. Vermont's Hannah Teter, who struggled to land on her feet in runs one and two, stomped a classic Teter run with a perfectly executed backside 900 on her last hit to complete the American podium sweep. Spain's Queralt Castalet was absent from Saturday finals after taking a hard fall in practice.
"The pipe was really good today and I love the three run format," said Clark. "I was happy to come out and land my first run and build on my riding throughout the day. I thought all the ladies rode really well and it makes me excited for the rest of the season seeing what everybody's already putting down."
After Saturday's event, Americans Taylor Gold and Kelly Clark lead the FIS World Cup tour and Sprint U.S. Grand Prix tour standings.