Kuehtai in Tirol, Austria – A day after returning to the World Cup podium on Sunday with a third place in giant slalom, Mikaela Shiffrin, of Eagle, Colo., skied two nearly perfect runs today and never gave up first place as she stood atop the slalom podium in Austria.
It was Shiffrin's first slalom victory of the season. Sarka Strachova of the Czech Republic was second and Wendy Holdener of Switzerland was third.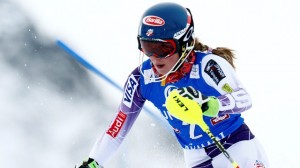 It was a small tech team competing at Kuehtai in Tirol, with only Shiffrin and Stiegler making the flip. Unlike the previous day's giant slalom, the course was in great condition with a simple set and the girls could let the skis run. Even though Shiffrin faced stiff competition, she skied confidently and built her lead throughout the second run, winning by .80 of a second.
Shiffrin is the first to acknowledge that she's been suffering from nerves and gear issues throughout the past few months. "It was the first time on the second run that I felt like I was smooth and attacking," she said breathlessly after her victory. "I finally trusted my skis, not just my ability."
Stiegler, recovering from being sick, was stoked to make the second run. "I knew I was fast," she said after her first run, when she finished 13th. "I just want push the envelope." But her aggression got the best of her, and her skis threw her into the backseat right before the finish. The mistake cost her time and she finished 23rd overall.
Hailey Duke (Boise, Idaho) and Paula Moltzen (Lakeville, Minn.) did not qualify for a second run.
A day earlier, Shiffrin stood on the podium for the first time since her win in Solden, Austria at the beginning of the 2014-15 World Cup season. She won the first run at Sunday's Audi FIS World Cup giant slalom, but battled rough conditions and poor visibility to take third place overall. Sara Hector of Sweden won her first World Cup, and Austria's Anna Fenninger was second.
Both races were a venue switch from Semmering, Austria due to a lack of snow at the traditional venue. With a straight set second run, the Sunday's giant slalom course resembled a super G, not Shiffrin's specialty. She held back a little on the run, missing first place by .18.
"The leader spot sometimes makes me nervous, especially with all of the racers so close," said Shiffrin after her first run. "Today I'm trying to have fun and not think about winning."
Megan McJames (Park City, Utah), the only other U.S. woman starter, did not qualify for second run.
After the New Year, both men's and women's tech teams head to Zagreb-Sljeme, Croatia for a slalom.
OFFICIAL RESULTS
Audi FIS Alpine Ski World Cup
Kuehtai in Tirol, Austria
Women's Giant Slalom – Dec. 28, 2014
| Rank | Athlete | Country | Results |
| --- | --- | --- | --- |
| 1 | HECTOR Sara | SWE | 2:17.61 |
| 2 | FENNINGER Anna | AUT | 2:17.70 |
| 3 | SHIFFRIN Mikaela | USA | 2:17.79 |
| 4 | BREM Eva-Maria | AUT | 2:17.98 |
| 5 | MOWINCKEL Ragnhild | NOR | 2:18.15 |
| 6 | PREFONTAINE Marie-Pier | CAN | 2:18.20 |
| 7 | MAZE Tina | SLO | 2:18.29 |
| 7 | GISIN Dominique | SUI | 2:18.29 |
| 9 | BAUD Adeline | FRA | 2:18.52 |
| 10 | REBENSBURG Viktoria | GER | 2:18.70 |
Women's Slalom – Dec. 29, 2014
| Rank | Athlete | Country | Results |
| --- | --- | --- | --- |
| 1 | SHIFFRIN Mikaela | USA | 1:43.39 |
| 2 | STRACHOVA Sarka | CZE | 1:44.19 |
| 3 | HOLDENER Wendy | SUI | 1:44.31 |
| 4 | HANSDOTTER Frida | SWE | 1:44.43 |
| 5 | PIETILAE-HOLMNER Maria | SWE | 1:44.50 |
| 6 | MAZE Tina | SLO | 1:44.63 |
| 7 | HOSP Nicole | AUT | 1:44.84 |
| 8 | ZETTEL Kathrin | AUT | 1:44.90 |
| 9 | SWENN-LARSSON Anna | SWE | 1:45.19 |
| 10 | GISIN Michelle | SUI | 1:45.49 |