Boston, MA – With last winter's record-setting snowfall still filling the memories of many Bostonians, the city's skiers are getting ready for the annual Boston.com Ski & Snowboard Expo, set for November 12-15 at the Seaport World Trade Center on Boston Harbor.
A gigantic retail sale right in the Expo hall is a huge annual draw. Retail partner East Coast Alpine sets up its pop-up store featuring thousands of skis and snowboards, boots, and clothing plus accessories, all at substantial savings. And for the first time at Expo, cross-country and snowshoe gear, clothing and accessories will be featured at the new Nordic Specialty Shop at the Nordic Village inside the Expo hall, hosted by Great Glen Outfitters of Gorham, N.H.
Stop by dozens of ski resort and travel company booths to find not only special Expo-only offers but the whole range of lift ticket, season pass and vacation packages offered at some of the best prices of the coming winter. Find out what's new at the resorts and take time out for a little "après-ski" fun in ski-themed pub areas.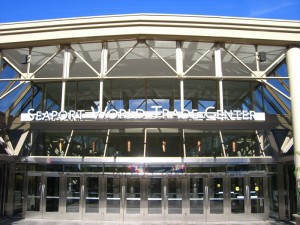 The Boston.com Ski & Snowboard Expo also features live performances, interactive exhibits, lift ticket and gear giveaways, entertainment and tons of children-centric activities, including kids' learn-to-ski/snowboard arenas.
There's a new twist on a favorite Expo attraction with the NFL sponsoring the ever-popular Skyriders! trampoline aerial ski spectacular, presented by Killington Resort. Learn more about NFL's Play 60 Initiative, a national program to get kids more physically active each and every day. The NFL sponsorship at Expo will showcase videos and interactive games right in the Expo hall, including Super Bowl film highlights celebrating 50 years of The Big Game.
Also new this year, SIA Nordic Village hosts The Biathlon Experience including actual laser rifle and target and daily competitions, plus introductory tryouts of cross-country and snowshoeing using real equipment on astroturf track.
Protect Our Winters (POW) will bring an important perspective to Expo on ways to combat climate change. POW partners with pro athletes in presenting its youth education assembly program in partnership with The North Face, using their firsthand experience in the mountains to influence and inspire people to get involved at all levels to reverse climate change.  Their enlightening program will be presented regularly during the Expo.
New trends in on-slope fashion will be presented at the Vertical Runway Fashion Show, scheduled throughout Expo's four-day run, presented by Stowe Mountain Resort and WAAF radio. Expert commentary by Boston fashion expert Kathy Benharris will showcase the hottest new looks to dazzle on snowy slopes this winter.
Get the kids off to an early start this winter with special indoor slope simulations at the Wachusett Mountain Kids Snowpark and Learning Center and Burton's Riglet Learn-to-Snowboard Park. Expert children's instructors will put the kids in real gear and guide them on those first glides.
ELITEAM Fitness Challenge returns under the expert guidance of World Championship medalist Doug Lewis and World Cup skier Kelley Lewis. They'll guide youngsters through a challenging but fun obstacle course to learn about fitness levels and how to build those levels to master the slopes this winter in an interactive arena presented by Loon Mountain and MIX104.1.
Take a break in the Expo non-stop action at the ever-popular Long Trail Beer Garden, with pours from the Vermont-based brewery, and stop in for a visit at the WZLX 100.7 Classic Ski Lodge, where "tweet & meets" and selfies are the call-to socialize amidst the colorful après-ski style setting.
Explore winter weather forecasting from the experts at the WBZ-TV Mobile Weather Lab, with on-air personalities stopping by throughout Expo's run to share their outlooks on the coming winter.
Interact on the SkiSnowExpos Mobile App along with Facebook and Twitter to score prizes from the Expo exhibitors, starting now and throughout the Boston.com Ski & Snowboard Expo.
Expo hours are from 3 to 10 p.m. both Thursday and Friday, Nov. 12-13, from 10 a.m. to 8 pm. on Saturday, Nov. 14, and 10 a.m. to 6 p.m. on the show's final day on Sunday, Nov. 15. Admission costs $15 for adults, and includes a one-year subscription to SKI or Skiing magazine plus a $10 gift card from Liftopia. Children under 12 are free. Tickets may be purchased online at www.skisnowexpo.com and discount coupons are online at the Expo's website and through the Boston Globe.