Kissimmee, FL – Although there are indoor snow domes across Europe and the Middle East, it seems that every plan to build one in North America — and there have been many — hits a road block. The latest casualty is a development in central Florida's Osceola County, near Disney, although that's admittedly not a snow dome per se.
Xero Gravity Action Sports said this week that their plan to construct a $309 million, 14-story tall skiing, surfing and snow tubing venue, skateboard and BMX park, and indoor snowball fight center, along with a 250-room Hyatt hotel with rooftop pool and bar, hinged on acquiring land along US-192 east of Celebration, and that deal has fallen though.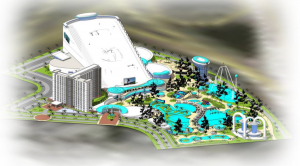 Xero Gravity, led by Jacksonville businessman Larry Walshaw, says that they're now looking at other sites to construct their Action Sports & Entertainment Resort, both in the area and elsewhere.
Rather than face the high cost of manufacturing and maintaining snow indoors, Walshaw's plan calls for using the Snowflex dry slope surface. Snowflex is currently in use in the U.S. at a ski facility maintained by Liberty University in Lynchburg, Virginia, and is proposed for summer use at Buck Hill ski area outside of Minneapolis. It's the same astroturf-like stuff you see ski jumpers landing on in summer in Lake Placid, N.Y. and Park City, Utah.
Xero Gravity isn't the only artificial skiing facility that has been proposed for Florida. As best as we can tell, an indoor snow dome development may remain in the planning stages in southeastern Florida, but that developer hasn't updated the project's Facebook page since early 2013. Solar Mountain, first proposed in 2010 in North Miami Beach, is dead in the water.