Park City, UT – The U.S. Ski Team's Ted Ligety has been nominated for Best Male Olympic Athlete in Team USA's Best of the Year awards. The United States Olympic Committee (USOC) announced a total of 26 male, female and team finalists for this year's awards.
In the midst of a challenging 2015 season, Ligety brought his A game to the 2015 FIS Alpine World Ski Championships in Vail/Beaver Creek. There, he took home a gold medal in giant slalom and a bronze in the combined, making him the second most-decorated U.S. skier in World Championships history.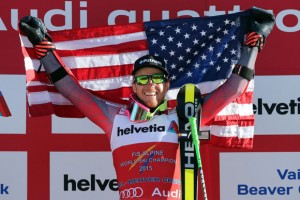 "This win was a little more emotional that some of the other ones just because this year has been a little more of a struggle," stated Ligety after his win at the World Championships. "In 2013, I was winning everything, so I felt like I should have it really easily. Same with the Olympics. I was skiing great before that and knew I should be able to win it. This one was a bigger question mark as far as how I was skiing and how I could handle it. To be able to come through and pull it off is awesome."
In the Best Male Olympic Athlete category, Ligety is up against wrestler Jordan Burroughs, track and field star Ashton Eaton, skeet shooter Vincent Hancock and USA Hockey's Auston Matthews.
Fans are invited to vote for their favorite athletes and teams at TeamUSA.org/Awards through Friday, Nov. 20.