Tahoe City, CA – This Thanksgiving weekend Squaw Valley Alpine Meadows is inviting guests to a full lineup of events to kick off the 2015-16 ski and snowboard season, including parties, movie premieres and special promotions in The Village at Squaw Valley…plus an announcement regarding the gondola proposed to link the  two Tahoe ski resorts.
Both Squaw Valley and Alpine Meadows celebrated their earliest openings in over a decade this season, and with more snow and cold temperatures in the forecast (a Winter Storm Warning issued by the National Weather Service is currently in effect) the resort anticipates opening additional terrain for Thanksgiving holiday visitors to enjoy along with the full roster of events.
Warren Miller's "Chasing Shadows" Premiere, November 27-28
Squaw Valley is hosting a two-night premiere of Warren Miller's 66th snow sports film "Chasing Shadows" at the historic Olympic Village Lodge. This film features skiers and riders including JT Holmes, Seth Wescott, Caroline Gleich, Steven Nyman and more, as they chase the ultimate riding experiences across the world. Show times are 7:30 p.m. on Friday and Saturday, with doors oopening at 6:30 p.m. The venue offers a full bar. Click here to purchase tickets online.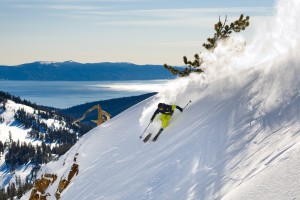 Welcome to Winter Party, November 28
The Welcome to Winter Party features benefits for passholders and all-day events including the Patagonia Grand Opening Party, beverage specials, live music and a secret highly anticipated announcement. The lineup of activities includes:
10 a.m. to 6 p.m.

– Season passholders will receive a 20 percent discount on 2015-16 merchandise at 13 participating stores throughout the Village at Squaw Valley, including deals on skis, boots, snowboards, jackets and pants.

3 p.m. to 5 p.m.

– Patagonia is hosting its Grand Opening Party that will feature refreshments provided by MTN ROOTS Food Truck, a raffle at

5 p.m.

, and a Retro Gear Contest. The contestant who sports the oldest and coolest piece of Patagonia Gear will be awarded a prize.

1 p.m. to 4 p.m.

– The Patagonia Worn Wear Repair Truck & Facility will be on hand to fix used gear.

3 p.m. to 5 p.m.

– Beer Benefit Stations selling $2 beers will be located at Oakley, The North Face, Patagonia, The Ledge Board Shop and Parallel Mountain Sports. All proceeds will go to several area non-profits.

3 p.m. to 5 p.m.

– Live DJs will take over the Patagonia Patio, the Events stage by Plumpjack Sport, and outside Parallel Mountain Sports.
Base-to-Base Gondola Announcement, Saturday, November 28 at 5:15 p.m. 
Guests are invited to gather at the Village mainstage in front of Plumpjack Sport for an announcement regarding the Base-to-Base Gondola that, subject to approval, will connect Squaw Valley and Alpine Meadows. The Base-to-Base Gondola will provide skiers and riders access to move freely between the terrain of both resorts, offering a seamless way to experience both mountains without the need to drive.
"Connecting Squaw Valley and Alpine Meadows is something skiers and snowboarders both who live here and who visit have dreamed of for decades," says resort CEO Andy Wirth. "We are excited to have reached a new milestone in the effort to bring that dream to fruition, and are moving forward with plans to provide our guests with a seamless way to experience both of these incredible mountains."
The proposed route for the gondola is between the Squaw Valley and Alpine Meadows base areas, passing up and over KT-22 through the land known as White Wolf. The exact locations will be determined in the planning phase of the project. The potential gondola is made possible by a partnership between Squaw Valley Ski Holdings, LLC (SVSH) and Troy Caldwell, owner of the land that the gondola would pass through.
SVSH will work with SE Group, a resort planning and design consultant, to develop plans for the project.