Lake Louise (AB), Canada – America's Lindsey Vonn raced to her second World Cup downhill victory in as many days on Saturday in Lake Louise, clocking a time of 1:50.43 in flight light conditions. Switzerland's Fabienne Suter finished second, 1.05 seconds back, while Austria's Cornelia Huetter confirmed her fine form with a another podium and came in third, 1.16 seconds off the pace.
Vonn's focus was on trying to charge but avoiding the mistakes she made in the first downhill race on Friday.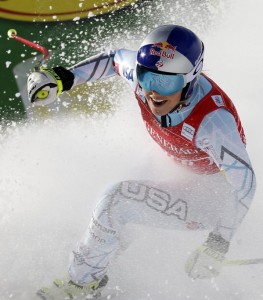 "Today I tried to limit my risk but at the same time my skis were so fast and the light was really flat and also it was a little more bumpy today, that I was kind of hanging on for dear life," Vonn told reporters. "I felt like I was trying to be aggressive and trying to still ski solidly but nothing was kind of going my way. I have to look at video and see how it actually was compared to what it felt like. I think (wax tech) Heinz (Hammerle) is doing an amazing job. My skis were really fast today."
With that career 69th World Cup victory, and her 17th at "Lake Lindsey," Vonn has strengthened her confidence in her current shape.
"I still don't think I'm quite to the form that I was in 2012," Vonn added. "The season that I won the four titles. I was so confident in all disciplines. I feel like I'm pretty confident right now but I think I could still be better, but I'm still happy with where I am.
"I still want to push as hard as I possibly can. That's what I love. I love the adrenaline. I love the speed. I love the thrill of it, and when the light's flat and it's bumpy it's that much more exciting for me. Just because I'm older doesn't mean I've lost any desire to continue to win and to continue to ski fast," the 31-year-old concluded.
With the 200 points she earned in two days, Vonn climbed into third place in the overall standings behind Switzerland's Lara Gut (222) and Vonn's American teammate, Mikaela Shiffrin (280).
After a fairly disappointing season with no podium results in 2014-15,  Switzerland's Suter was on the verge of announcing her retirement. She proved today, however, that her final decision to continue her ski racing career was a good one.
"It took a long time to come back onto the podium. I am just so happy right now, enjoying every moment," said Suter, whose last World Cup podium dates back to January 13,  2013 in a super G held in St. Anton, Austria. "It wasn't really easy today. I saw at the start that the light was getting bad. But I heard that some girls before me had good results so I knew everything could be possible and tried to attack. That was my goal and I think I didn't make out too badly."
Other Americans in the points on Saturday included Jackie Wiles in 17th and Laurenne Ross, who finished 21st. Salt Lake City's Breezy Johnson, in only her second World Cup race ever, finished just outside the points in 32nd, as did Anna Marno in 42nd.
The women's speed week at Lake Louise concludes Sunday with the World Cup season's first women's super G, where Shiffrin, a technical specialist, will try her hand at World Cup speed races for the first time.
OFFICIAL RESULTS
FIS Alpine Ski World Cup
Lake Louise (AB), Canada – Dec. 5, 2015
Women's Downhill #2
| | | | | |
| --- | --- | --- | --- | --- |
| Rank | Nation | Name | Time | Diff. |
| 1 | USA | VONN Lindsey | 1:50.43 | |
| 2 | SUI | SUTER Fabienne | 1:51.48 | +1.05 |
| 3 | AUT | HUETTER Cornelia | 1:51.59 | +1.16 |
| 4 | ITA | FANCHINI Nadia | 1:51.83 | +1.40 |
| 5 | SWE | KLING Kajsa | 1:51.90 | +1.47 |
| 6 | SUI | SUTER Corinne | 1:52.05 | +1.62 |
| 7 | CAN | YURKIW Larisa | 1:52.21 | +1.78 |
| 8 | GER | REBENSBURG Viktoria | 1:52.28 | +1.85 |
| 8 | SUI | GUT Lara | 1:52.28 | +1.85 |
| 8 | AUT | SCHMIDHOFER Nicole | 1:52.28 | +1.85 |