Glenwood Springs, CO – On Friday, January 8th, Colorado's Sunlight Mountain Resort will be offering $20 lift tickets for all!  Each year, Sunlight becomes one of the most affordable ski areas in the nation on this very special day.
Now in its 29th year, Sunlight's Skier Appreciation Day has raised approximately $200,000 for the United Way and local charities that provide a variety of services including after-school programs for students, help for victims of domestic violence and abused or neglected children, early childhood education, developmental programs for people with disabilities, home and hospice services for seniors, and more. This year Skier Appreciation Day will also pay tribute to Elvis Presley, the "King of Rock'n Roll," who was born Jan. 8, 1935.
"The generosity of the Sunlight has made this a great annual event that provides crucial funding for nearly three dozen local charities, it's always a great pleasure to see people having fun while knowing that they are giving back to the community in the process," said Phil Long, senior sales representative for United Companies.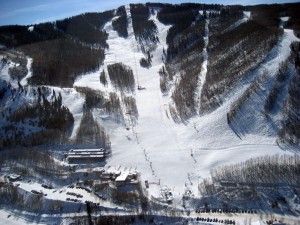 "We're very excited to once again partner with United Companies on this special day that not only has been benefiting a great cause for nearly three decades, but also offers our loyal skiers and riders a once-a-year opportunity to hit the slopes for just $20," added Troy Hawks, Marketing and Sales Director at Sunlight.
Skiers and riders are urged to show up in their Elvis attire for a chance of winning a 2016-17 Sunlight Season Pass valued at $529 as part of the annual costume contest. As in years past, the boisterous après-ski crowd will ultimately determine who most embodies the style and image of the King of Rock 'n Roll.
"Pairing this year's event with an Elvis theme is the perfect match. The hip-shaking moves he displayed on the stage closely resemble what we see on our slopes every day. We encourage everyone to come out with their blue suede boots and ski like Elvis," Hawks said.
Prize drawings will also be held throughout the day with a chance to win new skis, more than $500 in gift cards, and more. Tickets are just $5 each, or five for $20. Meanwhile the Caleb Dean Band, a local's favorite, will be performing their best Elvis cover tunes all day long.
Also on Jan. 8, Sunlight is vying to establish a new Guinness Book of World Record for the largest beginner ski and snowboard lesson. As part of the effort, in partnership with LiveWell Garfield County, Sunlight will treat nearly two dozen local students to a free beginner lesson.
More than 160 other ski areas across the country will also conduct beginner lessons that day, seeking new records for the largest beginner ski and snowboard lesson taught concurrently at multiple ski areas. LiveWell has contributed financial support to provide a free 1.5 hour beginner ski or snowboard lesson at Sunlight including transportation and rental equipment.
"LiveWell recognizes that not only will this event encourage a slew of newcomers to learn how to ski or snowboard, but will introduce local kids and adults who have never tried skiing or snowboarding to fall in love with a new recreational activity they'll pursue for the rest of their lives," said Jeff Jackel, recreation director for the Town of Carbondale, and member of the LiveWell Garfield County steering committee.