Toblach, Italy – Jessie Diggins, of Afton, Minn., on Friday became the second American in three stages to take a Tour de Ski win. Diggins skied to an historic victory in the women's 5k freestyle individual start in Toblach, just three days after Sophie Caldwell, of Peru, Vt., claimed a win in a classic sprint.
Diggins' win moved her back into the top 10 overall in the Tour standings. It was her first individual World Cup victory and the first time USA has won two stages in the Tour.
"It's really fun to have such a strong team," said Diggins. "Sophie wins and it gets everyone pumped up – it helped me go fast today. We feed on each other and use our teammates as role models. This win was a big surprise for everyone, especially me. I couldn't believe it."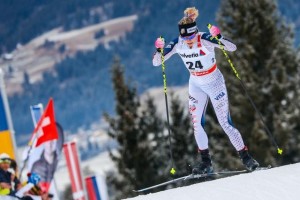 Starting 24th, about five minutes before the tour leaders, Diggins charged out of the start gate, initially setting the fastest 1.7 and 2.1k split times until Norway's Ingvild Oestberg, starting 14 places behind, began controlling the race, out-skiing Diggins by eight seconds by the 2.1k checkpoint. Diggins moved into the leader's chair and anxiously awaited the unpredictable final results. She clearly fought the toughest in the final kilometers as she stole first, just 0.9 seconds ahead of Norway's Heidi Weng. Oestberg started strong but could not hold onto her position as she fell back to third, 1.5 seconds behind.
"There are very few skiers in the world that can close down the final kilometer of a course like Jessie," said U.S. Ski Team Head Coach Chris Grover. "She was fierce and unrelenting on the downhills and flats leading back to the stadium; pushing extremely hard on her skis. We've been wowed by this ability of hers many times, most notably in the recent Lillehammer 4x5k women's relay."
In the men's 10k event, Norway's Finn Krogh made an incredible effort in the final kilometers to hold off teammate Martin Sundby. Sundby led the majority of the race, but was unable to claim a spot on the podium for the second stage in a row, but still remains the overall Tour leader by 1.28 seconds over teammate Petter Northug. Due to Krogh's final fights to the finish line, he was able to beat Sundby by 3.6 seconds. France's Maurice Manificat spent a significant amount of time in the leaders chair but once Krogh and Sundby crossed the finish line, Manificat was bumped to third.
Noah Hoffman, of Aspen, Colo., led the U.S. men with a strong 19th-place finish to move him up to 27th in the Tour.
OFFICIAL RESULTS
FIS Cross-Country Ski World Cup
Tour de Ski – Toblach, Utaly – Jan. 8, 2016
Women's 5K Freestyle
| | | | | |
| --- | --- | --- | --- | --- |
| Rank | Nation | Name | Time | Diff. |
| 1 | USA | DIGGINS Jessica | 13:15.5 | |
| 2 | NOR | WENG Heidi | 13:16.4 | +0.9 |
| 3 | NOR | OESTBERG Ingvild Flugstad | 13:17.0 | +1.5 |
| 4 | NOR | HAGA Ragnhild | 13:23.9 | +8.4 |
| 5 | NOR | JOHAUG Therese | 13:25.1 | +9.6 |
| 6 | FIN | NISKANEN Kerttu | 13:27.0 | +11.5 |
| 7 | SWE | KALLA Charlotte | 13:27.8 | +12.3 |
| 8 | GER | HERRMANN Denise | 13:31.2 | +15.7 |
| 9 | GER | BOEHLER Stefanie | 13:36.0 | +20.5 |
| 10 | AUT | STADLOBER Teresa | 13:37.7 | +22.2 |
Men's 10K Freestyle
| | | | | |
| --- | --- | --- | --- | --- |
| Rank | Nation | Name | Time | Diff. |
| 1 | NOR | KROGH Finn Haagen | 22:07.8 | |
| 2 | NOR | SUNDBY Martin Johnsrud | 22:11.4 | +3.6 |
| 3 | FRA | MANIFICAT Maurice | 22:22.4 | +14.6 |
| 4 | RUS | USTIUGOV Sergey | 22:23.8 | +16.0 |
| 5 | NOR | HOLUND Hans Christer | 22:25.8 | +18.0 |
| 6 | RUS | BELOV Evgeniy | 22:27.0 | +19.2 |
| 7 | SUI | COLOGNA Dario | 22:30.1 | +22.3 |
| 8 | NOR | IVERSEN Emil | 22:30.9 | +23.1 |
| 9 | RUS | VOLZHENTSEV Stanislav | 22:36.8 | +29.0 |
| 10 | RUS | BESSMERTNYKH Alexander | 22:39.1 | +31.3 |