Grenoble, France – A French school sports teacher from Lyon is in police custody on involuntary manslaughter charges as he recovers in a Grenoble hospital from injuries sustained in an avalanche at Les Deux Alpes on Wednesday that killed two of his students.
Prosecutor Jean-Yves Coquillat in Grenoble says that police interrogations are taking place as the 47-year-old teacher is being treated for head injuries and a fractured elbow. He is suspected of leading a group of high school students down the closed Bellecombes run at Les Deux Alpes. Two students — a 16-year-old boy and 14-year-old girl — and a 57-year-old Ukrainian national unaffiliated with the school group were killed, while two other students were injured and found unconscious beneath the avalanche debris.
It is yet unclear why the teacher had brought the advanced ski group on a closed run during a period of avalanche risk rated at 3 on the European scale of 1 to 5. The prosecutor indicated that some of the students had earlier asked another teacher to ski Bellecombes, but were refused.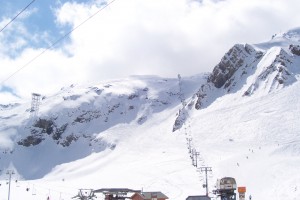 Coquillat said that the black-rated Bellecombes run had been closed by a 50-meter long, one-meter high net, with warning signs posted in multiple languages. The group would have had to step over the netting to access the run.
"This is not inattention," Coquillat said. "It is in full knowledge that the group moved into this place and this closed slope," although he admitted that probably "several hundred" others had done so on Wednesday.
"People doubtless ignore all too often the safety warnings, often when their level is high technically. We always think we're stronger than nature," said Jean-Paul Bonnetain, the Grenoble state prefect, who added that all of the signage marking Bellecombes as closed was in place.
Deux Alpes personnel had yet to open Bellecombes yet this season due to a lack of snow. Investigators at the scene are trying to determine if the school group triggered the 20-meter wide, 300-meter long slab avalanche, or if another group of 15 Hungarian and Romanian skiers higher on the slope triggered it, as some witnesses have indicated.
"A person of Romanian nationality presented himself to the gendarmerie to explain that a group of 15 people was skiing above the school students when they heard a noise like an explosion, and that the avalanche started," said Coquillat, who added that charges against the group are not being considered as off-piste skiing is not a crime in France.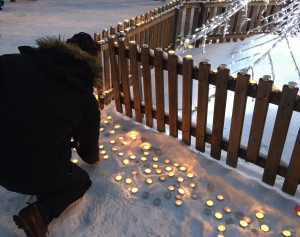 French President Francois Hollande has offered his condolences to the families of the victims, and French Education Minister Najat Vallaud-Belkacem traveled to Saint-Exupery High School in Lyon on Wednesday night following the incident to lend her support and promise to "throw all light" on the tragedy. The mayor of Mont-de-Lans, where Les Deux Alpes is located, called for a moment of silence on Thursday afternoon to honor those who died in Wednesday's tragedy, and hundreds of mourners gathered at Place des Deux Alpes to light candles and remember the dead.
"Our thoughts are with the families of the victims of this dreadful avalanche," ski resort officials said in a statement on Thursday. "We would like to thank the rescue teams (ski patrollers, instructors, mountain rescue squads, police, avalanche rescue dogs…) and volunteers for their remarkable work and efficiency."