Aspen, CO – Snowboardcross is one of the most nail-biting of all Olympic sports. Six athletes line up side by side to vault themselves through a crazy course of bumps, banks, berms and massive jumps – all with their rivals just an elbow away.
"I still get rattled every time I'm in the start," says Lindsey Jacobellis, roundly recognized as the grande dame of her sport.
Lindsey Jacobellis rattled? Come on! Still very much in the prime of her career at 30, Jacobellis' trophy case includes four World Championship gold medals (she's never lost), 27 World Cup wins (40 percent of her starts) and an Olympic silver medal.
Last week Jacobellis added yet more hardware – her 10th X Games gold, an unprecedented achievement. Since her debut gold in 2003 at the age of 18, she's only missed the top spot at X Games once – taking silver in 2007.
Her record 10th X Games medal comes at a retrospective time in her career. One one hand, she's a role model for young athletes. On the other, she still wants to win.
"It feels to great to have consistency in my sport for so many years," said Jacobellis. "It makes me feel like I'm still with the sport and contributing to it and the level of riding for women around the world."
What's most fascinating about Jacobellis' record is that it comes in a sport that is a blend of complete chaos from start to finish. The strategic nuances that great champions like Seth Wescott, Nate Holland and Lindsey Jacobellis deploy are all subject to the sheer unpredictability awaiting around every corner.
"It's more challenging to win today because the level of women's riding has risen to," she added. "And I know I have something to do with that!"
Enter Czech Republic snowboarder Eva Samkova. At 22, she's already an accomplished rider with three World Junior titles, X Games silver (Jacobellis beat her in 2014) and an Olympic gold medal. In the morning qualifiers, Eva beat Lindsey, with each moving on to win their semifinal heats. Now they were side by side in finals at the start with X Games gold at stake.
Heavy snow was falling, changing the characteristics of the course. Six riders gazed forward, eyes focused on the first jump, muscles tense in arms ready to pull out of the start gates. Jacobellis and Samkova were next to each other in spots they picked rider's right.
As the gates opened, they charged out into the falling snow. Jacobellis slid in behind Samkova going into the first jump, then the field split in two groups of three over the second feature. As the two groups merged together into one long train again, Jacobellis found herself in heavy traffic but somehow came through unscathed.
Into the rollers, Samkova held the lead and Jacobellis, once again, averted near disaster, narrowly avoiding a collision with a crashing rider as Samkova built a sizeable gap. As they headed into the midway point of the course, Jacobellis and Samkova were all alone but Lindsey needed a break as Czech rider's margin grew.
This is where experience took over. Jacobellis knew that turn four could be pivotal. Most importantly, she came in with a plan.
"I knew exactly the line I was going to take," she said. "I knew how risky it was. It was powdery and I knew I would lose speed. I wanted to make her turn around me. But I knew she would have more exit speed.
Turn four was a right-hander with a natural high line and banking. But there was room for a low line, close to the gate, shaving time. If you didn't carry an edge through the sharp angle, or if you skidded for even an instant, it was race over.
"It was just super risky," said U.S. Coach Peter Foley. "It was full commitment, laying it all on the line for the win."
As Samkova arced a broad turn on the high line, Jacobellis rolled the dice and quickly sliced inside for a brilliant pass to take the lead – a split second decision in a head-to-head race that was a difference maker.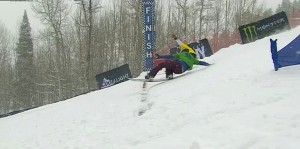 Down they came to the finish, vaulting off the jumps – a board-to-board battle – with each rider literally throwing their boards across the finish line.
Then, they waited. "Did I get it?" said Jacobellis, a very nervous look on her face. But a photo showed her toe inches ahead of Samkova's. A 10th X Games gold medal was hers.
As her coach says, "you can do a million things right and it can still all go wrong. That's the nature of boardercross."
But this time it didn't. Lindsey Jacobellis extended her reign as the winningest rider ever in her sport, with her eye still on the Olympic prize two years from now in PyeongChang.