Jeongseon, South Korea – The first Audi FIS Ski World Cup super G on the 2018 PyeongChang Olympic run was a tumultuous one on Sunday, with plenty of DNFs throughout the event—including favorites Kjetil Jansrud of Norway and Dominik Paris of Italy. Switzerland's Carlo Janka pulled out a dominating victory, skiing cleanly and fast to take the win by .82 seconds. Christof Innerhofer of Italy was second with Vincent Kriechmayr of Austria third.
The day started very early for the Organizing Committee with the snow falling overnight and covering the course with up to 10 cm, which was ironic given the lack of natural snow covering the venue earlier in the week. The race line was cleaned and in perfect condition by the race time.
Janka took full advantage of his low bib number 7 and took the lead for good with his run. With the victory, the Iceman, who won the Overall World Cup and was the World and Olympic Champion in 2009/10, earned his first super G win, and his 11th career World Cup.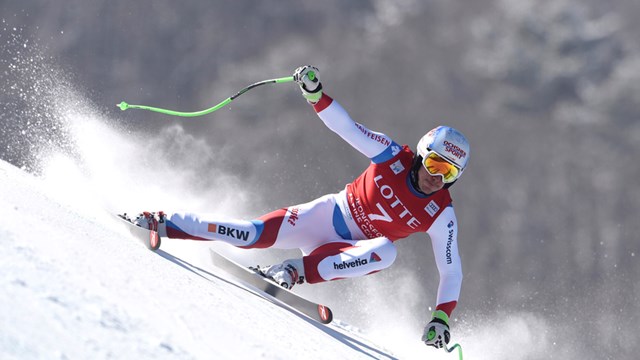 "It was not an easy super G today," said Janka. "I took some risks and everything worked out. The course had some difficult things in it, some jumps and some waves,but I took it and did a good run I think. That was the key today for me."
Innerhofer made it onto the podium Sunday for the first time this season, finishing 0.82 seconds off the pace. After several good results in downhill this season (fourth in Santa Caterina and Garmisch, fifth in Wengen) his 13th career podium surprisingly came in a super G race.
"We saw in inspection that it will not be an easy super G, especially on the first part," said Innerhofer. "I looked at Carlo [Janka] on the TV and said, 'Oh, those are good lines,' so I tried to do the same. I had a good feeling in the middle of the run. My feeling was good and it wasn't bad skiing and when I crossed the finish line and saw the second place and I had a really big smile."
Currently fourth in the super G standings, Kriechmayr laid down a strong run and skied to his second career podium in third place.
"I'm really proud about the result today," said Kriechmayr. "I was fast in the last super Gs, but I'd always make a little mistake and today I didn't make a mistake, so it's third place. I always like tricky and difficult courses, and today it was like this. The waves are not easy and the jumps, all together it was a really hard and difficult race. I'm always smiling when I see something like this."
The tough course took its toll on the Americans. Tommy Biesemeyer, of Keene, N.Y., had the top USA finish with 21st.
"It was OK," said a disappointed Biesemeyer. "My performance was OK. I'm not really that proud of my skiing and that's what I'm thinking about the most from today. I'm looking towards the next race."
Just .01 seconds behind Biesemeyer, Steven Nyman, of Sundance, Utah, held the second-best American finish in 22nd. Andrew Weibrecht (Lake Placid, N.Y.), who was also favored coming into the race, was leading at the first split but got late off the first jump, put his body through a panel and DNFed. Rounding out the Americans, Wiley Maple (Aspen, Colo.) and Jared Goldberg (Holladay, Utah) broke into the points, finishing 24th and 27th, respectively. Marco Sullivan (Squaw Valley, Calif.) was 37th.
"Though the result wasn't good, it was a clear wake up of what we need to focus on going forward on the Olympic venue," said Head Coach Sasha Rearick. "I'm really, really looking forward to analyzing what we have to do and practicing those things to get better each day from now until we come here in 2018."
Next up, the World Cup men head further east to race tech events at Yuzawa Naeba, Japan next weekend.
OFFICIAL RESULTS
FIS Alpine Ski World Cup
Jeongseon, South Korea – Feb. 7, 2016
Men's Super G
| | | | | |
| --- | --- | --- | --- | --- |
| Rank | Name | Nation | Time | Diff. |
|  1 | JANKA Carlo | SUI |  1:26.16 | |
|  2 | INNERHOFER Christof | ITA |  1:26.98 |  +0.82 |
|  3 | KRIECHMAYR Vincent | AUT |  1:27.22 |  +1.06 |
|  4 | KILDE Aleksander Aamodt | NOR |  1:27.37 |  +1.21 |
|  5 | FILL Peter | ITA |  1:27.42 |  +1.26 |
|  6 | BAUMANN Romed | AUT |  1:27.46 |  +1.30 |
|  7 | HIRSCHER Marcel | AUT |  1:27.48 |  +1.32 |
|  8 | GIEZENDANNER Blaise | FRA |  1:27.56 |  +1.40 |
|  9 | REICHELT Hannes | AUT |  1:27.60 |  +1.44 |
|  10 | SANDER Andreas | GER |  1:27.65 |  +1.49 |