Hinterstoder, Austria – France's Alexis Pinturault won his second-straight World Cup giant slalom – he also won Friday's GS in Hinterstoder – in commanding fashion by 1.14 seconds over Austria's Marcel Hirscher on Sunday. Norway's Henrik Kristofferson was third.
"It was a good run and a strong runs" said Pinturault. "The second run was quite tough on the top, it was really bumpy, the snow was not the same as two days ago but I tried to push really hard and it seems to be one of the most perfect races for me. There is still three GS races so anything can happen, but it is going to be difficult. Marcel (Hirscher) is too strong for me."
"Three races to go and hopefully I can gain many points next weekend, that would be amazing," said Hirscher. "I think Henrik (Kristoffersen) is in a position that the overall is open until the last race of the finals. So many things are going forward in alpine and if you are not working each day on your performance, you will lose on your confidence."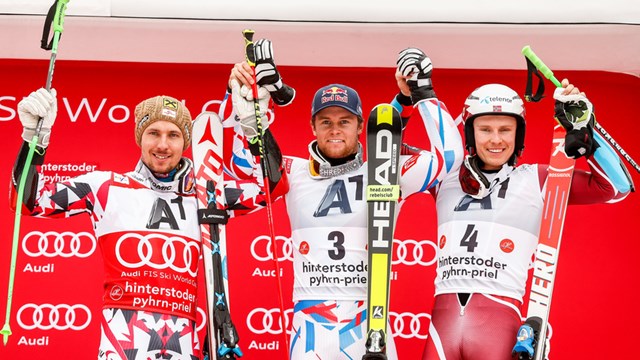 "280 points behind Marcel in the Overall is a lot," admitted Kristoffersen. "I have only five races left, and Marcel is unbelievably fast, even in super G. I think there is no chance, but I don't focus on the Overall, I just focus on the next race. I look forward to Kranjska Gora. There is no long flat there, the course is steeper and I think it suits my skiing better. I'm ready and I'll try to win races there."
Tim Jitloff, of Reno, Nev., is getting closer to dialing in the equipment issues he's been struggling with the past few weeks. In Sunday's giant slalom he almost found the right combination, finishing as the top American in 23rd.
"Today, I knew I wanted to come out and put together a solid day," said Jitloff. "The first run was a step in the right direction."
The past couple of weeks have been a struggle for the 31-year-old, six-time U.S. Champion as he has worked diligently to perfect his equipment set up. However long training hours have taken a toll, physically and emotionally.
"The difficulties of the last two weeks and the effort that's gone into trying to get things right, I just felt very tired," Jitloff said after finishing 10th in Sunday's first run, only to fall to 23rd after the second run. "It was an extremely long and turny course, and I just didn't have the energy in that second run and unfortunately was quite slow."
Jitloff was the only American to qualify for a second run. Brennan Rubie (Salt Lake City, Utah), Mark Engel (Truckee, Calif.), Kieffer Christianson (Anchorage, Alaska), Ryan Cochran-Siegle (Starksboro, Vt.) and Samuel Dupratt (Dixon, Calif.) didn't make the top-30 first run cut. Tommy Ford (Bend, Ore.), 29th in Friday's GS, did not finish the first run.
Up next, the men's tech teams head to Kranjska Gora, Slovenia for two giant slaloms, including one that was re-scheduled from Garmisch, and a slalom March 4-6.
OFFICIAL RESULTS
FIS Alpine Ski World Cup
Hinterstoder, Austria – Feb. 28, 2016
Men's Giant Slalom
| | | | | | | | |
| --- | --- | --- | --- | --- | --- | --- | --- |
| Rank | Nation | Name | Run 1 | Run 2 | Total | Diff. | WC Points |
| 1 | FRA | PINTURAULT Alexis | 1:20.56 | 1:23.32 | 2:43.88 | | 100 |
| 2 | AUT | HIRSCHER Marcel | 1:21.12 | 1:23.90 | 2:45.02 | +1.14 | 80 |
| 3 | NOR | KRISTOFFERSEN Henrik | 1:21.11 | 1:24.03 | 2:45.14 | +1.26 | 60 |
| 4 | FRA | FAIVRE Mathieu | 1:22.07 | 1:23.92 | 2:45.99 | +2.11 | 50 |
| 5 | FRA | FANARA Thomas | 1:21.38 | 1:24.76 | 2:46.14 | +2.26 | 45 |
| 6 | GER | NEUREUTHER Felix | 1:21.03 | 1:25.19 | 2:46.22 | +2.34 | 40 |
| 7 | SUI | JANKA Carlo | 1:22.61 | 1:23.70 | 2:46.31 | +2.43 | 36 |
| 8 | ITA | EISATH Florian | 1:22.48 | 1:23.89 | 2:46.37 | +2.49 | 32 |
| 9 | GER | LUITZ Stefan | 1:21.33 | 1:25.25 | 2:46.58 | +2.70 | 29 |
| 10 | ITA | TONETTI Riccardo | 1:22.78 | 1:23.87 | 2:46.65 | +2.77 | 26 |