Wilmot, WI – When chairlifts begin to turn at Wisconsin's Wilmot Mountain this winter, skiers and snowboarders will find $13 million worth of improvements made this summer by new owner Vail Resorts, the most significant one-time influx of capital improvements in the suburban ski area's 79-year history.
"Chicago and Milwaukee area skiers and snowboarders are the big winners this winter with a completely re-imagined experience at Wilmot Mountain and access to the most iconic mountain resorts out West," said Taylor Ogilvie, general manager at Wilmot Mountain. "The Epic Local Pass is similarly priced to what Wilmot-only passes were in the past, plus it grants skiers access to world-class skiing at Vail Resorts' nine iconic western resorts, including Vail, Beaver Creek and Breckenridge in Colorado, and Park City in Utah."
Vail Resorts' changes at Wilmot Mountain encompass every aspect of the guest experience, from the terrain and lifts, to base area facilities and snowmaking technology. Three new quad chairlifts are replacing existing lifts. Towers and chairs have arrived from Colorado and towers have been erected. These three new chairs, combined with a new high-speed rope tow in the terrain park and two new surface conveyor lifts in the beginner area, will increase uphill capacity by up to 45 percent, allowing skiers and snowboarders more time on the slopes.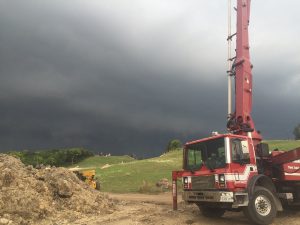 The entire base lodge is being transformed, including the addition of 400 seats and upgrading the mountain dining offerings to accommodate more guests. In addition, the facility will be modernized to offer seating for families, groups and adults, including a new bar and Wi-Fi throughout the facility. The Iron Kettle restaurant will be completely redesigned and will include a new lounge where parents will be able to watch their children ski and snowboard and enjoy a full-service bar and food service.
Significant improvements to the snowmaking infrastructure also are underway to increase the snowmaking capacity and allow Wilmot to open more terrain earlier in the season and offer better snow surface conditions all season long. More than four miles of new snowmaking pipe and 56 new snowmaking guns have been ordered, including 30 low-energy fan tower guns, six portable fan guns and 20 air-water guns which will complement the refurbishment of existing snowmaking equipment. Additionally, the snowmaking pump station will be modernized to increase water flow capacity, including a 500-horsepower variable frequency pump.
Wilmot's learning terrain has been completely re-graded to be more accessible for teaching beginners and two new surface conveyor lifts will be installed. Construction is also progressing on a dedicated and state-of-the-art children's ski and snowboard center adjacent to the learning terrain at the base of the ski area, featuring a playful open space for kids along with their own lunch and break room.
A new expanded terrain park will offer unique and innovative features designed and created by terrain park staff at Vail Resorts' western resorts, as well as the addition of a new high-speed rope tow to enable skiers and snowboarders to spend more time in the terrain park.
Wilmot skiers now have unlimited options to ski out West, and even Down Under through the ski area's integration into Vail Resorts' Epic Pass product. It features unlimited, unrestricted access to Wilmot Mountain locally, plus: Vail, Beaver Creek, Breckenridge, Keystone and Arapahoe Basin in Colorado; Park City in Utah; and Heavenly, Northstar and Kirkwood at Lake Tahoe. It also includes Perisher in Australia (for the 2017 season), Afton Alps in Minnesota and Mt. Brighton in Michigan. The lower-priced Epic Local Pass features the same resorts with limited restrictions at Park City, Heavenly, Northstar and Kirkwood, plus a total of 10 days at Vail and Beaver Creek with holiday restrictions. A Wilmot-only Family Pass is also available. For more information, visit EpicPass.com.