Snoqualmie Pass, WA (October 2002 ) – The first time
I crossed the Cascade Mountains was in November 1999. I was moving from Dallas
to Seattle for a work opportunity. My German shepherd Max was along for the
journey, riding shotgun in our white convertible. We were about 2,100 miles
away from home by the time we hit Snoqualmie Pass, snaking its way through,
over and around the mountains along Interstate 90.
Getting tight in the trees of Dom at Alpental.
(skier: Jay Silveira, photo: Scott Bly/J&E Productions)
Broad slopes below Alpental's Cascade Traverse.
(photo: James Bennett/J&E Productions)
Powder below the Edelweiss chair.
(Photo: Jay Silveira/J&E Productions)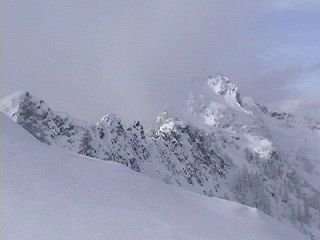 Alpental backcountry.
(Photo: Jay Silveira/J&E Productions)
ONLINE
VIDEO
Thanks to our partners at J&E
Productions, we have online video shot at The Summit at Snoqualmie
exceprted from their
North
American Escapade
movie.
Formatted for RealPlayer.

(Running time 5:59)

Breaking into the open below Alpental's Dom. (Skier:
Scott Bly, Photo: James Bennett/J&E Productions)
It was 4 a.m. when we emerged on the western slopes of the Cascades.  I was
doing at least 80—making good time in my desperation to get out of the car after
four days of driving.  Just beyond my bug-splattered windshield, the ink-black
sky swallowed any hint of scenery or landmarks.  I had no idea of the natural
beauty that surrounded me as I barreled through the Snoqualmie-Baker National
Forest.  Nor did I realize at the time that somewhere nestled in the darkness
were the four ski areas that comprise the Summit at Snoqualmie, a locals' playground
stashed a mere 50 miles east of Seattle.  This would become my adopted backyard,
even though I was too oblivious at that moment to fully comprehend it.
And at the time, I didn't care about any of it. 
I was a man on a mission, eager to get there.  I kept my foot mashed firmly
on the gas pedal.  An hour later, Max and I were in Seattle.
Growing up in Texas, my passion for the mountains
went unfulfilled for most of my life.  Beautiful to look at and fascinating
to contemplate, the mountains were too far from home to play any meaningful
role in my everyday existence.  There were no ski teams to join or mountaineering
courses to attend.  Nor was there a neighborhood climbing club, let alone summits
to even consider achieving.
My first on-hand exposure to the mountains came
in Park City, where I learned to ski the season before I moved to Seattle. 
I made two trips to Utah that year, and I became hopelessly addicted—not just
to the skiing, but to the spirit and the culture of the mountains.  By the end
of that second trip, in April, I understood that I would have to change my life
to embrace my passion.  I had 29 years to make up—a lifetime of missed experiences,
un-established traditions and unattained wisdom.  Six months later, I got my
chance.
Settling into my apartment in Seattle took hardly
any time, considering that all my furniture and assorted artifacts were on a
truck three weeks behind schedule.  I spent my time at REI, Sturtevant's, and
other local gear Meccas—learning about my outdoor options and outfitting my
upcoming adventures.  This was all new to me.  But before I knew it, I bought
my first pair of skis and I made my first trek back to the Summit at Snoqualmie,
on the western slopes of the Cascades, to drop my brand-new Atomic boards into
the snow.  Max came along and experienced the fluffy white for the first time
in his seven years—and he couldn't get enough.
Of the four ski hills offered by "the Summit," I
chose Alpental, which is located across I-90 from the other areas at Snoqualmie. 
Alpental boasts the highest elevation and the longest runs, but all of the runs
at the Summit and Alpental are fairly short. Whichever of the resort's 65 runs
you decide to ski will be either terrifyingly steep or pancake flat.  In any
event, the ride is sure to end quickly.
The locals jokingly call the area "Snow-Crumby",
despite an annual average of 405 inches of natural snowfall.  Cascade snow is
wet and heavy.  The overall elevations are low.  Sometimes it rains.  And some
days the fog is so thick you can't see more than one turn ahead.  But every
year we purchase our unlimited season pass early and at a discount.  Even at
the full $339 price, the Big S pass is ridiculously cheap by industry standards.
And we get every bit of access and mountain culture
out of it.  The Summit is only 50 miles from home, after all.  When you absolutely
need snow, it is easy to get to even in the worst (read: best) weather.  Snoqualmie
offers acres upon acres of night skiing, the largest such operation in North
America.  Chairlifts crisscross the landscape of Summits West, Central and East—the
three contiguous ski areas at Snoqualmie.  Streams of hucksters hang suspended
in mid-air after launching the terrain parks that are nestled in the contours
of the hills. 
Still, everything about the Summit is small and
feels familiar.  It is a true locals' ski area, right down to the day lodge's
complimentary microwave, provided for the families who brown-bag lunch.  Walking
along the base area my first time—watching parents guide their kids off of magic
carpets and into snowplows, and cheering the cow-bell-inspired adult amateur
race team—I began to realize that this is the mountain home I always wanted
to have while growing up.
Part of the charm is that Snoqualmie offers something
for everyone.  Summits West and Central are primarily home-town beginners' hills. 
But they also boast wicked terrain parks and a fairly serious, albeit short,
headwall.
Then there's Chair 2 at Alpental, which takes you
to the top of Denny Mountain and delivers you to Edelweiss Bowl and Upper International,
the area's signature run.  Parts of the front side are so steep that they look
completely vertical from some vantages.  And the backcountry is an expanse of
natural hits, avalanche paths and bottomless cliff drops.  Sometimes people
lose themselves and their better judgment up there.
I didn't make it to the top of Chair 2 on that first
trip to Alpental, but I skied strong for my ninth-ever effort.  I broke in my
new boards that day and I started learning my way around, making myself at home…
Over the years, I have skied some of the best and
worst conditions at Alpental and the Summit.  I have skied blue-sky powder Tuesdays
with barely another soul on the hill to share in the glory.  And I have skated
over a dozen types of ice, through fog and rain, to arrive at an endless line
at the lift corral.   Alpental has guided me through the adolescence of my own
ski life and welcomed me to the mountain culture.
In the summer, mountain bikers pick their way through
the area's lush Northwest forests and billy-goat their way down Snoqualmie's
ski runs.  Hikers park their SUVs at Alpental's parking lot before embarking
upwards to a myriad of alpine lakes and lookout ridges. 
Since that first time I crossed the Cascades in
1999 I've driven back to the western slopes countless times.  But with Aplental
and the Summit in my backyard, I still haven't found the need to cross back
over.